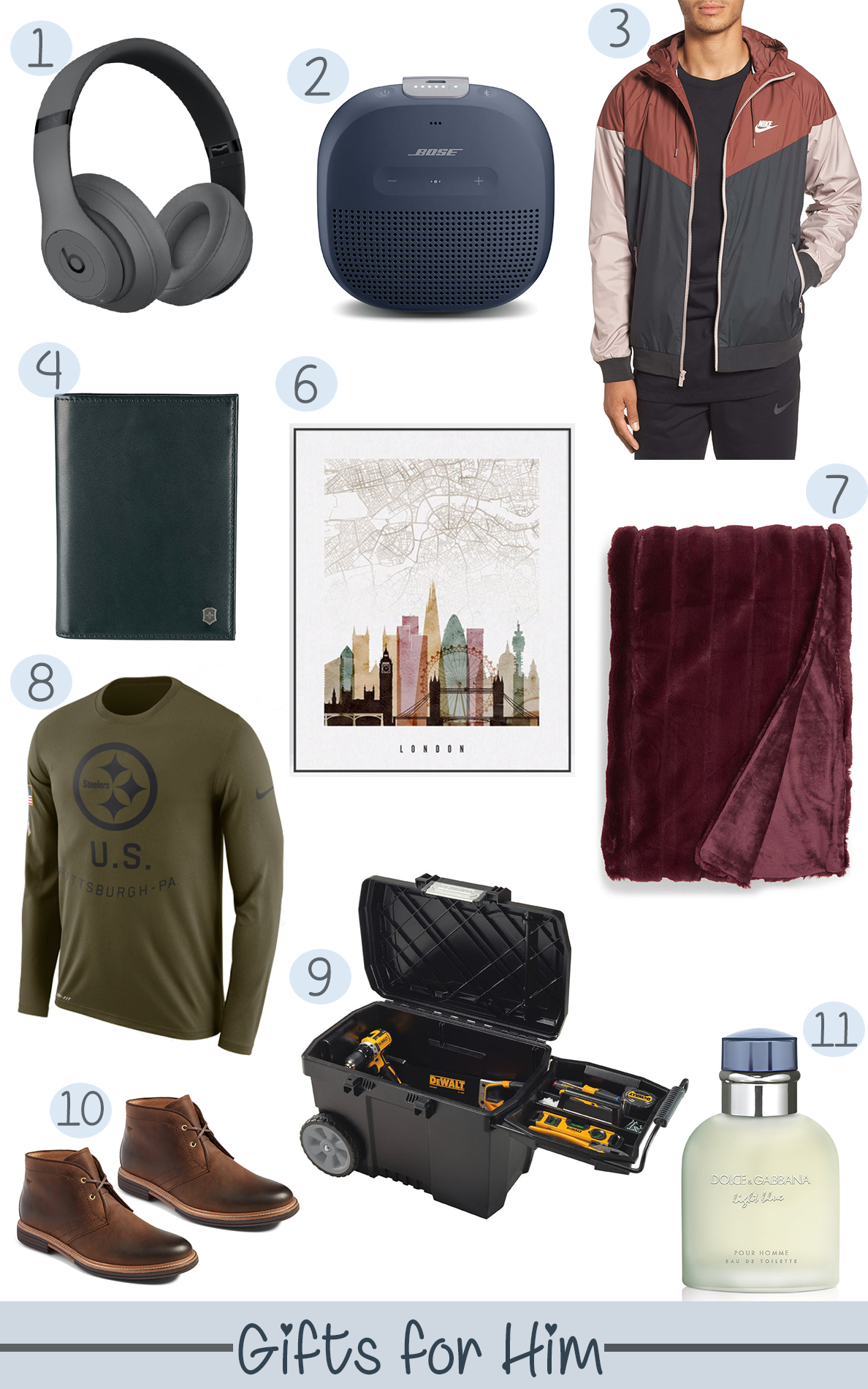 1 // 2 // 3 // 4 // 6 // 7 // 8 // 9 // 10 // 11
1: Studio Beats Wireless Headphones: Pat wears some form of Beats every single day at the gym. He has the Studios and he also has the Powerbeats3 earbuds. I will fully admit that Pat "told me so"- nice quality headphones make a world's difference in your workout. The music pumps in your ear and for me it's a huge motivator. My working out playlist on Spotify at the moment is called "Workout Twerkout". LOL!
2: Bose Soundlink Bluetooth Speaker: I actually think this speaker is a great gift for anyone on your list. I gifted my mom and dad one of these last year or maybe the year before now and they use it all the time. My mom selects her playlist on the iPad and then has it play on the speaker. She particularly enjoys it while she is cleaning because she sings outloud when she thinks no one is home- my siblings have caught her before! Hahah!
3: Nike Windrunner Colorblock Jacket: Athletic jackets make a great gift because they can be worn out and about casually or actually for an athletic reason! Pat is trendy so he is totally in on the color block trend and would love this one. This jacket comes in six other colors by the way!
4: Swiss Army Travel Wallet: Pat didn't have a travel wallet last year when we traveled internationally and at first he didn't see the point but now since traveling twice out of the country he does like how it keeps everything in one place.
6: City Map Print : I think art can be a super thoughtful gift. I love how the map is behind the skyline. In our new home we have a spot we think we want to get three canvases from this artist that make the Pittsburgh skyline! Super cool and different!
7: Faux Fur Throw: Pat appreciates all the soft and cozy things in our home and I think most guys don't go out hunting for these particular items so I think a nice throw is the perfect gift. Especially if you're new to dating this man- easy gift idea!
8: Salute to Service NFL Long Sleeve: Born and raised outside of Pittsburgh- huge Steelers fans here- I'm always looking for gear for Pat. We always love the Veterans line that comes out because it's in a form of green and has a great message behind it- supporting our armed forces!
9: Dewalt Mobile Tool Box: New home owners over here and I like things organized so…makes sense right? 🙂
10: Ugg Chukka Boot: Pat has a similar pair to these and he finds them to be comfortable and easy to wear with outfits. The perfect shoe to "dress up" in without being a formal event!
11: Dolce & Gabbana 'Light Blue' Cologne: If you have never smelled this…you're missing out. I love this scent and I can always pick it out in a crowded space. It's heavenly.
Shop the Post: