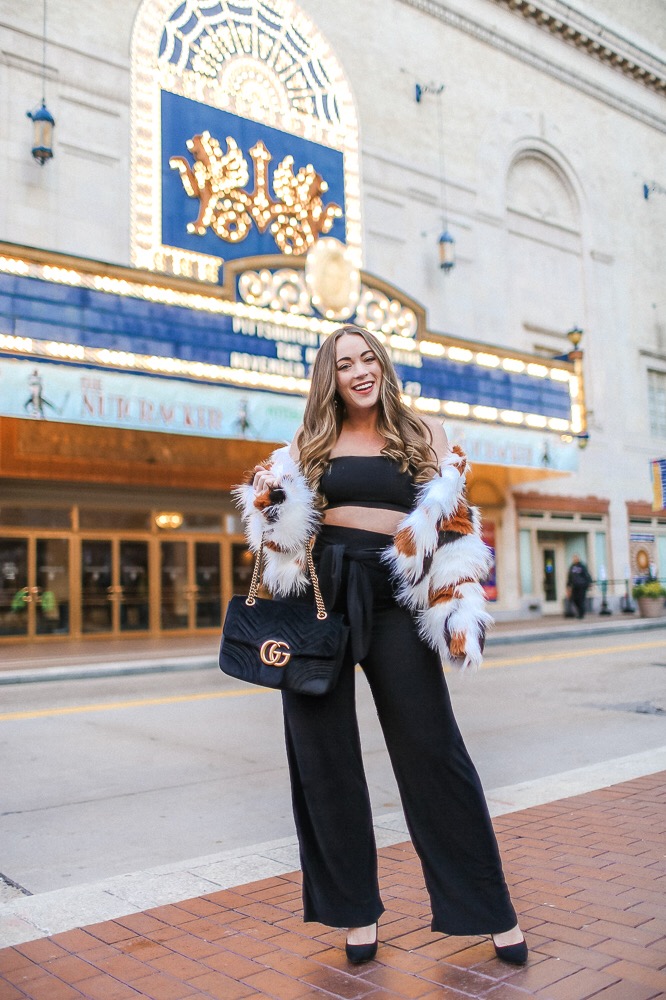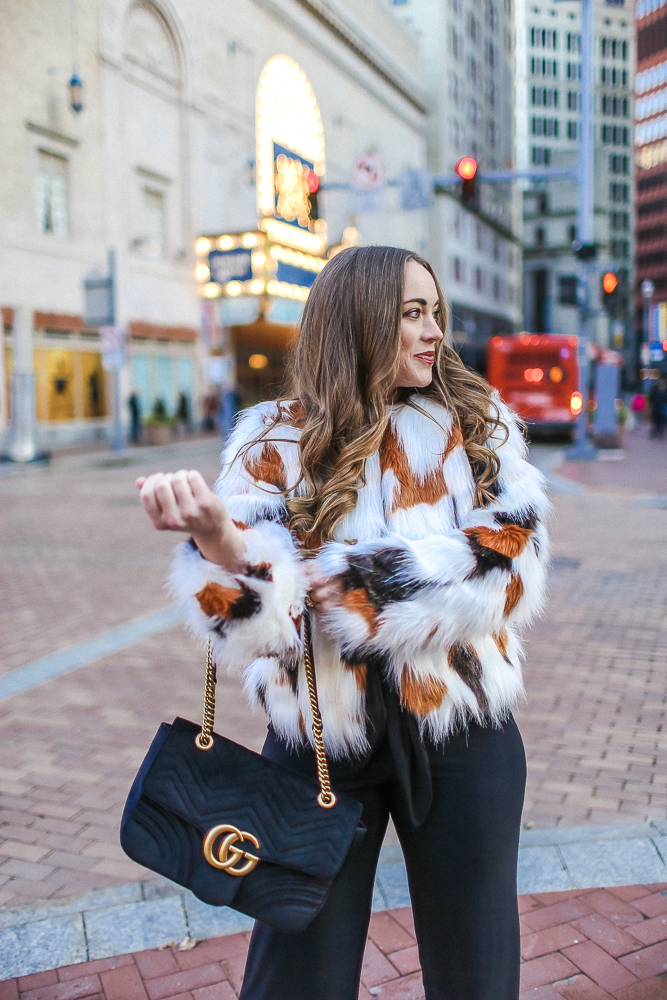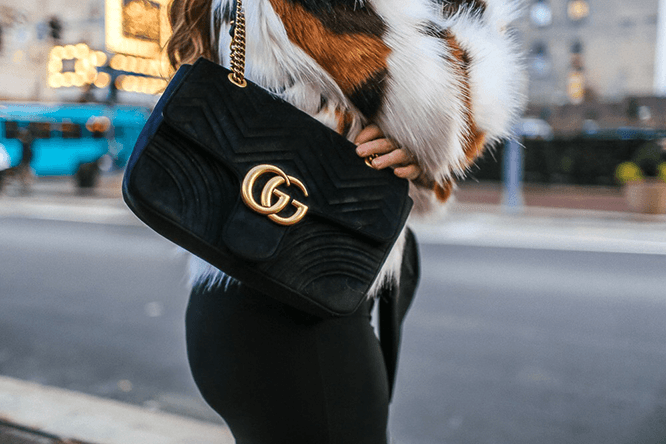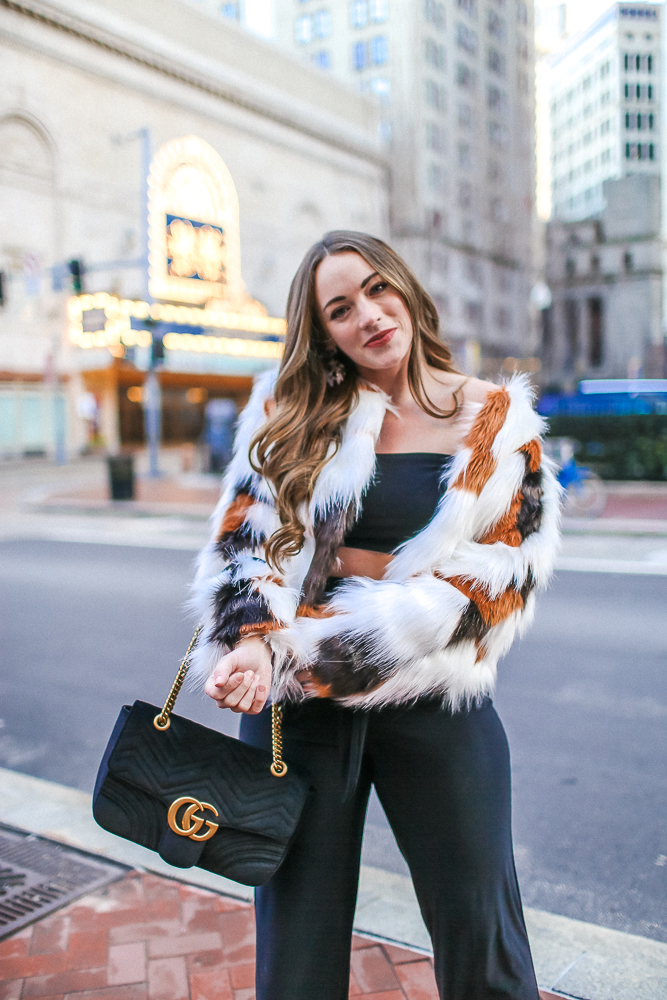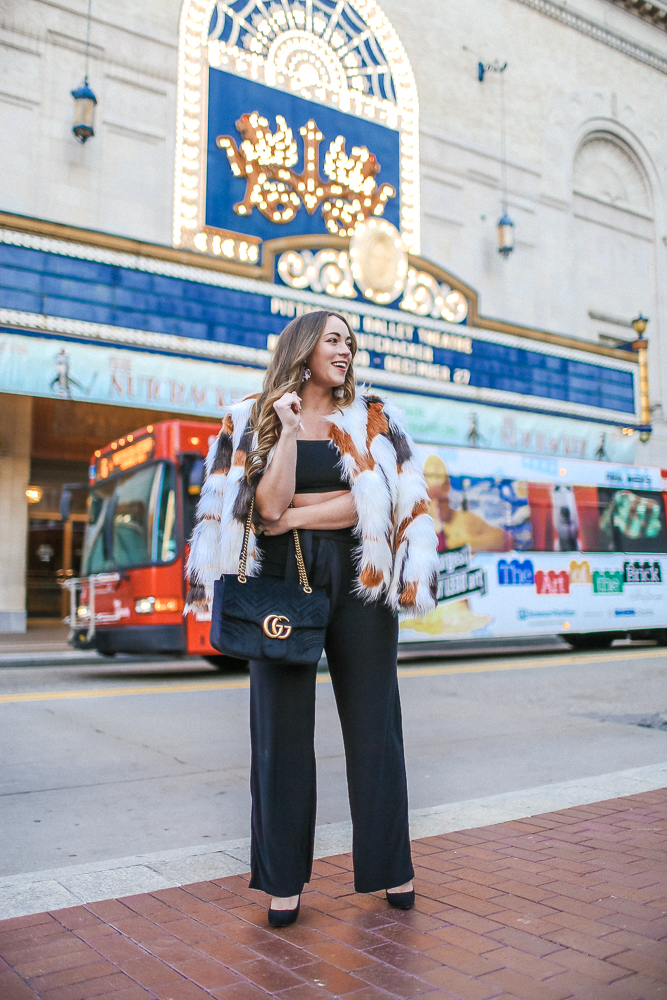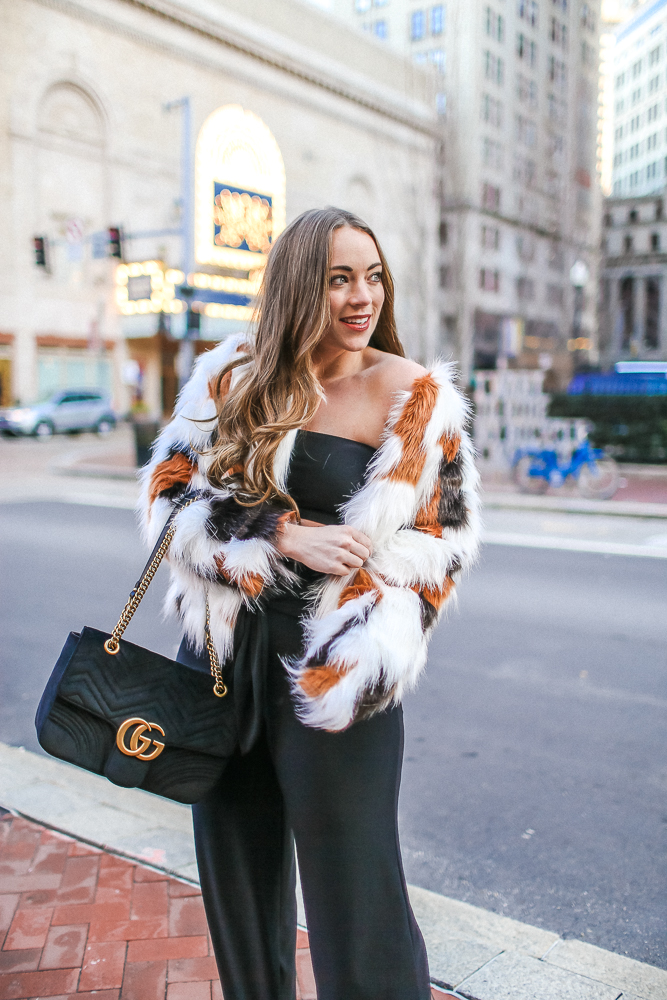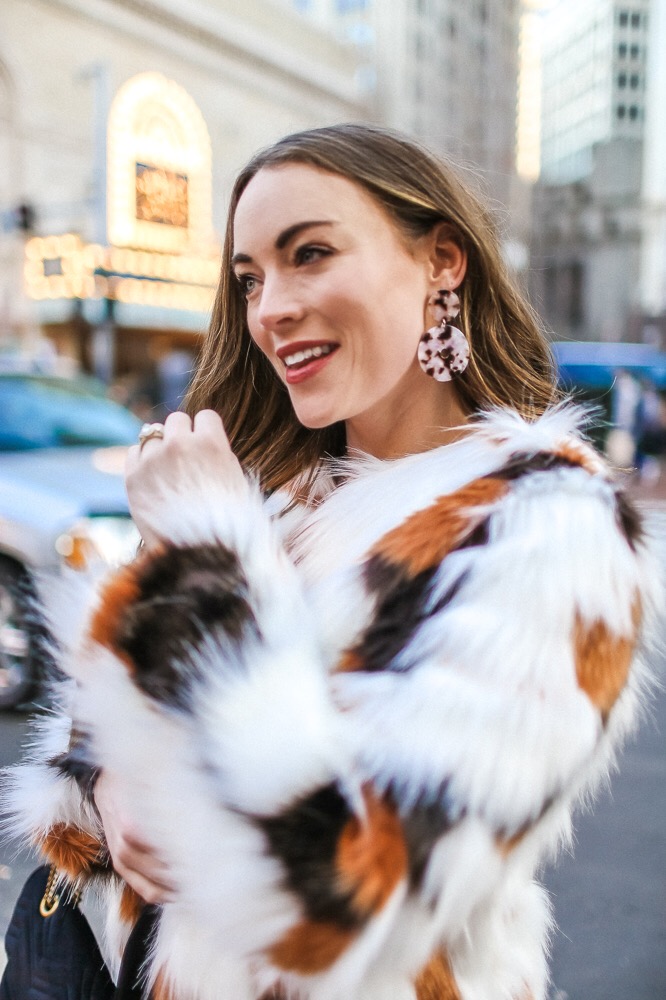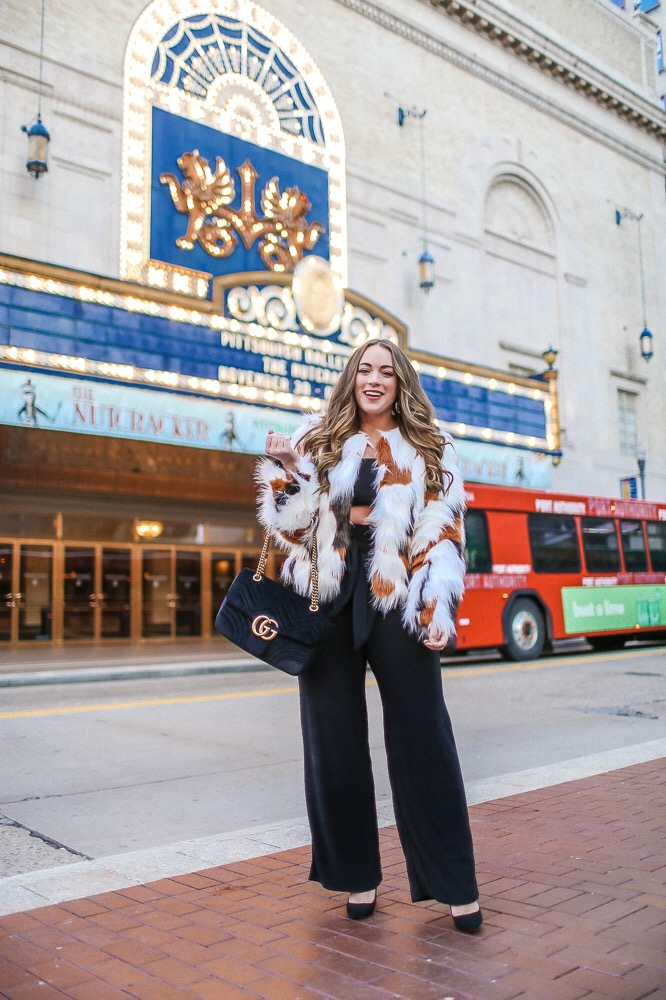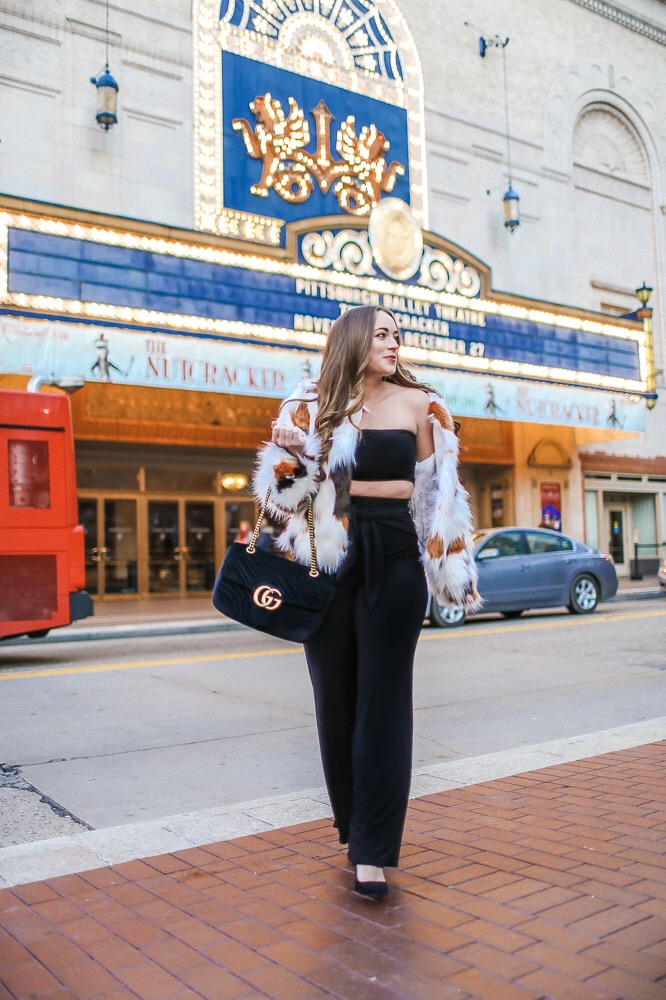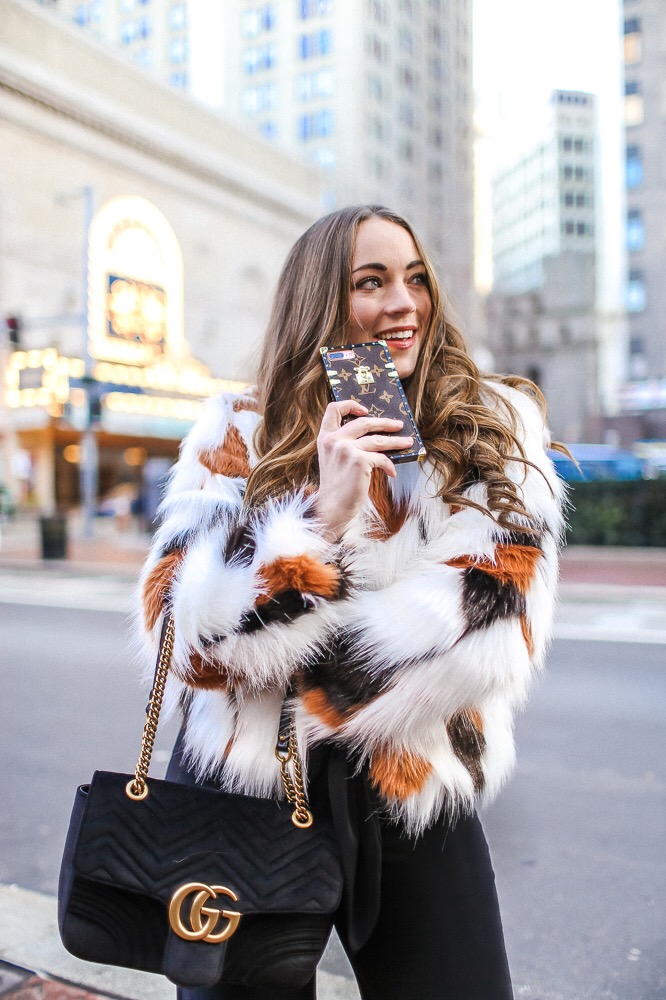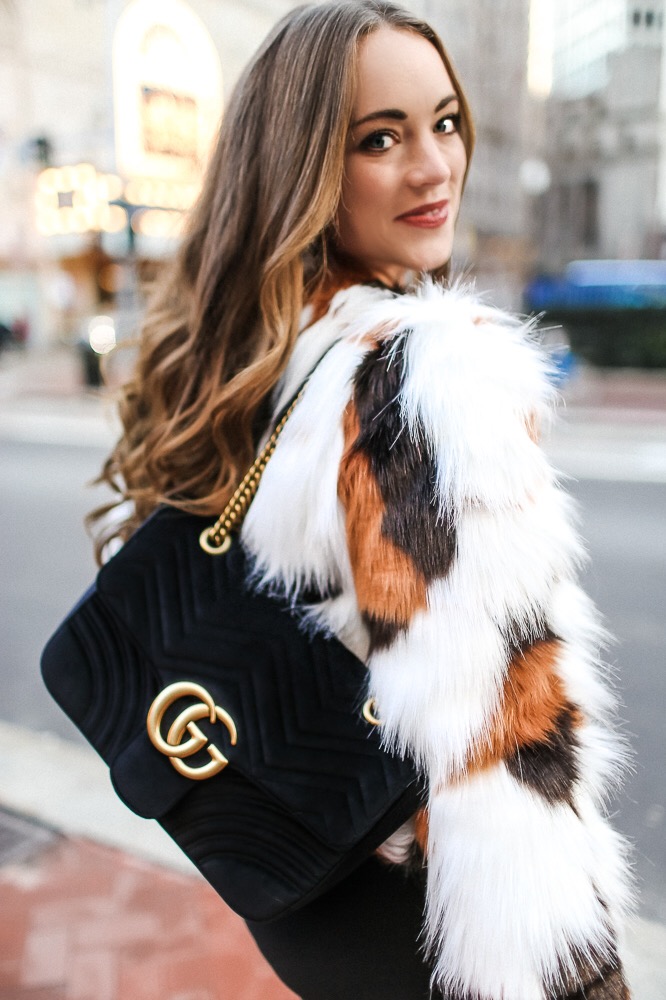 Fur Jacket // Bandeau Top & Wide Leg Pant Set // Gucci Marmont Handbag // Similar Earrings // Sam Edelman Hazel Pointy Toe Heels // LV Phone Case // Mac Lipstick "Velvet Teddy"
There's something unmatched to the city of Pittsburgh. I can't quite place it- maybe it's the old alley ways that seem to lead to someplace new, maybe it's the initial view of the skyline with it's golden bridges, maybe it's the way its residents boasts about the city, I am not quite sure but it's unmatched. I had lived in NYC for a summer during school and I remember when I left NYC twice to come home (once for a family event, the second when I left to move back to school) there was this unexplainable feeling that I got when the bus made it's turn around the hillside and Pittsburgh emerged into a full landscape view. Maybe it's because Pittsburgh is home for me, maybe everyone feels this way when they see their city but it's truly a remarkable place. If you know me at all, you know that I can't stand Pittsburgh weather – gray skies are the norm and the winters can be harsh. If it wasn't for the weather- there would be no question that Pat and I would make it our long term home. We always joke can't we pick up Pittsburgh and place it somewhere south- somewhere sunny and warm?! Anyways, the above photos were shot when Pat and I were home visiting family over Christmas.
This fur jacket is extra and extra is the reason why I love it! I never wear something so fluffy and loud on a normal basis so this is one of those pieces in my closet that makes me excited each time I decide to pull it out and wear it! It's such an affordable price too-$49. I am wearing the size 8 for reference!
I also want to talk about how awesome this pant suit set is from Nastygal. I love a good two piece set- (I wore them a TON last year, see those here) and this one is no exception. The bandeau top isn't as structured as I typically like, I feel a bit busty for wearing such a thin fabric over my chest, however, the pants are wear it is at! LOVE THEM! I love that they tie in the front- it's super flattering and the fabric is so soft and breathable. I felt like I was wandering around in my favorite comfy pants- No joke!
We shot these in the theatre district-such a cool area. It's such a perfect place for a wintery date night. Dinner + Show + Drinks…cue your man in on the plans for Valentine's Day! Hahah! I'm like Pat can we go back to Pittsburgh so we can experience all this again?! Lol!
xx, Brittany Ann
P.S. Pant set is only $25!
Shop the Post: