Sharing this Valentine's Day Blazer Dress today with all of you! It's one of my favorite outfits we have shot recently! Blazer dresses are a HUGE trend that I am currently loving! I am on the hunt for one that fits longer in length though, so stay tuned for that discovery! I think this look is perfect for Valentine's Day which is coming right around the corner!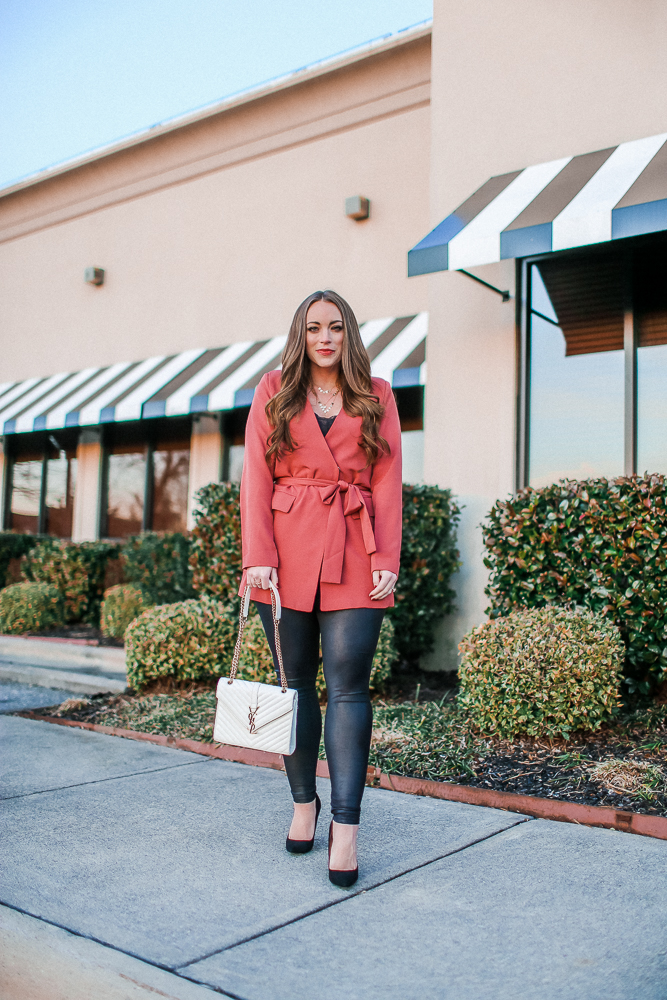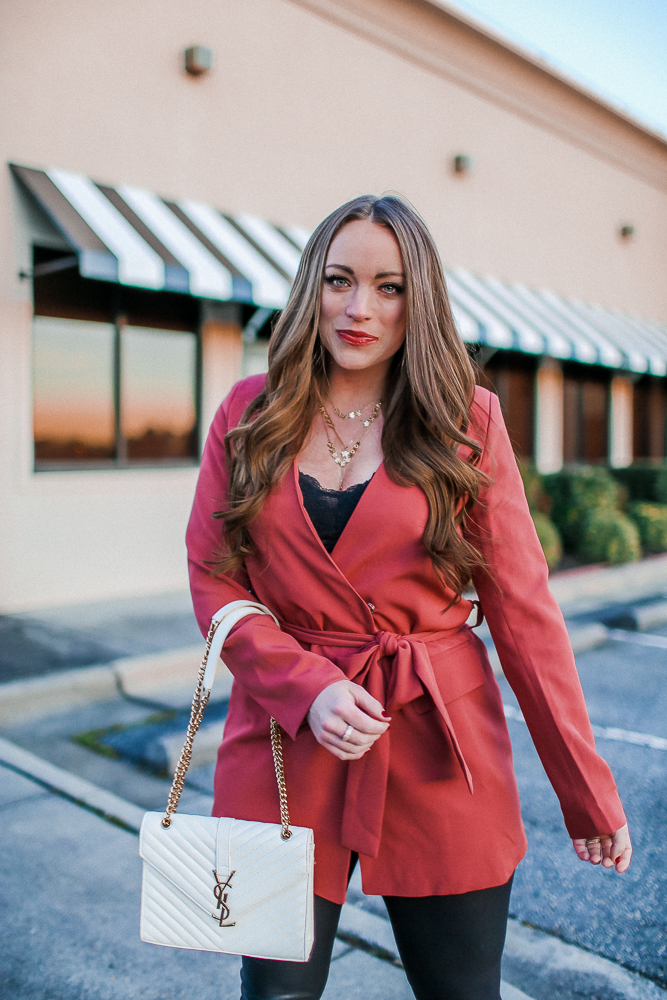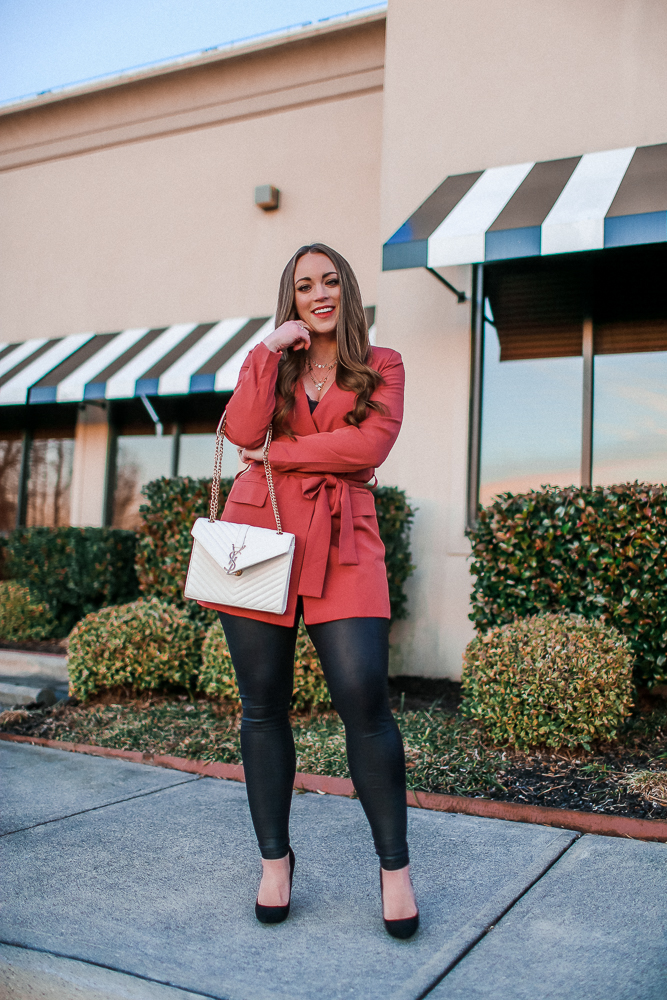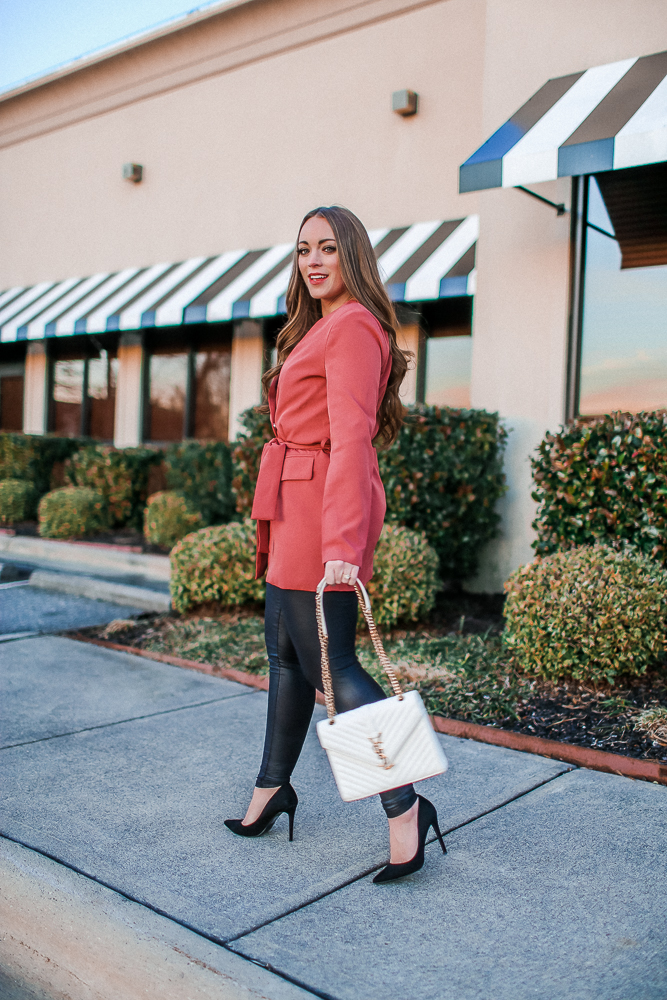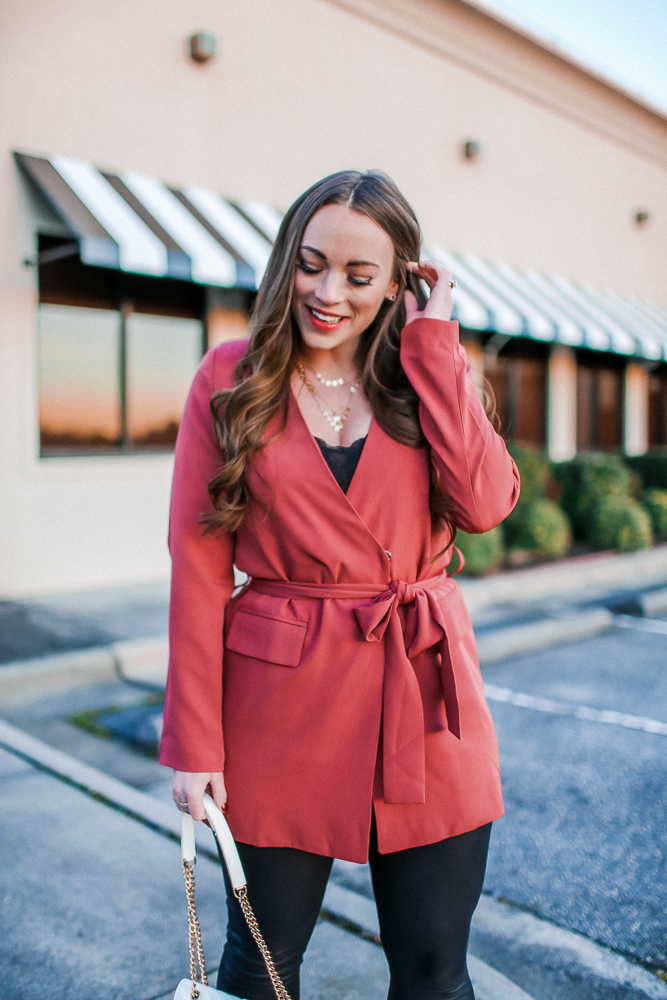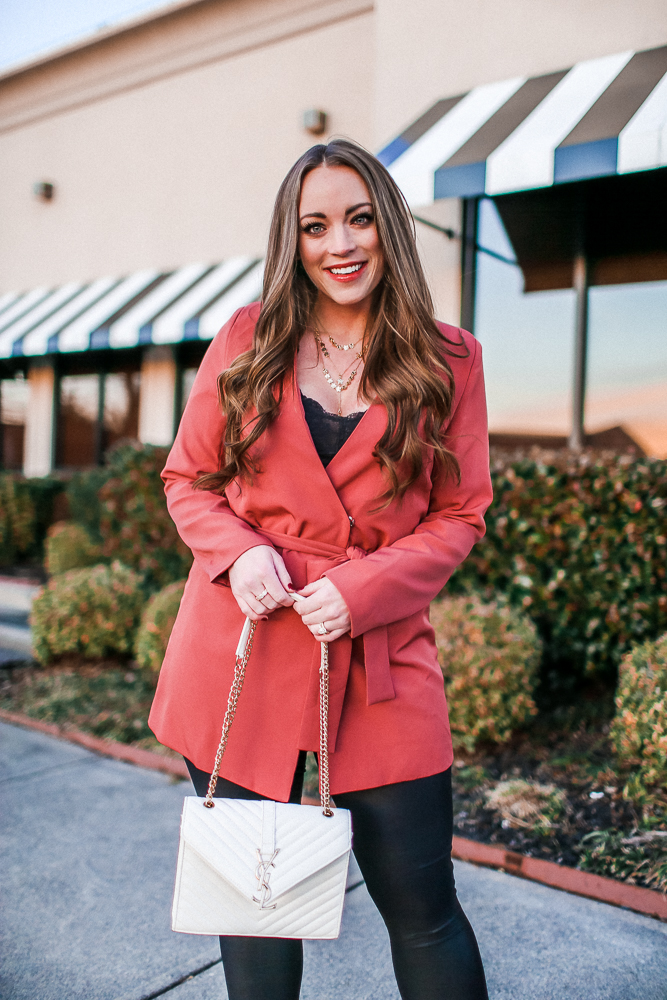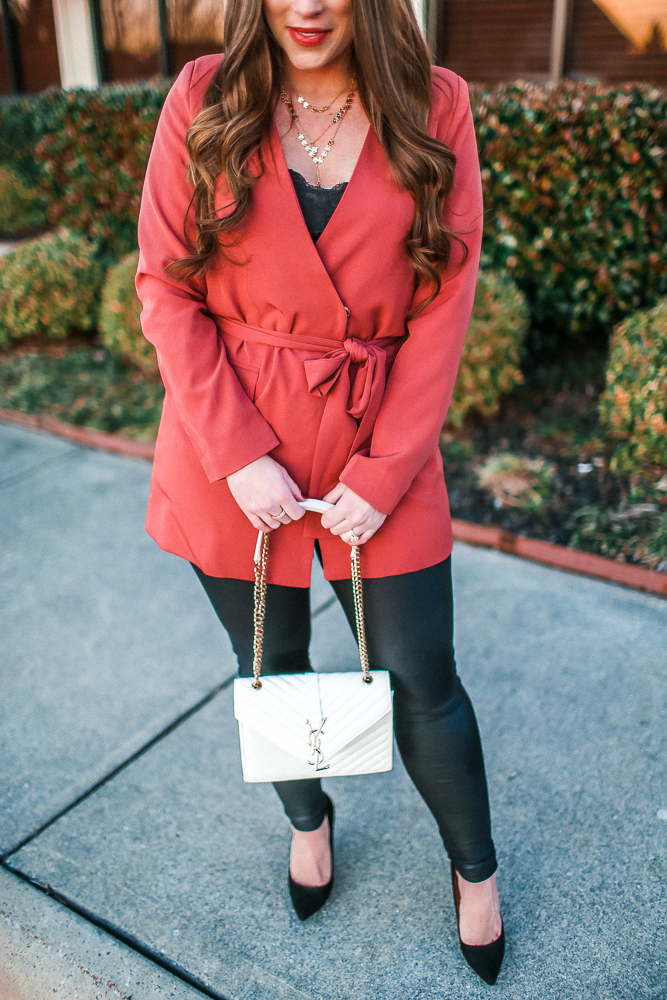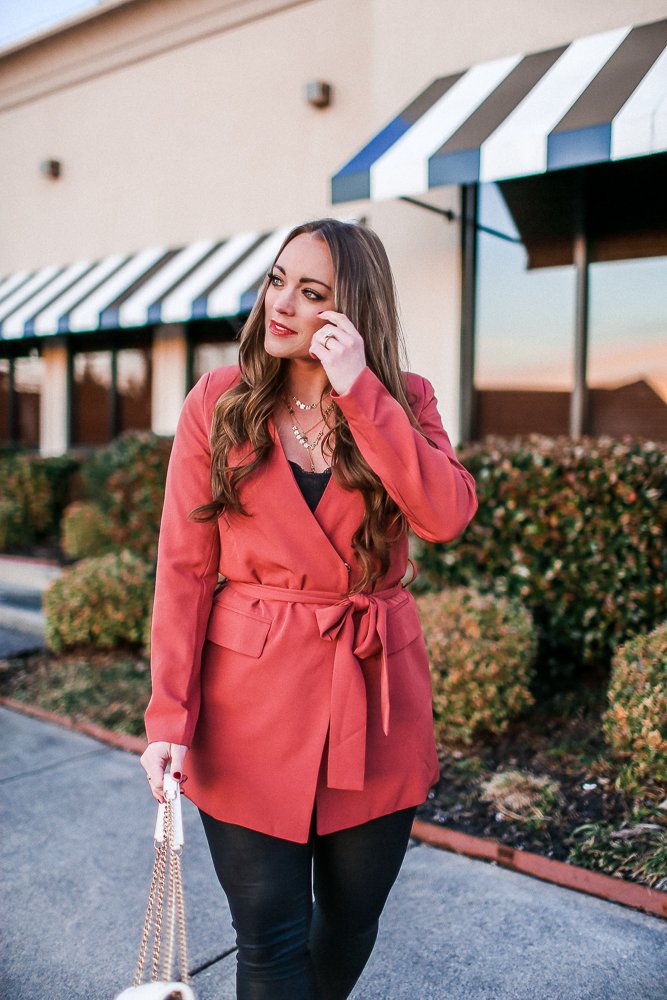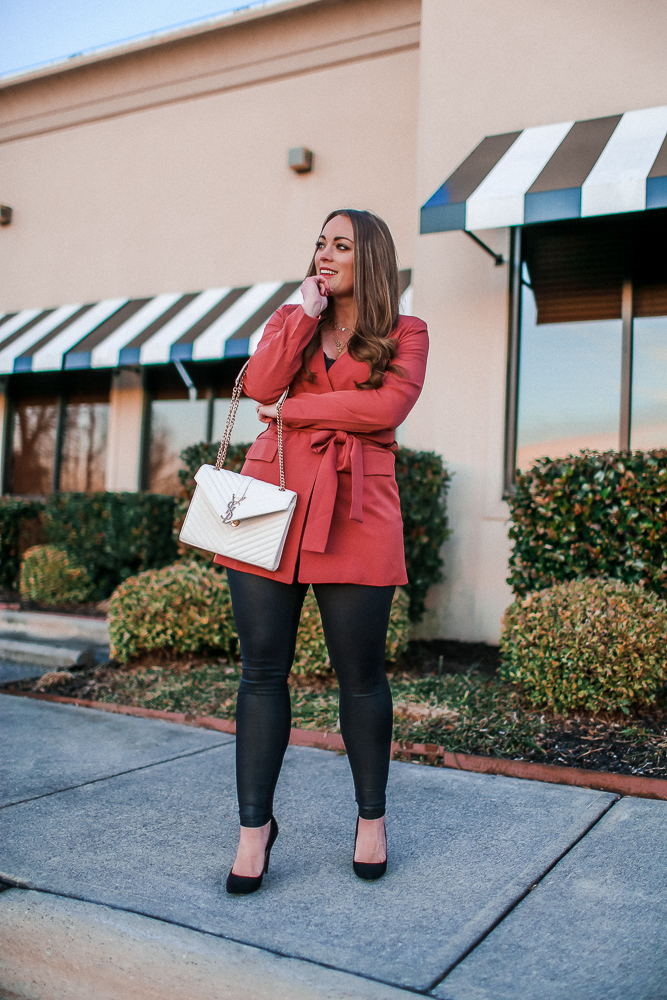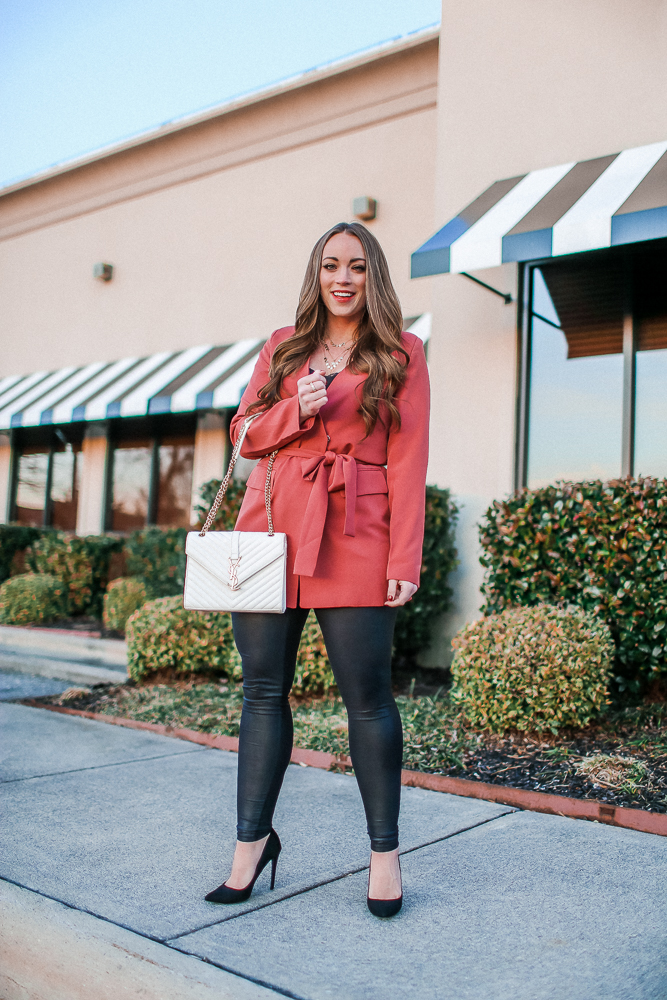 Nasty Gal Blazer Dress // Faux Leather Leggings // Black Suede Heels // Similar Necklace // Similar YSL Handbag // Black Bralette // Mac Lipstick "Vegas Volt"
Hey guys! Valentine's Day is only one week away- do you have plans with your significant other? With your girlfriends? Pat and I don't have any specific plans yet, there is a restaurant downtown we both want to try so I'm thinking we will do that and keep it low key! I think this Valentine's Day Blazer Dress look is perfect for whatever it is you're doing or just in general a great date night look. The Faux Leather Leggings are super comfortable and if you are somewhere colder, it's great coverage to keep you warm. If you need to cover the tops of your feet due to the cold temperatures or even snow, I would suggest swapping these heels for some over the knee boots like these! This Valentine's Day Blazer Dress was supposed to be a dress length, but like I had mentioned above, it's not so quite a dress. Sometimes I have a hard time finding dresses that are long enough in length once you account for my hips and booty. It's like most retailer's do not account for that whatsoever. My butt lifts the length lol- so frustrating! Anyone else feel me on this? I do love the quality of this blazer, it's color and its fit as a tunic, but if you're similar sized to me, just make note that it's not an actual dress in my opinion!
This week has flown by for me! My parents + sister were in town for a long weekend and it was so great to spend some quality time together. My sister had not seen the house yet so it was really special to show her it and have her stay here. It was also really cool to show my parents what Pat and I have accomplished in the last two and a half months since moving in! We also tackled some big "to dos" we have been wanting. We switched out two light fixtures, added some closet storage, finished hanging the curtain rods (we had to work around something Pat and I found in the walls lol) and more! I'm totally the type that will always have a mental list of projects….a home is never complete, am I right?! Hahah!
If you need some other Valentine's Day outfit inspiration be sure to see my recent post here and here or one of my favorites here!
Shop the Post: