This shop has been compensated by Collective Bias, Inc. and it's advertiser, Bose. All opinions are mine alone. #sleepsoundlytonight #CollectiveBias
Hey guys! Does anyone have trouble sleeping because of LOUD neighbors, city traffic or barking dogs like me?! I DO and it's literally terrible. My entire life I have been a five or six hour sleeper max, but this past year sleeping in our apartment has become an issue. I have found a product – these Bose® noise-masking sleepbuds™, that I love and it's incredibly effective. Read on for more details! Also, wanted to let y'all know, this post is sponsored, however, as as always, all opinions are mine alone. I would never share something I truly don't love and support!
My life has seriously been changed by these Bose® noise-masking sleepbuds™. Hover over the image below to start shopping for your Bose sleepbuds!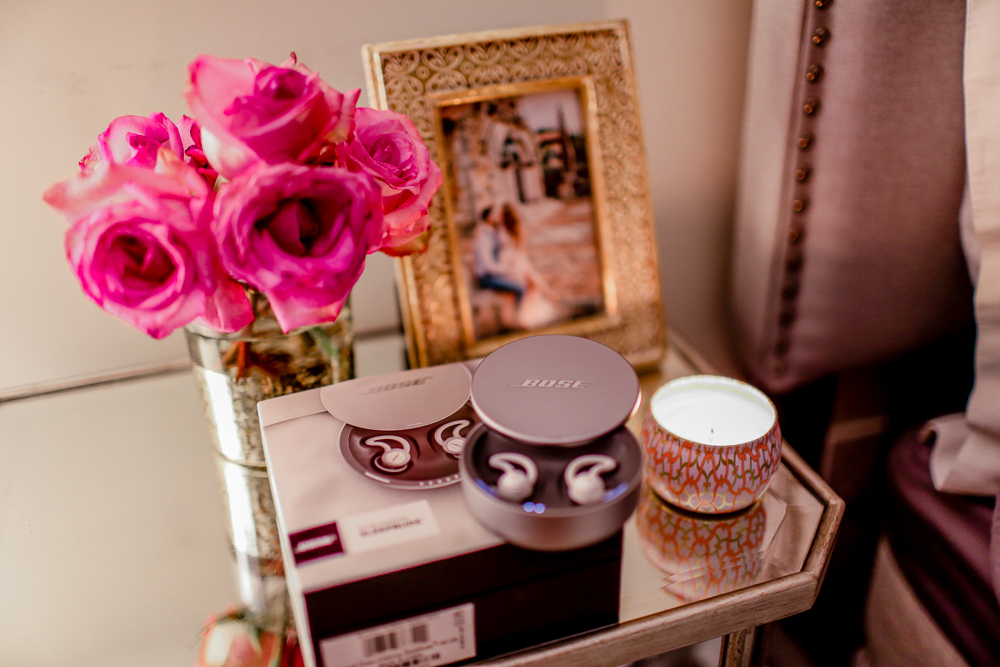 I have never been a good sleeper and have often considered myself lucky that on a typical night, I only need about four or five hours of sleep to function well. All of this changed when Pat and I had loud neighbors move in next door. I started waking every forty minutes, every hour to hear something loud coming from next door. You guys, I'm not talking about the occasional loud bang from an action movie. I'm talking about what sounds like a full blown rave happening on a Tuesday night at 330 am. I'm saying I have literally been woken by a herd of elephants crashing through the apartment next door. I can't tell you how many times I have gone through the circle of whether to approach them or not, to call it in or not, how many times I have thought what can I do? I'll admit, I am too scared to confront them and I wouldn't want to start anything so while Pat sleeps soundly (he can sleep through anything-it's a gift) I would just lay there for hours wondering what they were up to and what they do for a living. I mean do they have to get up and go to a job?! Maybe their jobs are to throw these INSANELY LOUD PARTIES on weeknights-haha! Anyways, I have tried several noise machines, white noise apps, tried the whole sha-bang but nothing has beat these Bose® noise-masking sleepbuds™ available at Best Buy. You guys, I can finally sleep soundly again!
So what exactly do they do? Once placing them in your ear (which you can totally adjust so they fit just right) you pull up the Bose sleep bud app and then you can choose from a variety of noise masking sounds that are all very soothing so you can fall into the perfect slumber! I like the sound of airplanes so the "altitude" selection is my top pick! You adjust the volume and you can also set your alarm in the app so it wakes you up. It's one of the coolest features that I simply just love!
These sleepbuds™ come in a circular case that makes for easy storing and traveling with. The inside of the case has two tiny magnetic strips for your sleepbuds™ to attach to-super convenient so you don't misplace them! One other thing I love about this sleek case is that you simply plug it in to charge and once charged, the sleepbuds™ can run for 16 hours + another 16 hours once the buds magnetize to the silver-zinc micro batteries.
These Bose® noise-masking sleepbuds™ have been a game changer. Good bye loud, crazy neighbors and hello sleep!
xx, Brittany Ann