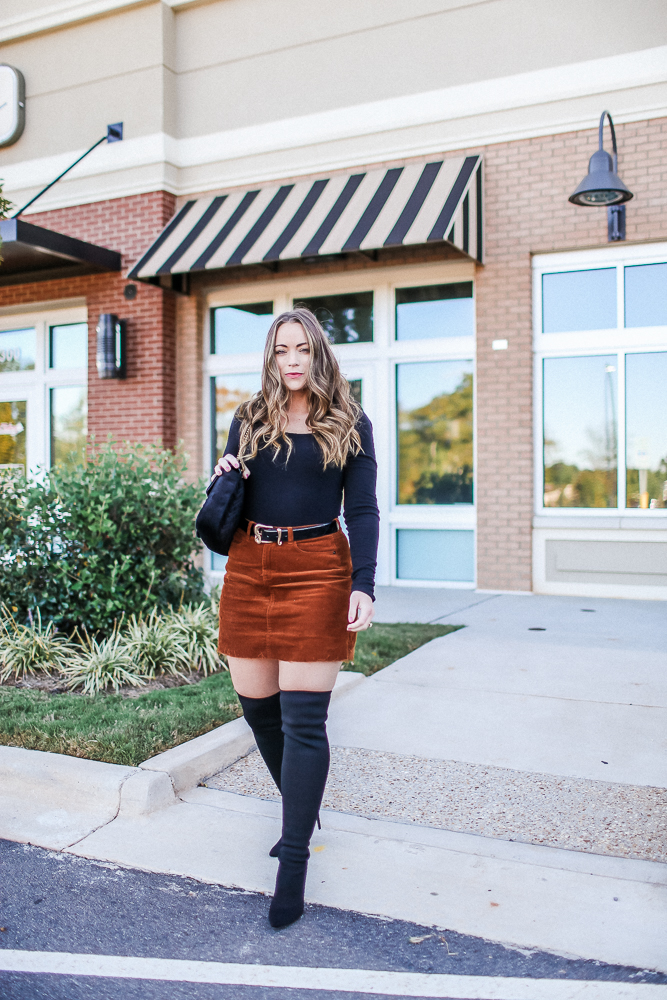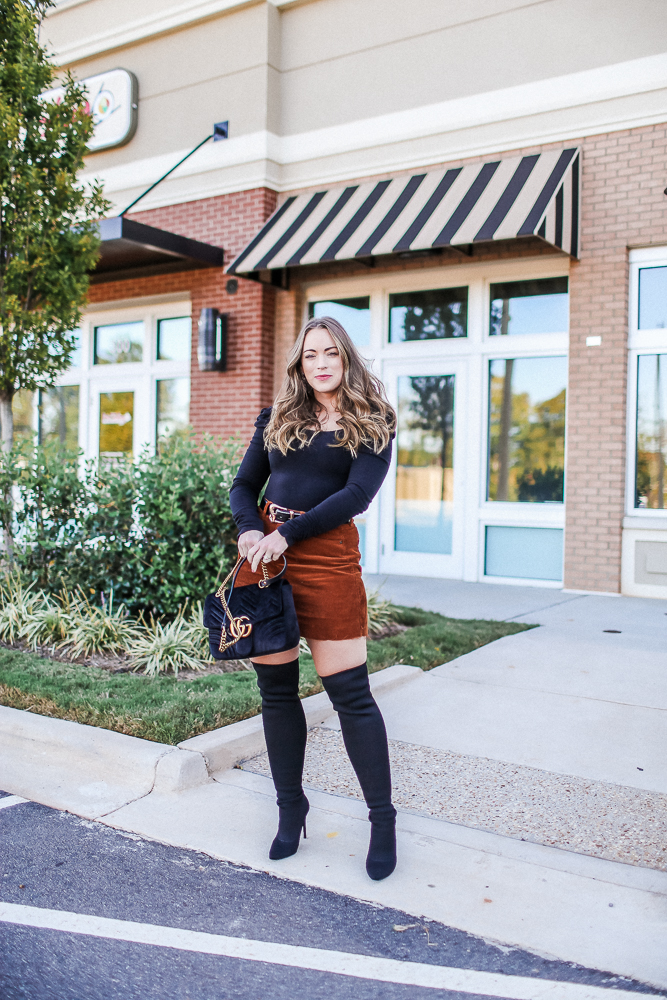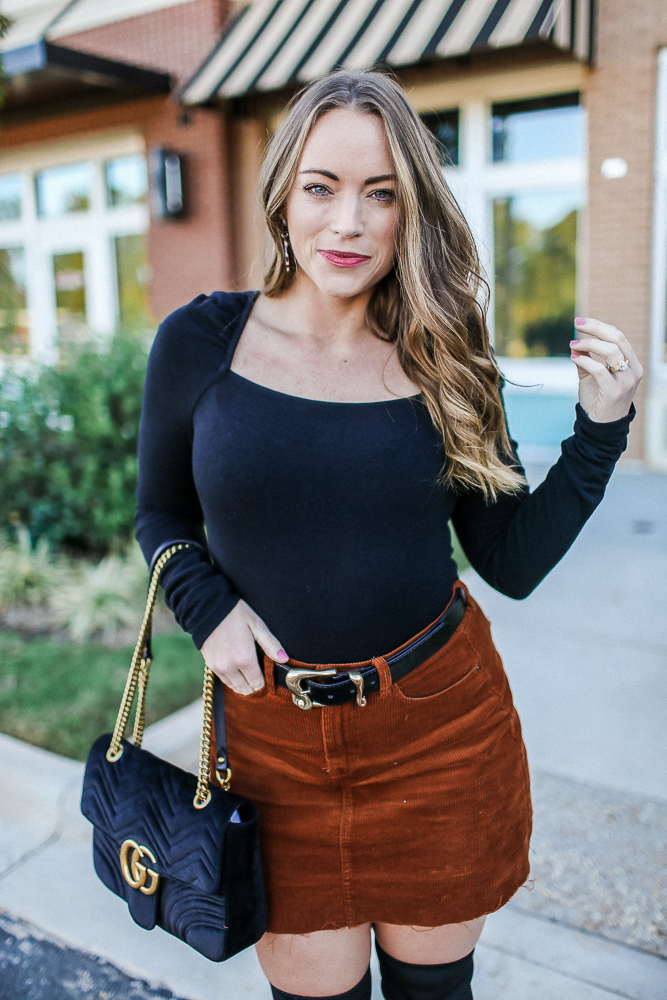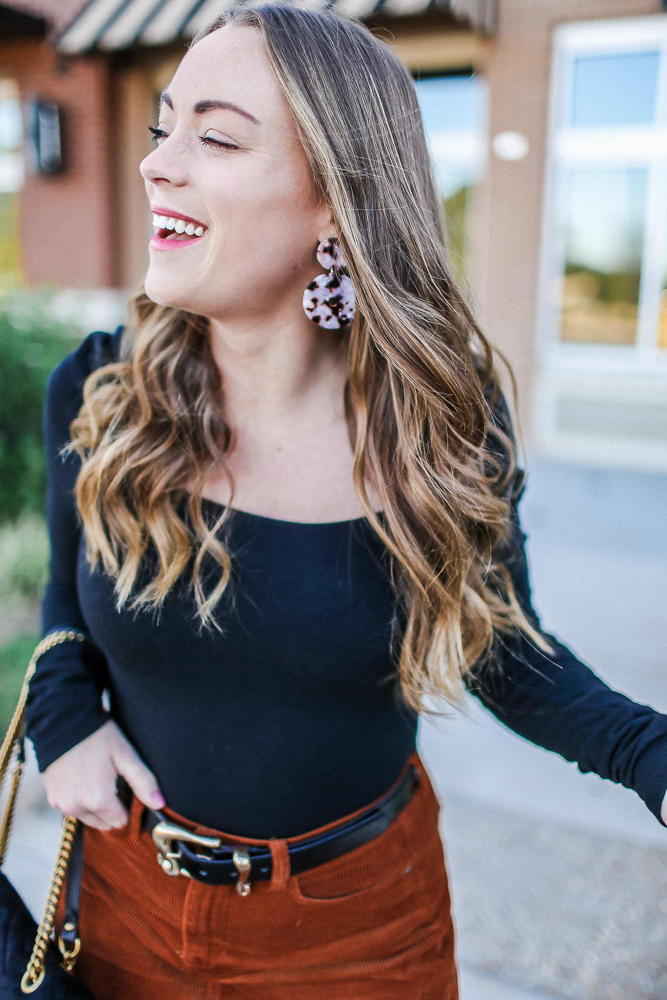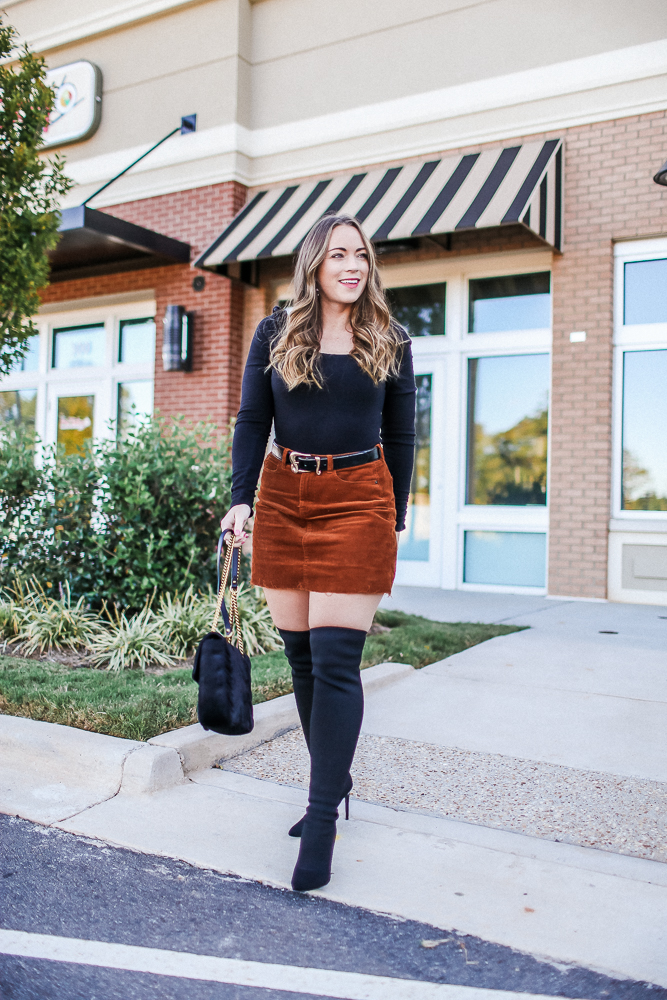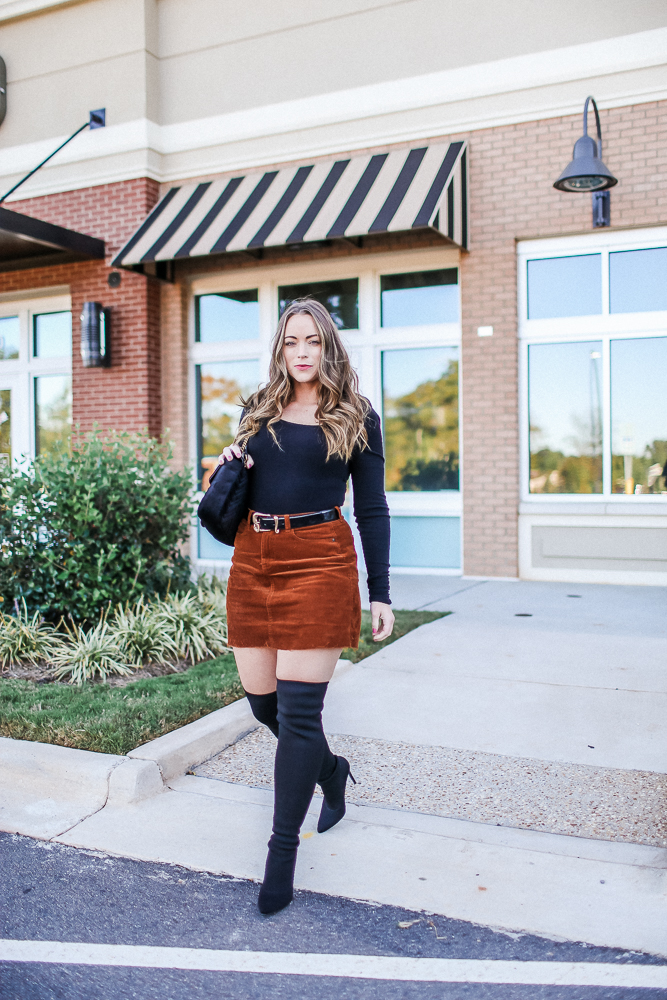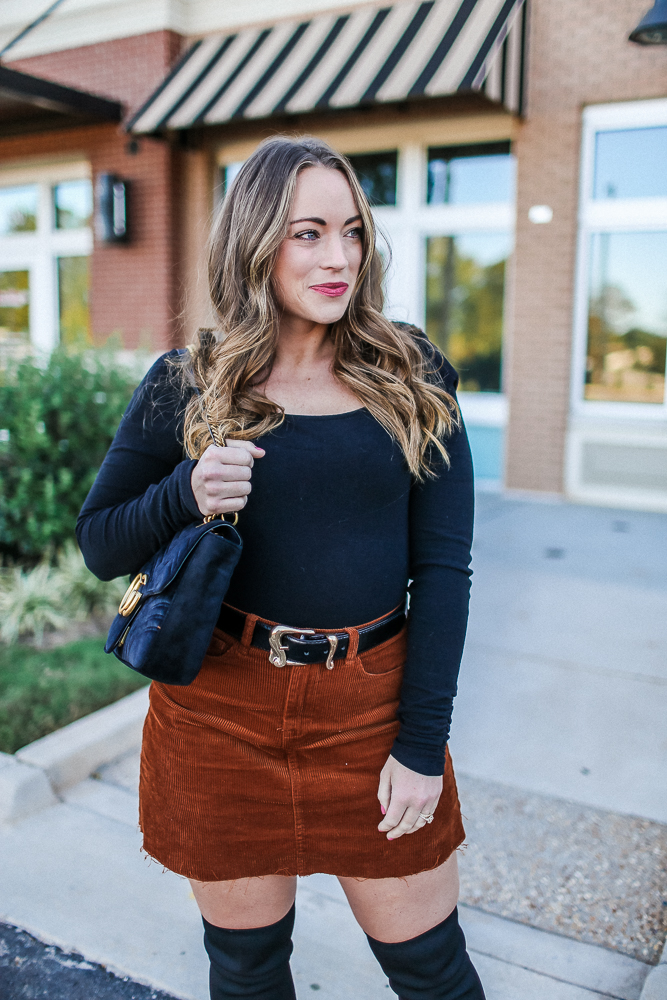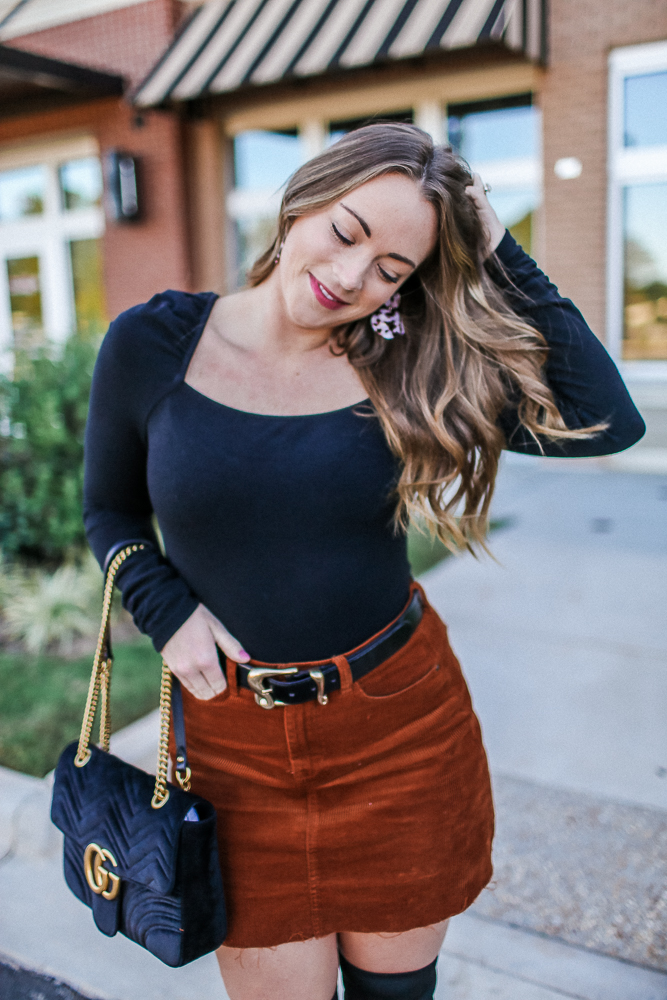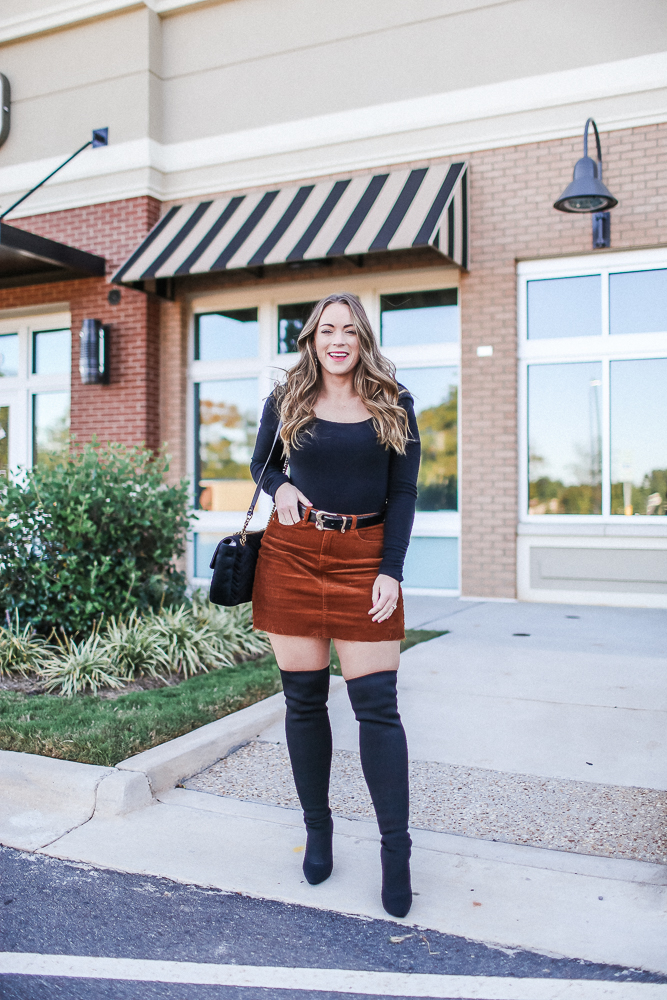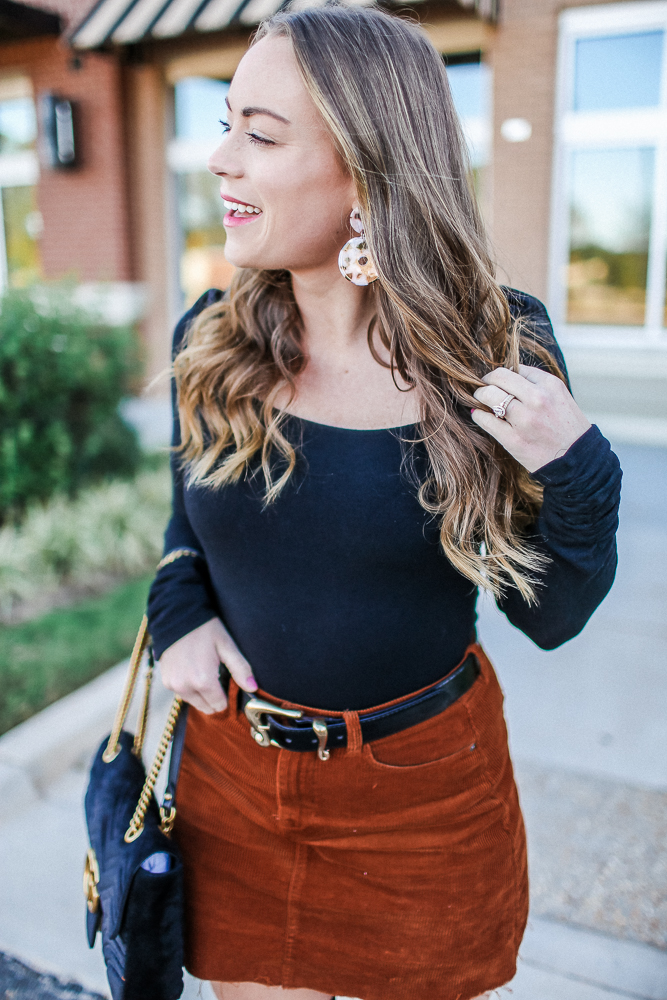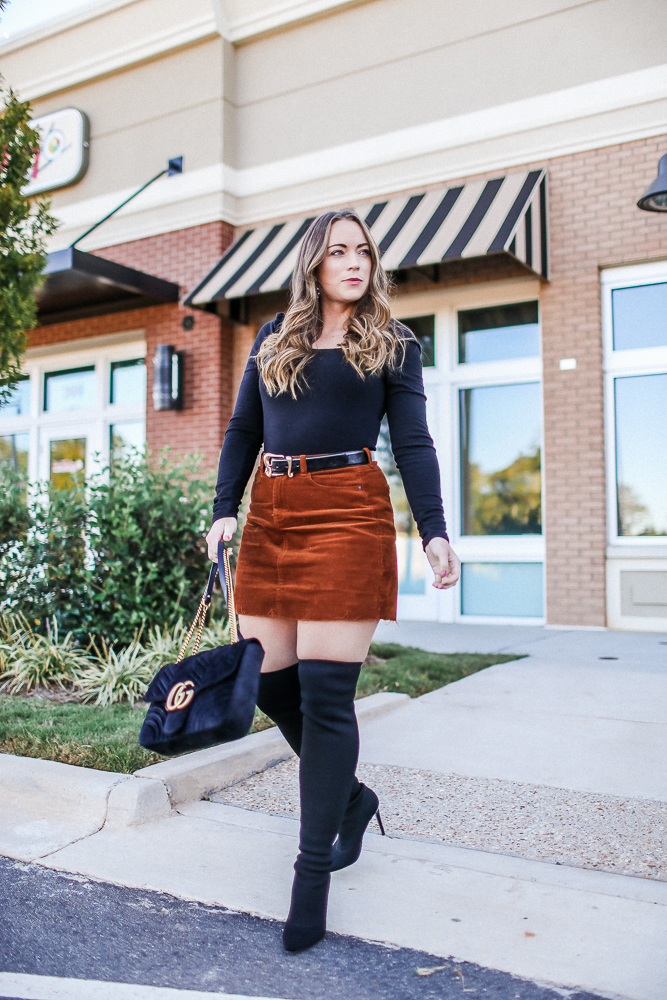 Something Navy Square Neck Top // BlankNYC Corduroy Skirt // Kylie + Kendall OTK Boots (similar here & here) // Gucci Marmont Bag // Black & Gold Belt (similar here & here) // Tiered Disc Drop Earrings 
Hi everyone! I hope all is well with each and every one of you! Happy Halloween!  Can you believe that tomorrow starts November? I literally can not. I have a new series I am going to be writing to every Thursday for the month of November so be sure to check back tomorrow. It's a way for all of us to get to know each other on a more personal level, I am super excited about it!
I want to talk today about a big Fall trend-CORDUROY! I love, love, love this trend so much. It totally reminds me of the nineties- I remember wearing corduroy when I was a little girl. I had every color bell-bottom corduroy pant out there. My twin sister and I would match each other with our stripe tops and corduroy bottoms. Isn't there something so Lizzie McGuire about it too? Hahah! This corduroy skirt I am wearing is $48 and is one of my favorite "bottoms" brands- BlankNYC. I love the fit of BlankNYC because they seem to understand curves and their fits don't compromise in the waist. Their jeans and skirts provide more room in the hips and thighs but have the more fitted waist-my true size. They have a suede skirt that comes in several colors that I have been eyeing up for a while….it's so pretty! You can find the one I'm talking about here.
Now before any of you look at this and think that you're too old to wear this or you couldn't pull this off, I am going to tell you to STOP. Not true:-) If age is your concern, then I have a few tips. You're probably wanting a little more coverage. Swap my square neck top to a thin turtleneck long sleeve like this one or a crew neck long sleeve like this one. Opt for boots like these ones that don't have the stiletto heel which feels a little extra. Wear tights underneath the skirt if you prefer to not show a bare leg! If your concern is that it might be outside your comfort zone- GIRLFRIEND, every now and then you have to try something new 🙂
Thanks for stopping by!
xx, Brittany Ann
Shop the Post: