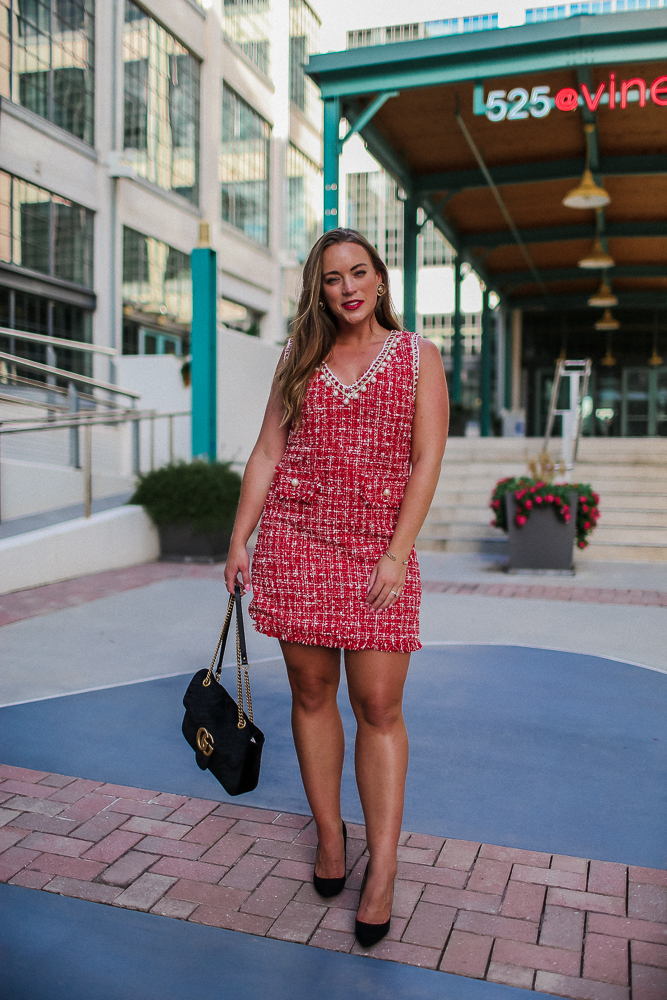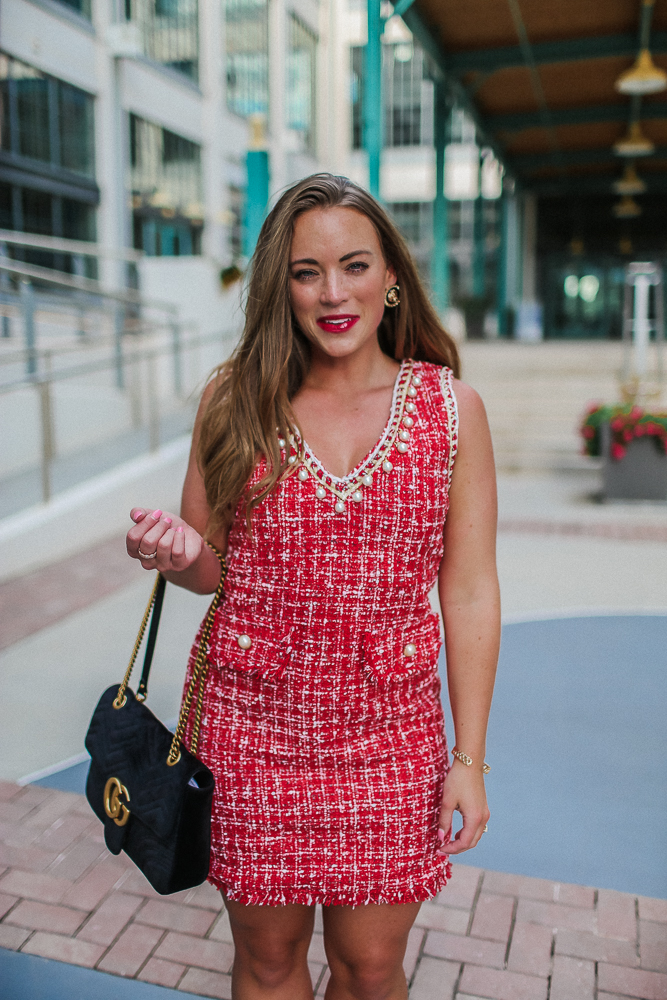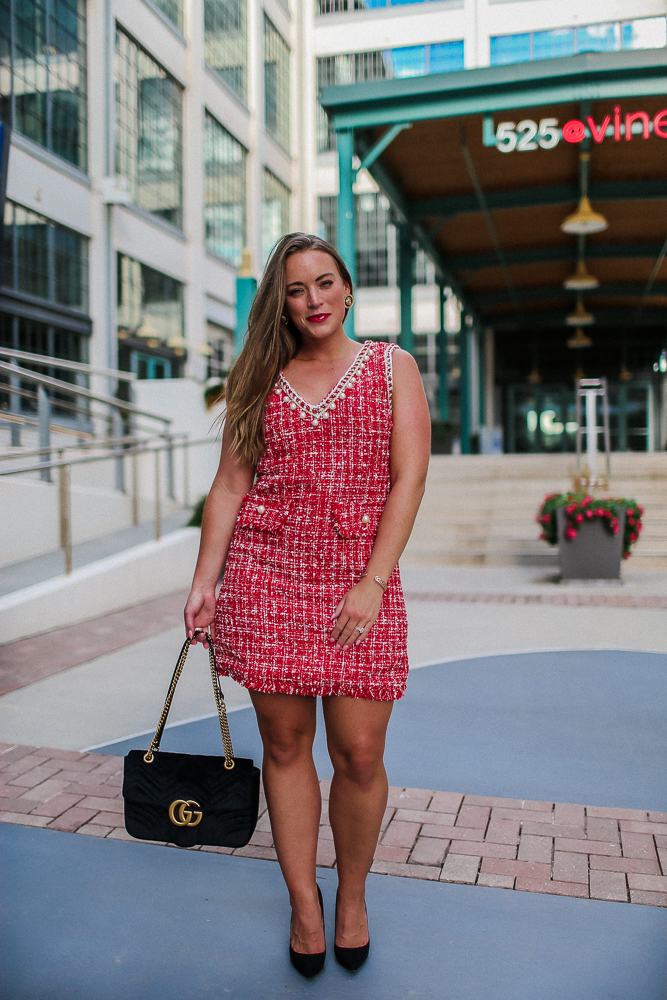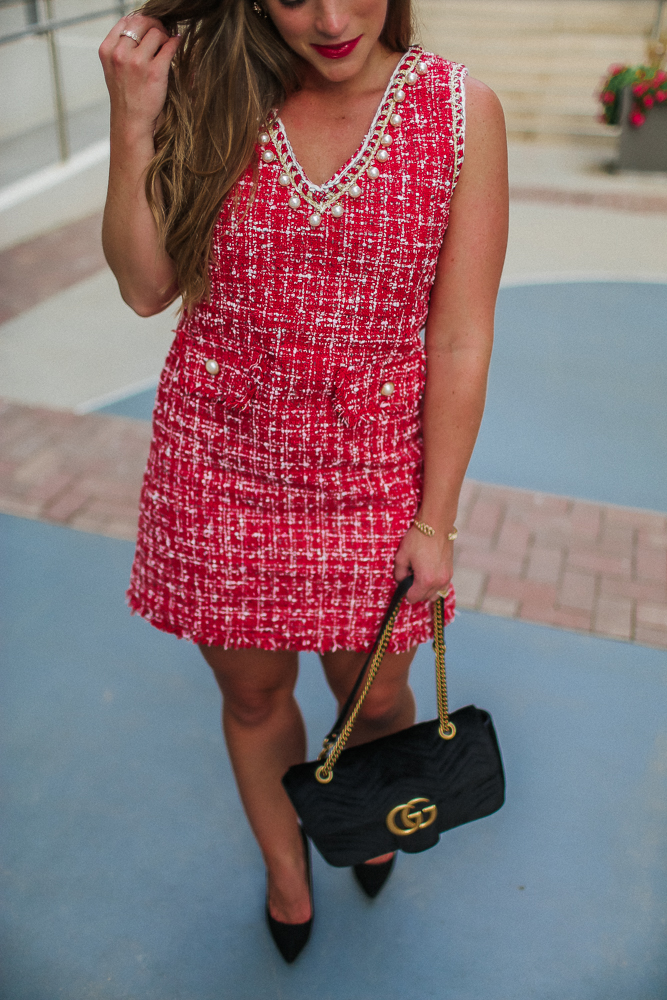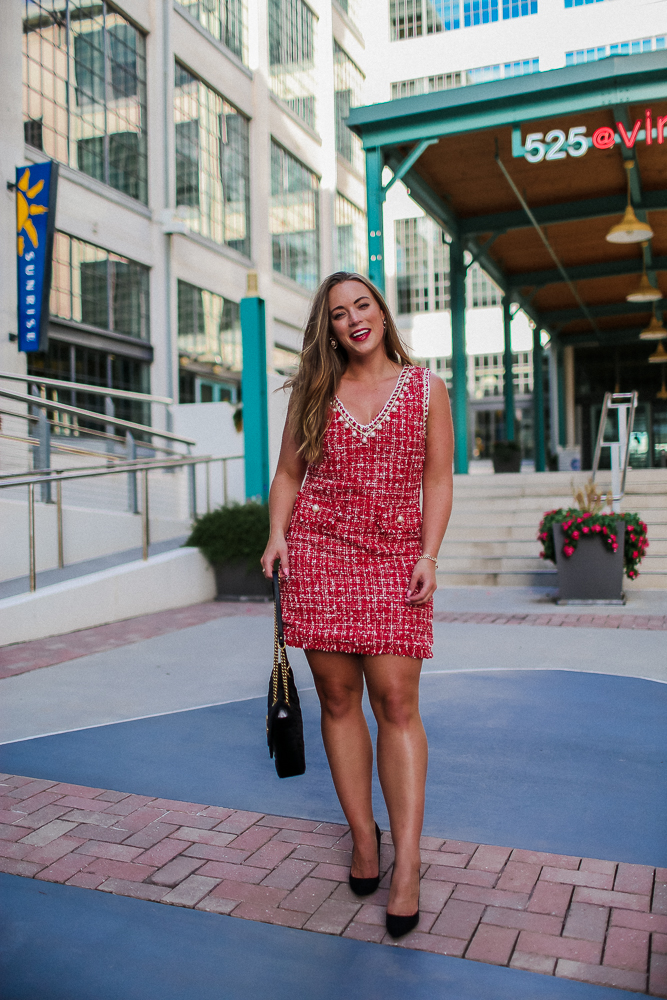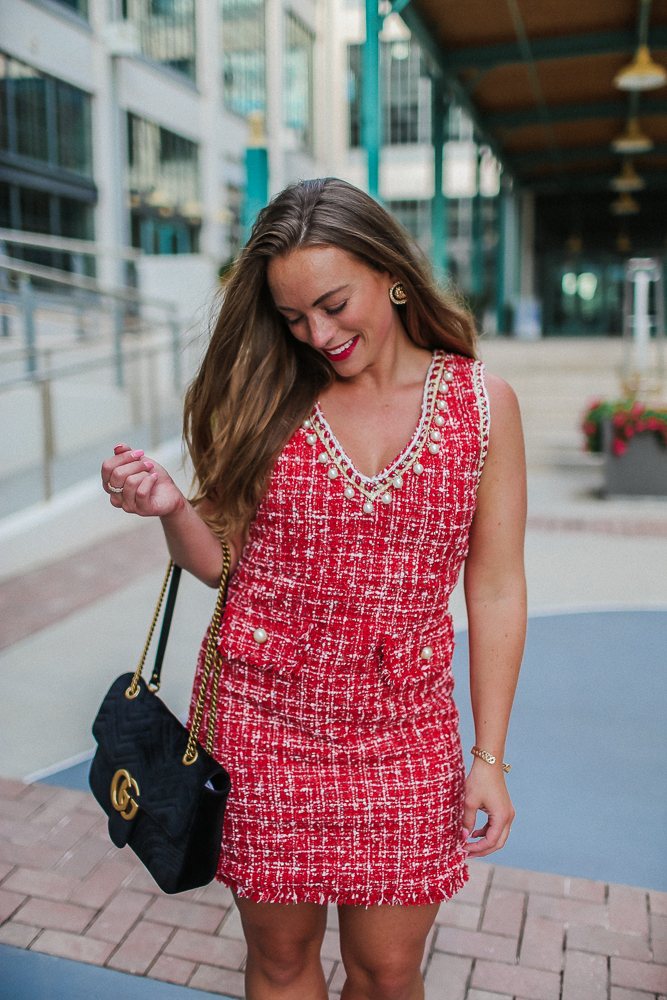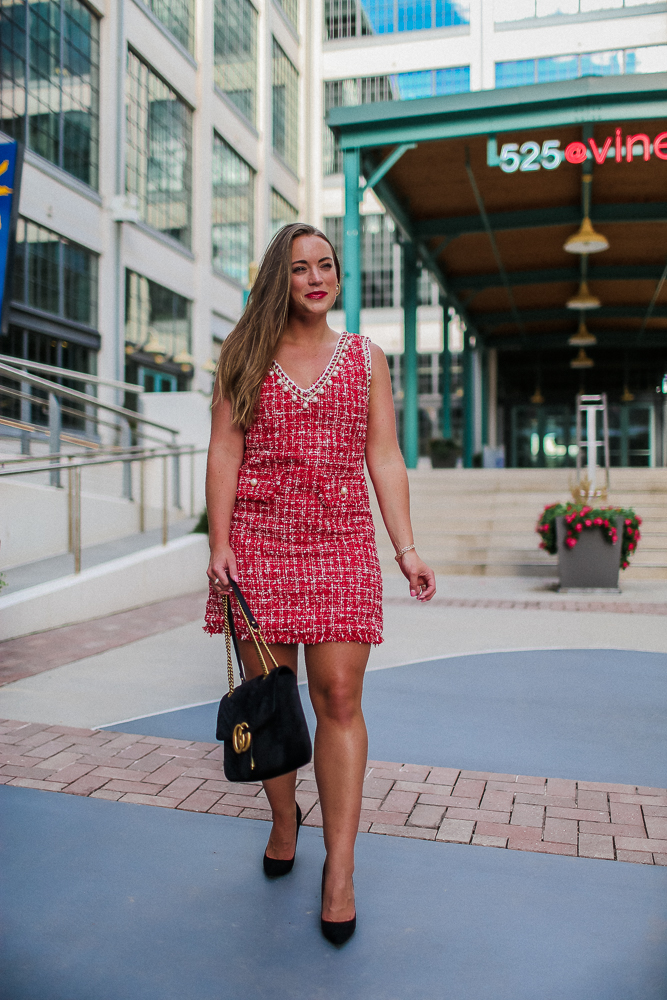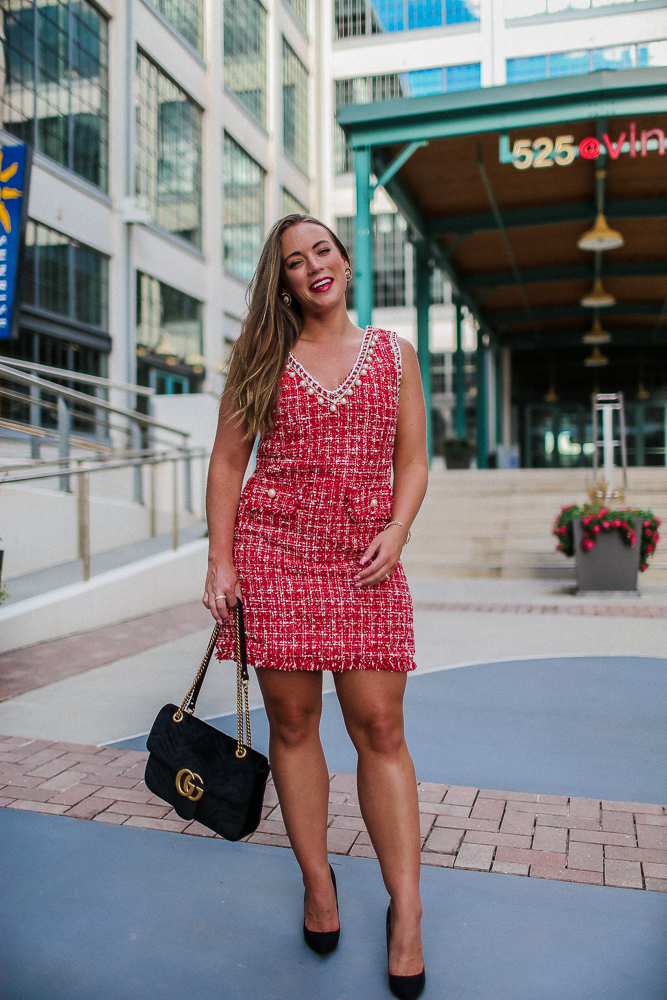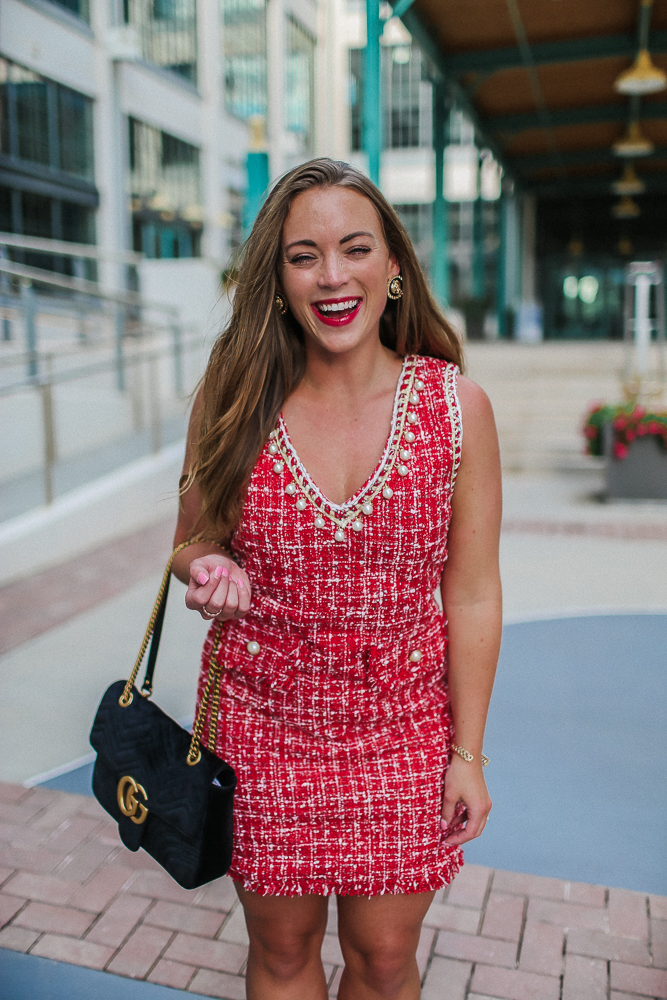 Chicwish Tweed Dress (also comes in black here) // Gucci Marmont  Bag // Lion Statement Earrings // Sam Edelman Heels // Similar Gold Bracelet // Lancome "Be Bright" Lip Lacquer
Happy Friday girls!
I love a good work dress- one that you can always count on when you're running a bit late. This Chicwish tweed dress from (an online boutique I order from occasionally)  is one of those throw on and go kind of dresses. Tweed is a big trend again for Fall and will continue into Winter. It's one of those timeless fabrications that always pop up in the cooler months. I love how classic it is, you instantly look chic wearing anything tweed- we can thank Chanel for this 😉  Anyways, this dress also comes in a black version here. You will see on both of them the necklines really stand out.  The thicker contrasting stitching + the pearls make it so special. The pockets are faux and I like how they placed one pearl on each faux pocket! I like that the pockets are faux by the way, since this is a thicker fabric, it wouldn't make sense to have an actual pocket that would add bulge to the front section. No thank you- I don't need any more weight anywhere hahah! I could see myself wearing this dress again around the holidays, which speaking of, how in the world is it almost that time of the year?! Also, if you work in an office that always feels subzero, don't worry, a jacket on top of this shift dress would be super cute. A suede draped one like this one would be perfect, but a simple cardigan would work as well! You can see some of my previous wear to work outfits here, here and here.
I have rounded up some of my favorite tweed items available right now in the below widget. Give it a second for the images to start loading and all you'll do is click on the photo if it interests you to shop!
Do any of you have been plans this weekend? I do! I am meeting my blogger friend, Savilla, from VogueforBreakfast, somewhere really, really fun. I mean the place makes dreams come true! Any guesses?! Follow me on instagram @brittanyanncourtney to see what we are up to!
xx, Brittany Ann Courtney
More Tweed: