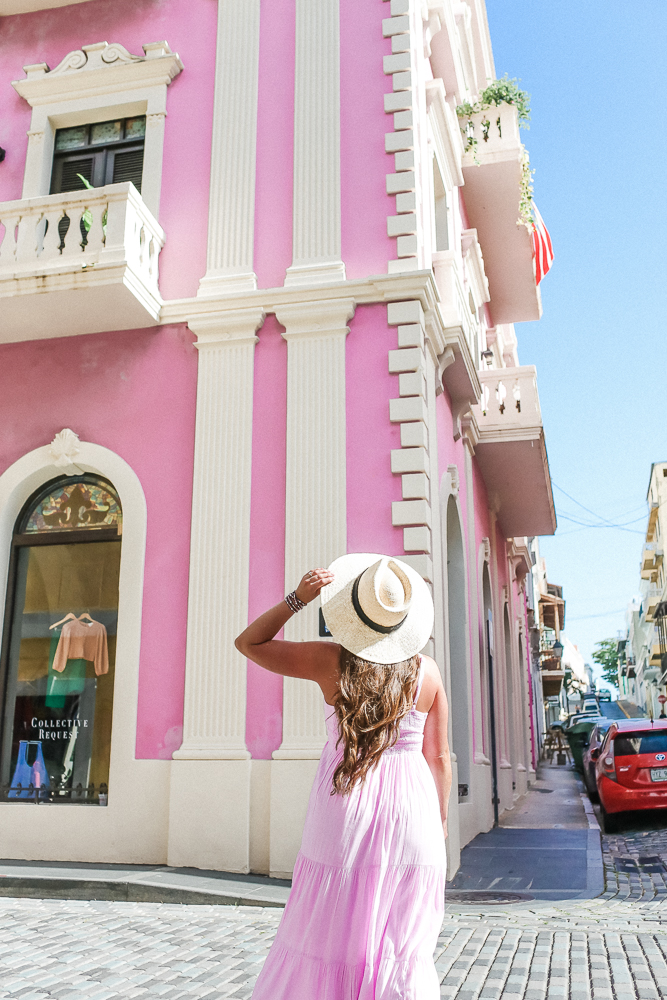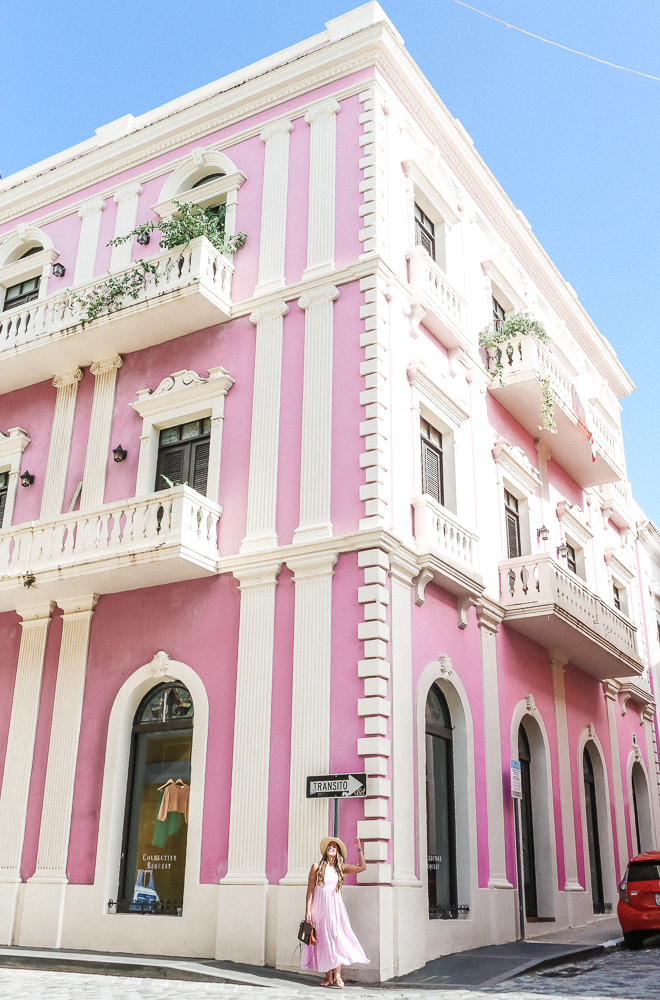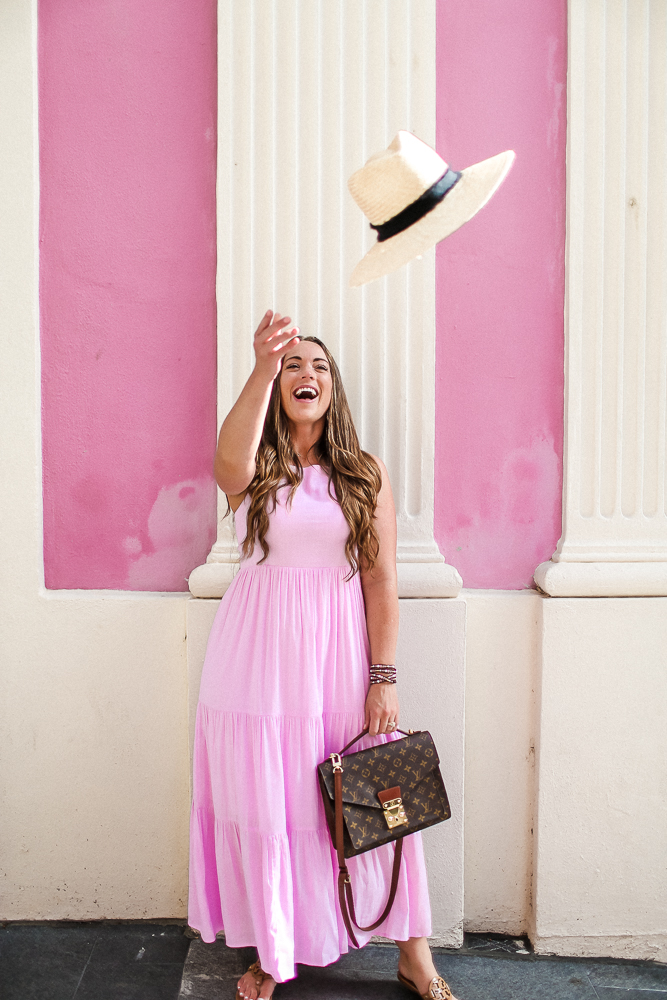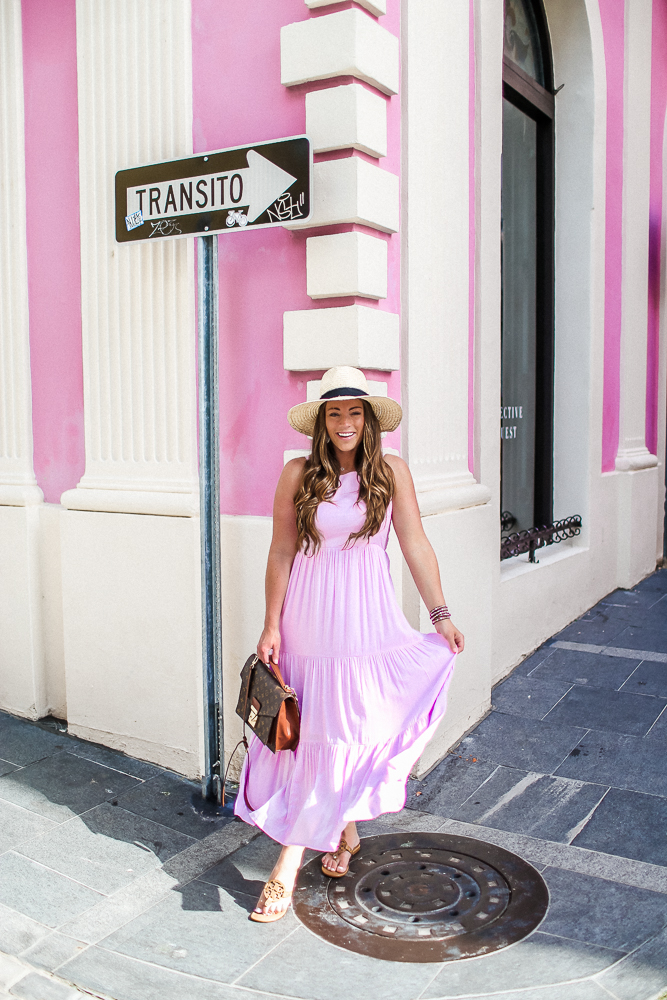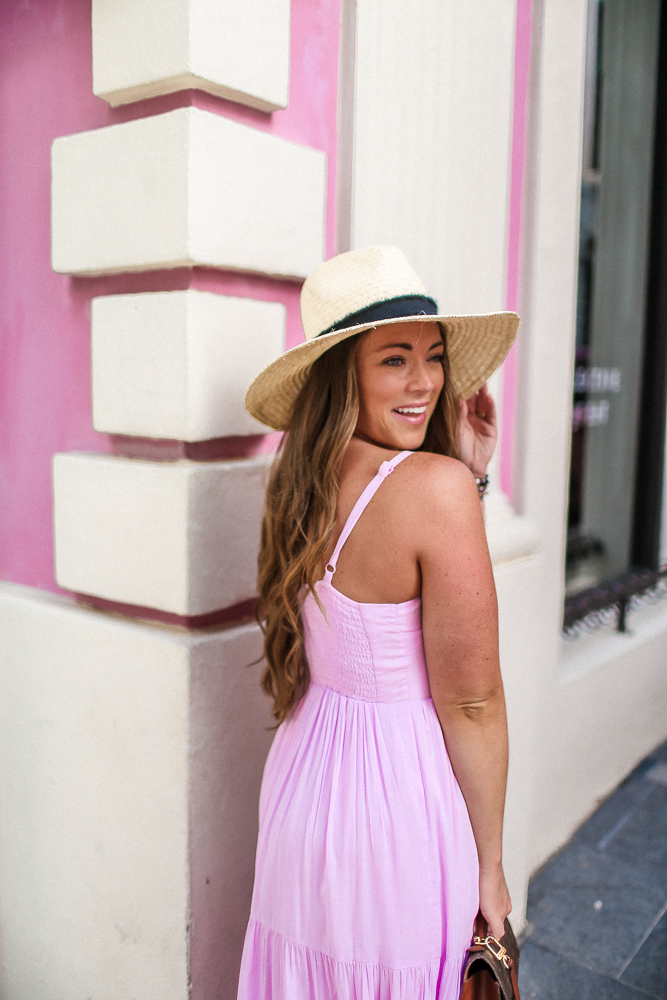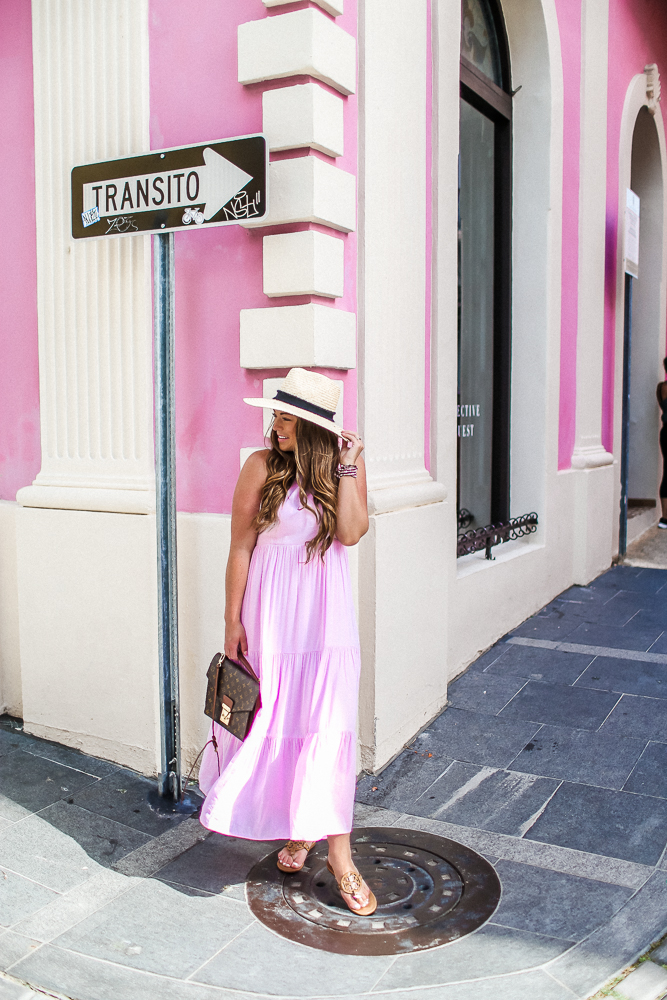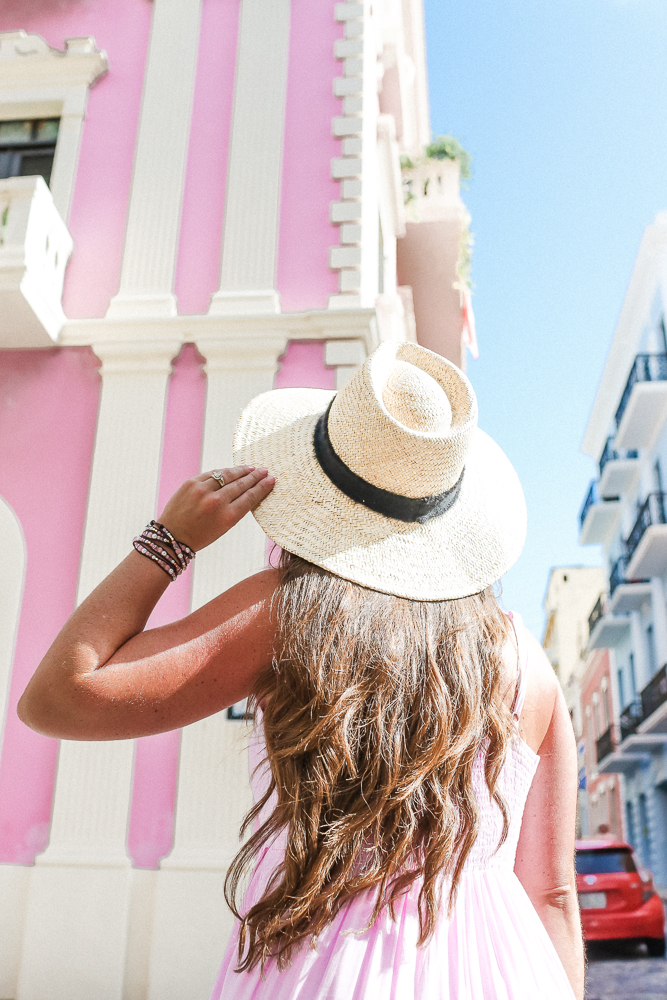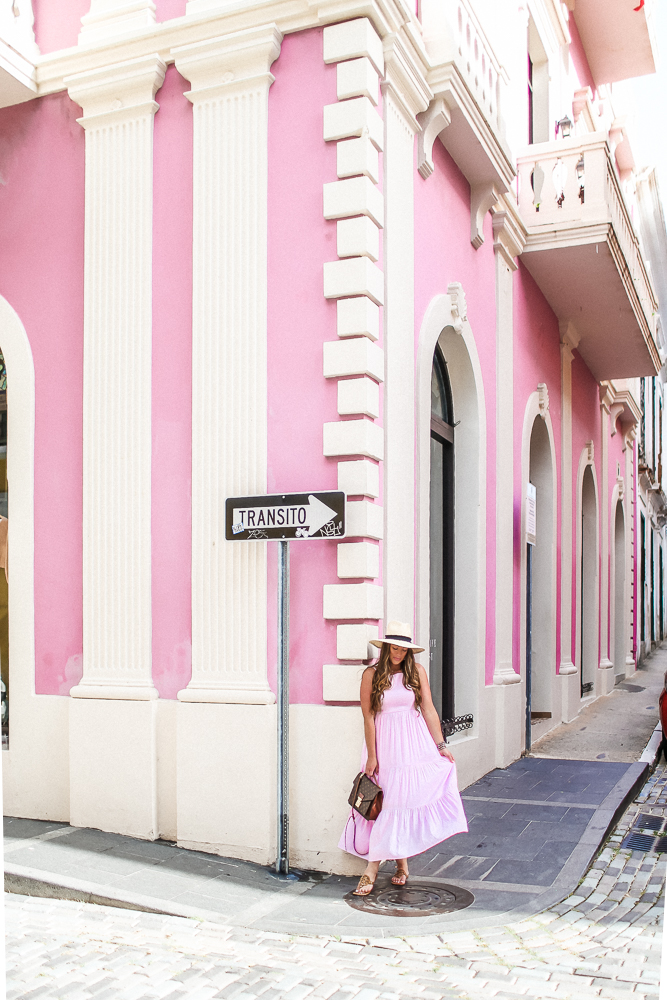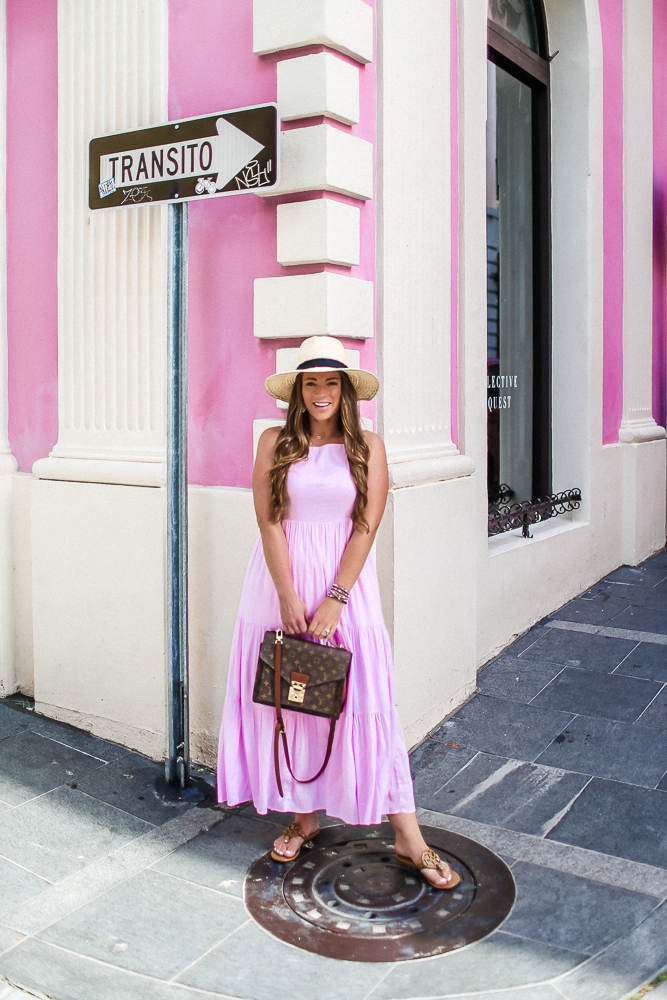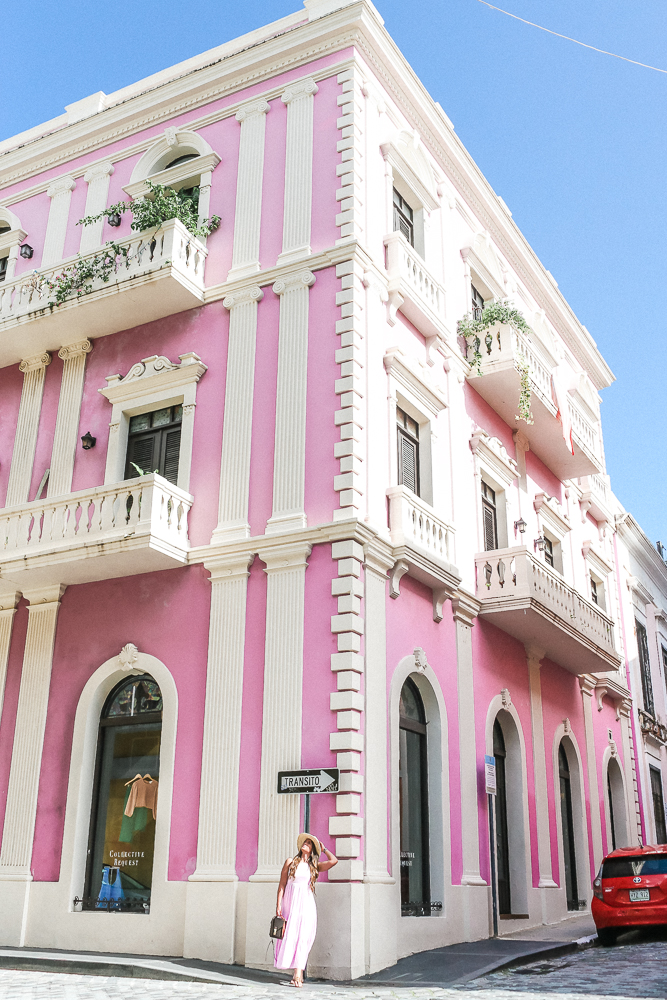 Tiered Fit & Flare Maxi Dress // Victoria Emerson Wrap Bracelet // Brixton Straw Hat // Tory Burch Miller Sandals // Louis Vuitton Monceau Handbag
I Pink I Love Old San Juan….
Ooh I am so excited to share with all of you my recent whirlwind trip to San Juan, Puerto Rico !My friend Jolinda game me a buddy pass to meet her in Old San Juan. It was my first time flying stand by and it was quite an experience. Pat had dropped me off at the DCA airport at 5 Am following one of my best friends, Becca's wedding! I then flew straight to Old San Juan, arriving just under four hours before my friend. I took a thirty minute taxi to our hotel in Old San Juan to check in and get a start at exploring. I felt 100% safe by myself leaving the airport in the taxi, checking in at the hotel and then walking around Old San Juan. I think with being anywhere unfamiliar, you need to exercise caution and always be mindful of everything going on around you. Uber can not pick up at the airport (it can take you from your hotel back to the airport to drop you off though) so you must take Puerto Rico's taxi service. There was a man that writes down the license plate and hands you a copy of the ticket. I took a quick photo of it and sent it to Pat, made me feel safe that God forbid, he would have some it.
The best thing about Old San Juan is undeniably the colorful buildings. It's completely like living inside of a rainbow, or so I kept imagining that! Every bright, pastel color you can imagine was lining the streets. You all know how much I love Charleston, but it made Charleston's colorful homes seem dull!
This beautiful pink building instantly stood out- I mean what a sweet, beautiful color! In case you ever make it to Puerto Rico and want to take a photo here, the building is located one block up from Plaza de Armas. It sits on Calle de Luna & Calle de la Cruz. My tiered fit and flare maxi dress matched it perfectly! I am wearing a size medium in this dress, it comes in black and two other prints. I'm 5'5″ and I found the length to work well with my sandals. Old San Juan is all cobble stone streets so if you are walking around exploring, flats it is!
The Nordstrom Anniversary Sale starts opens this Friday at 12:30 EST for Nordstrom cardholders. The sale opens to everyone on July 19th and goes until August 4th. I'll be posting sneak peaks tomorrow on my blog, be sure to come back to get a first look at the sale! This is on the biggest sales of the year. Nordstrom temporarily marks down brand new Fall forward pieces for about these two weeks. These are brand new items and they do sell quickly! One of my top post from last year was my "Top Fitness Picks" from the Nordstrom sale, I will be sure to cover activewear thoroughly again this year! It's my favorite category to shop- I always love purchasing active pieces on sale since……you sweat in them! Haha! Follow me on my instagram (@brittanyanncourtney) to see try on hauls and to swipe up to shop the sale with me!
Thanks for stopping by!
xx, Brittany Ann
Shop the Post: