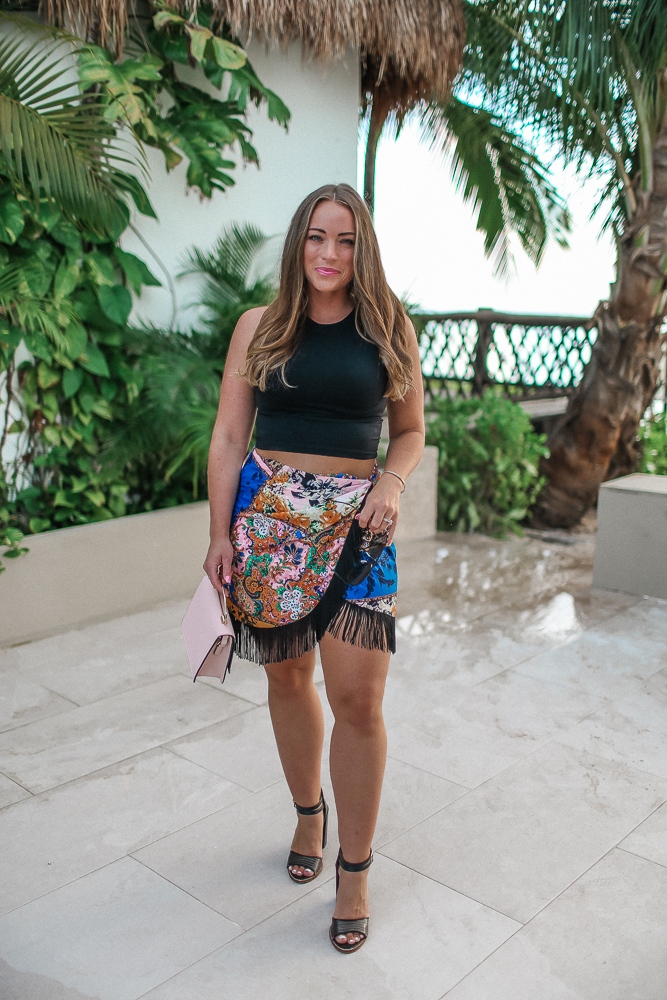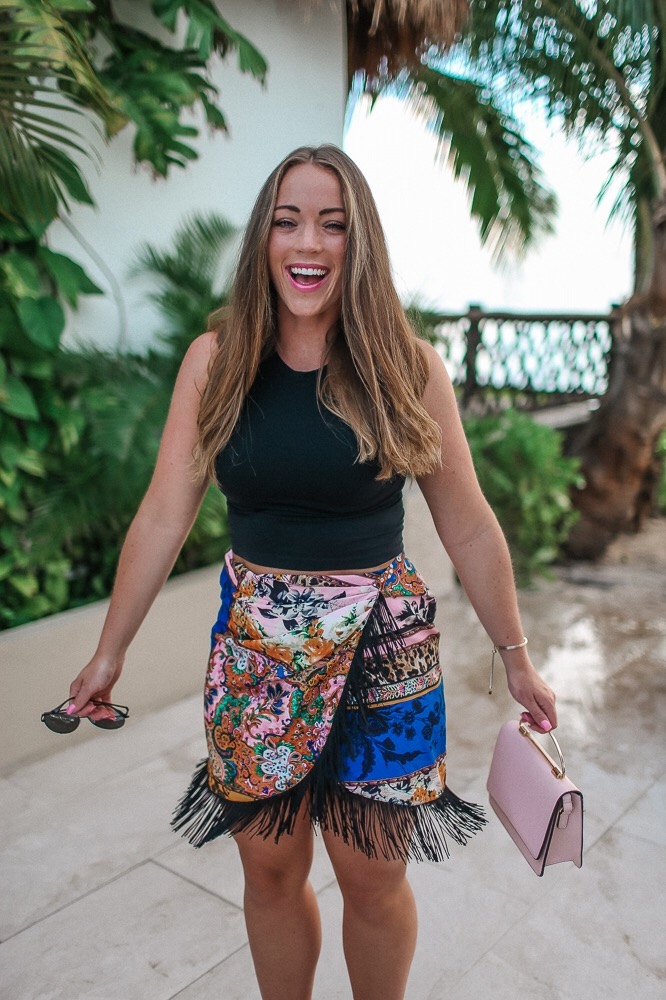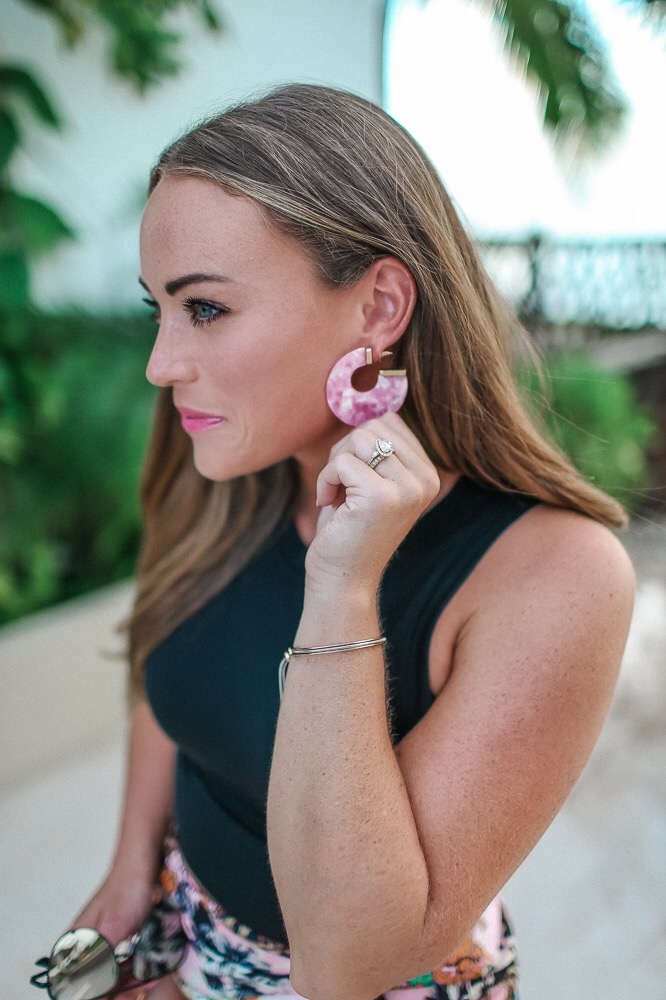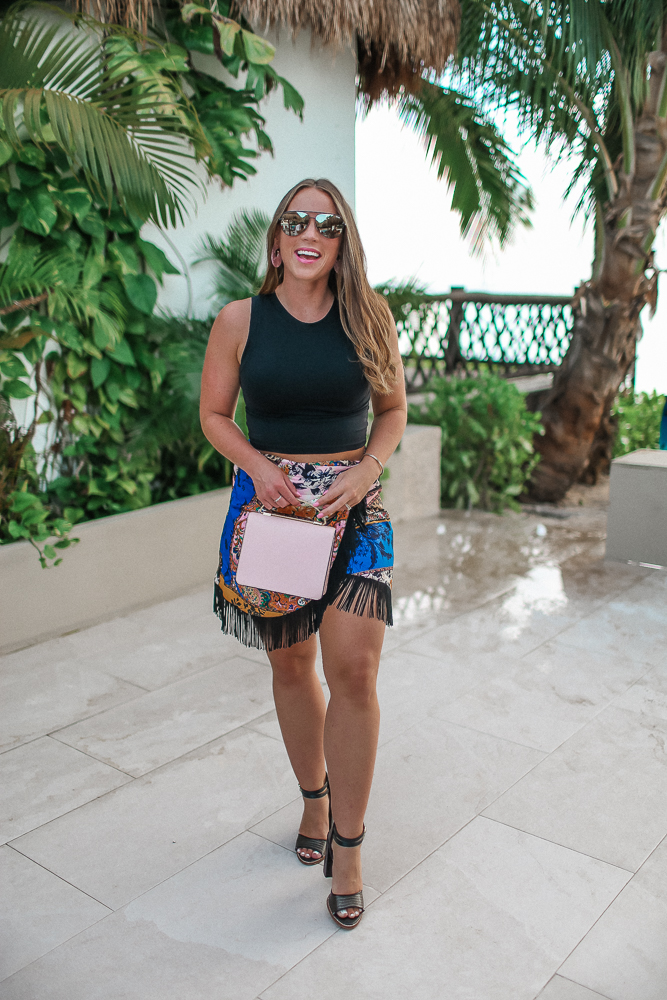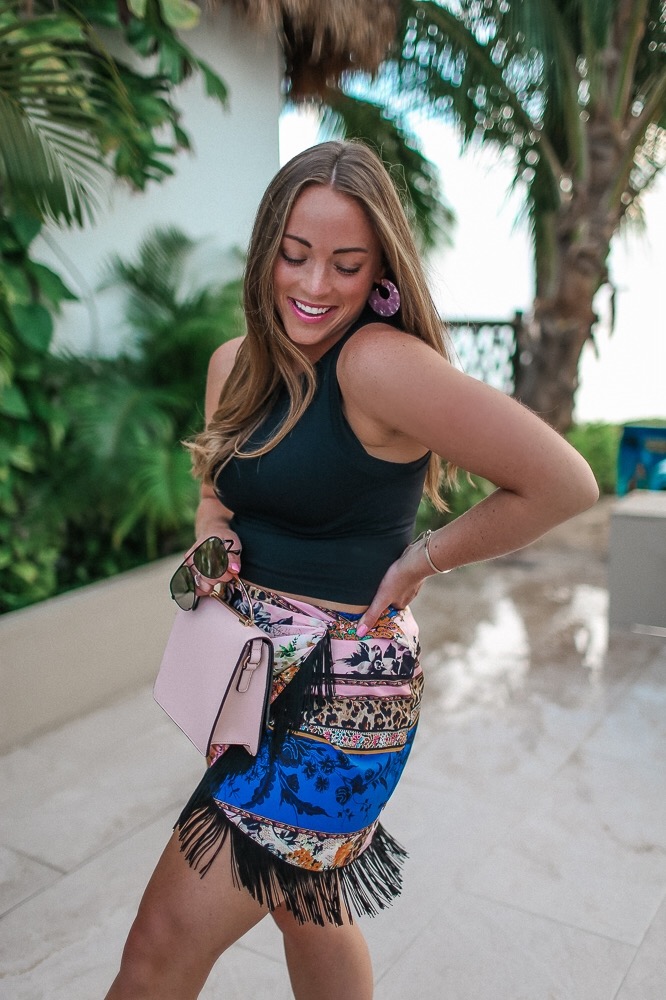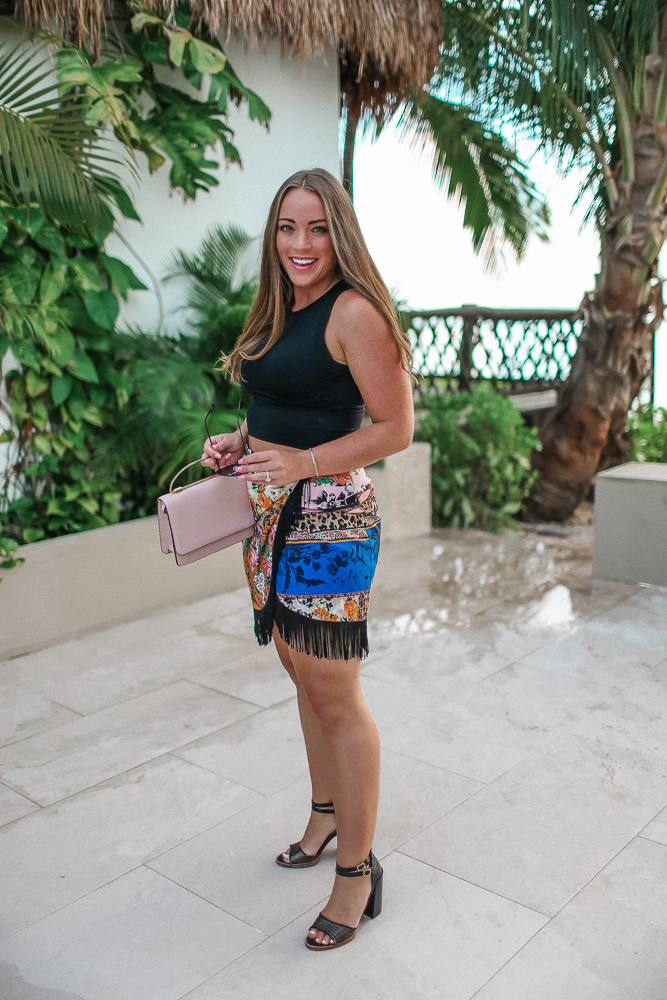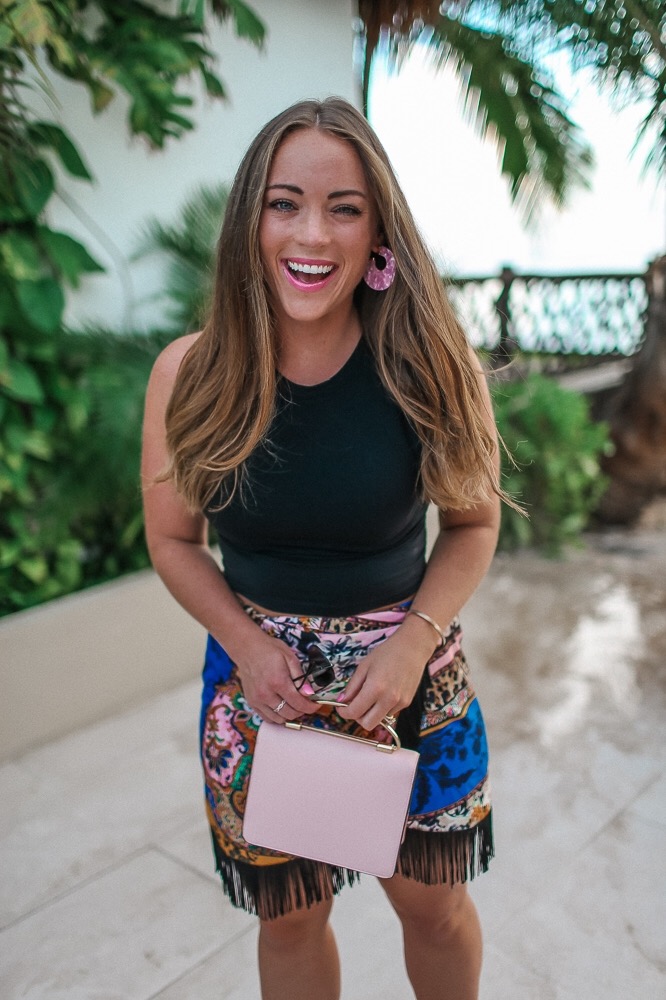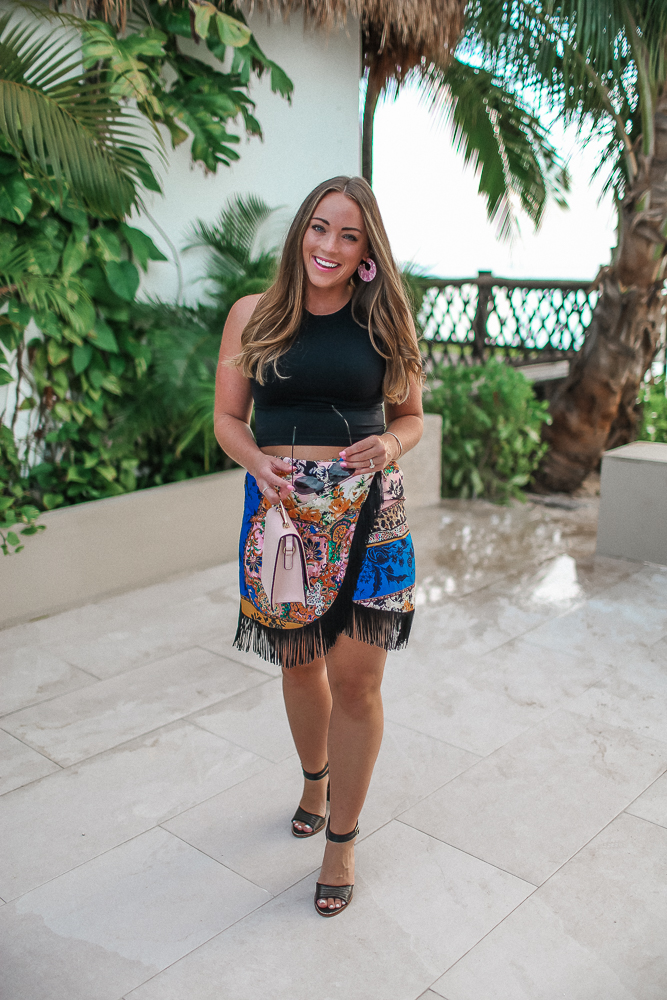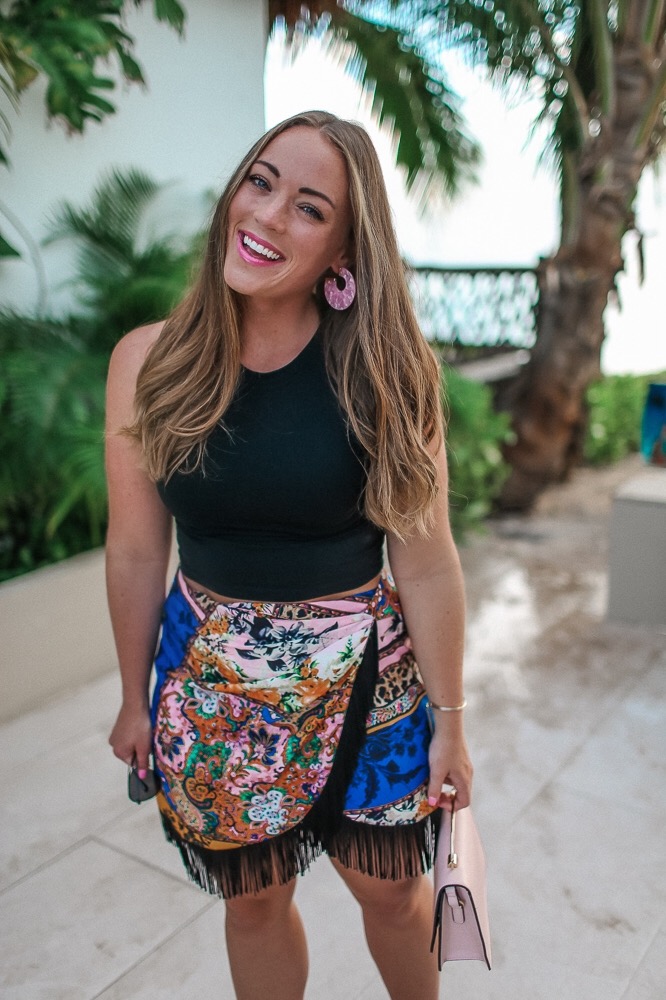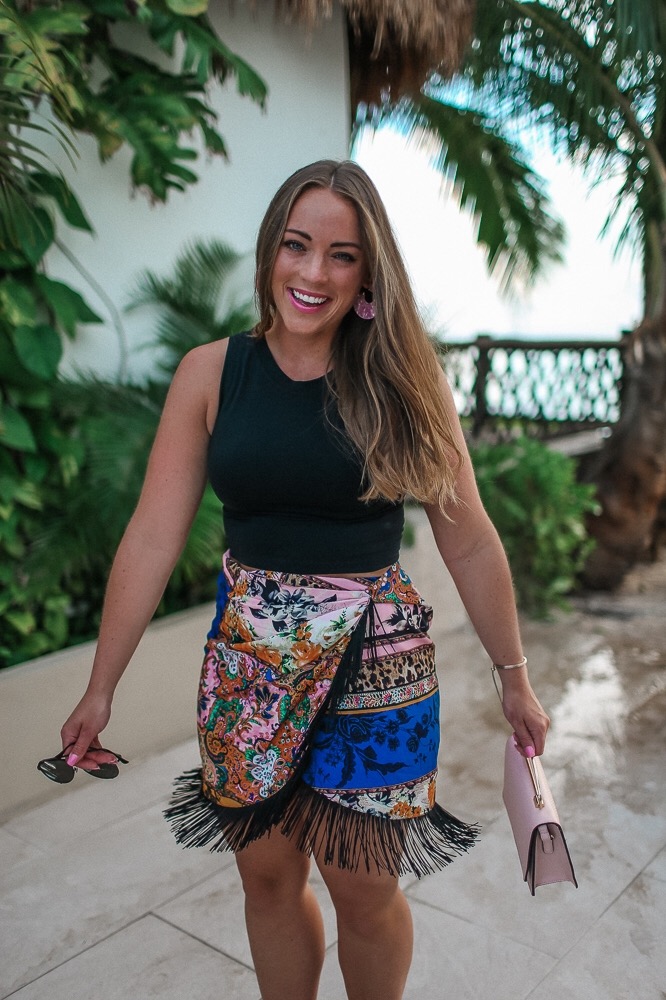 FP Scoop Neck Crop Top  // Mosaic Tile Fringe Skirt // Quay Australia x Desi Perkins Sunnies // Pink Earrings // Similar Sam Edelman Ankle Strap Heels // Two Tone Bolo Bracelet // Similar Blush Handbag // Lip- Lancome L'Absolu Lip Lacquer in Ultra Rose 
Hi guys! It has been a little while! Pat and I went to Cozumel for a little honeymoon and immediately arriving back to the states we met his parents, sister and brother in law in Charleston for a long weekend get away! I can't believe the end of Summer is here! While I am super excited for Fall… the past week and a half in beautiful hot weather was really nice. I am for sure, a summer girl. If I could make a living by being in a bikini on some remote beach every single day…I would! Would you?!  I will be doing a full review on our honeymoon trip at Secrets Aura next Wednesday so stay tuned for that!
I wore this ASOS scarf print wrap mini skirt with a fringe hem one night to dinner on the resort. I love how fun it is- the multiple prints and the fringe hem. I couldn't stop twirling around in it and I think I started driving Pat nuts because I kept saying "spin me!". Hahah! He did spin me but only like twice- I probably asked around twenty times..!  You can see in the above photos the movement the skirt has-which is super fun! If you live in a warmer climate like me, there is still a lot of warm weather left. I love that this skirt has many colors and different prints and is grounded in black. It can be worn now and through Fall!
I have to mention that this Free People crop top has become a closet staple that I reach for over and over again. It's a basic tank that is fairly longer in length and is super soft and comfortable to wear. It's stretchy and is only $20! It comes in blush pink, black, nude, white and red. I wear this tank so often but one way I will wear again in Fall is pairing it with a cozy cardigan and high waisted jeans with booties!
Thanks for stopping by!
xx, Brittany Ann
Shop the Post: