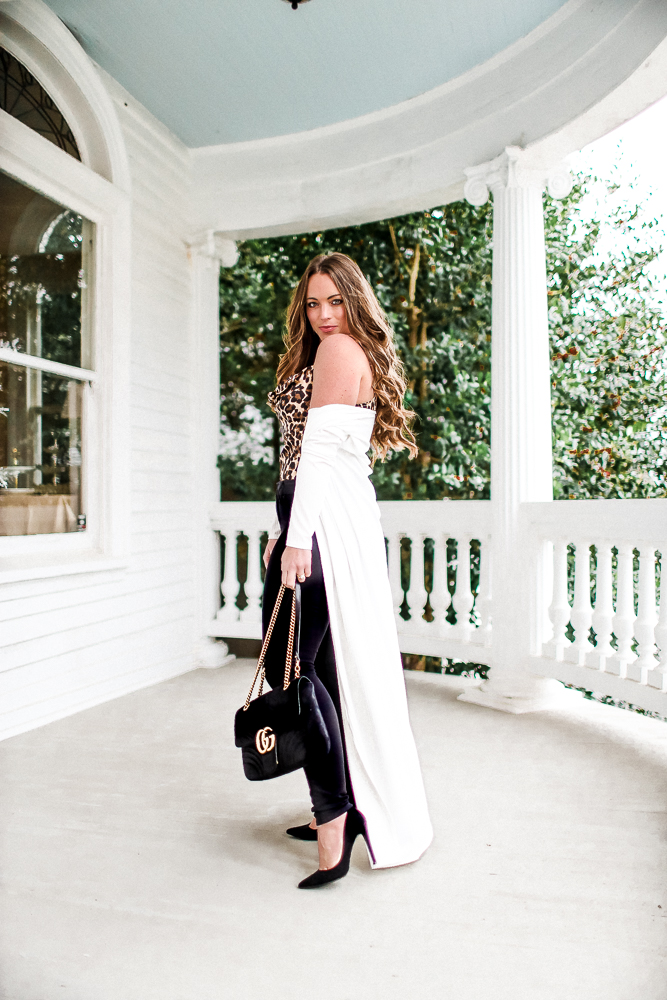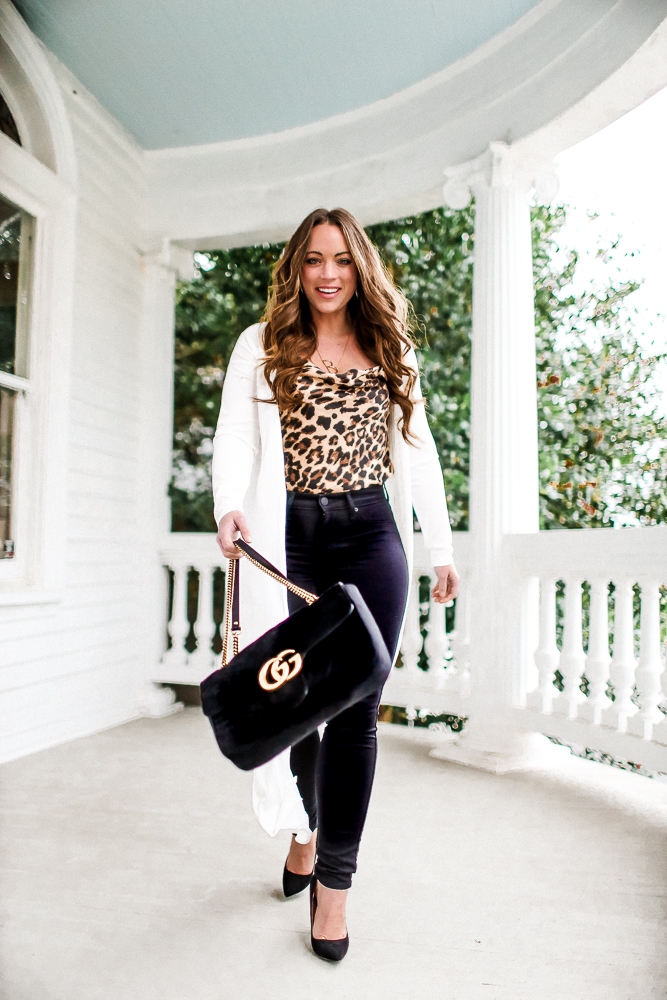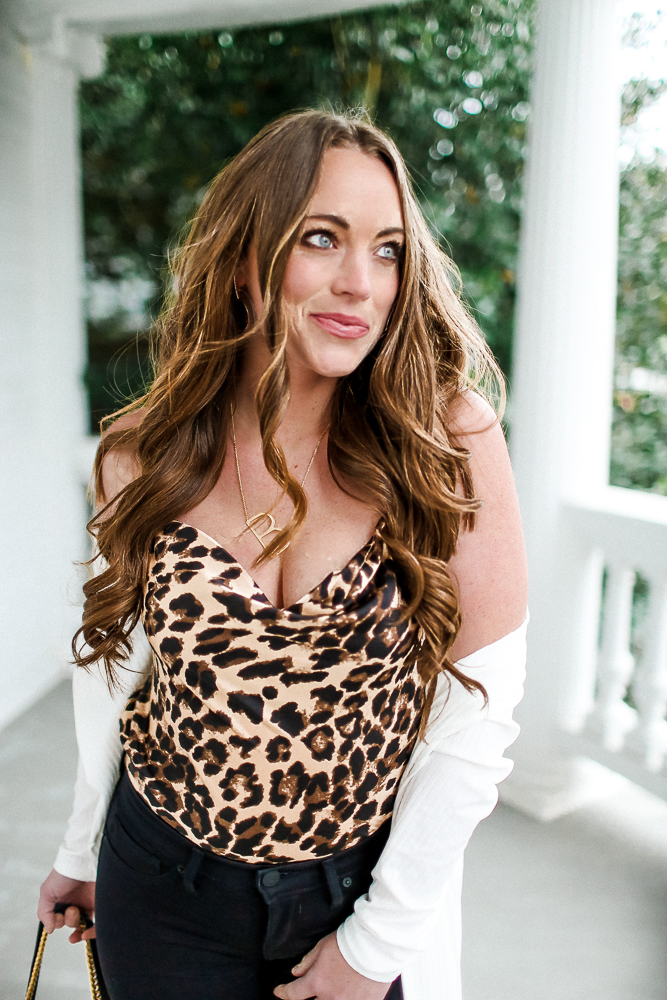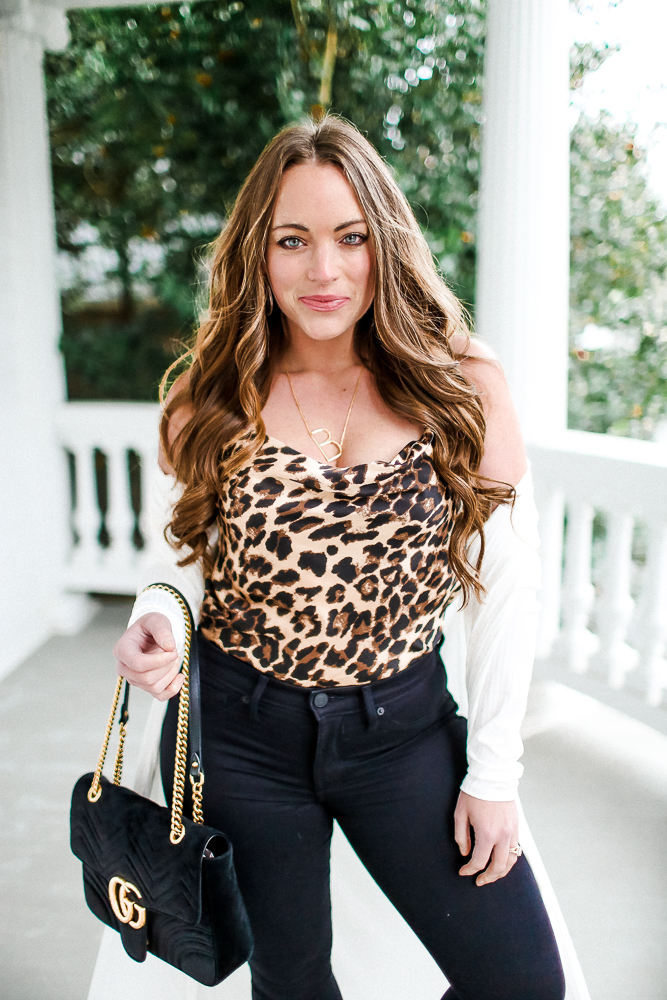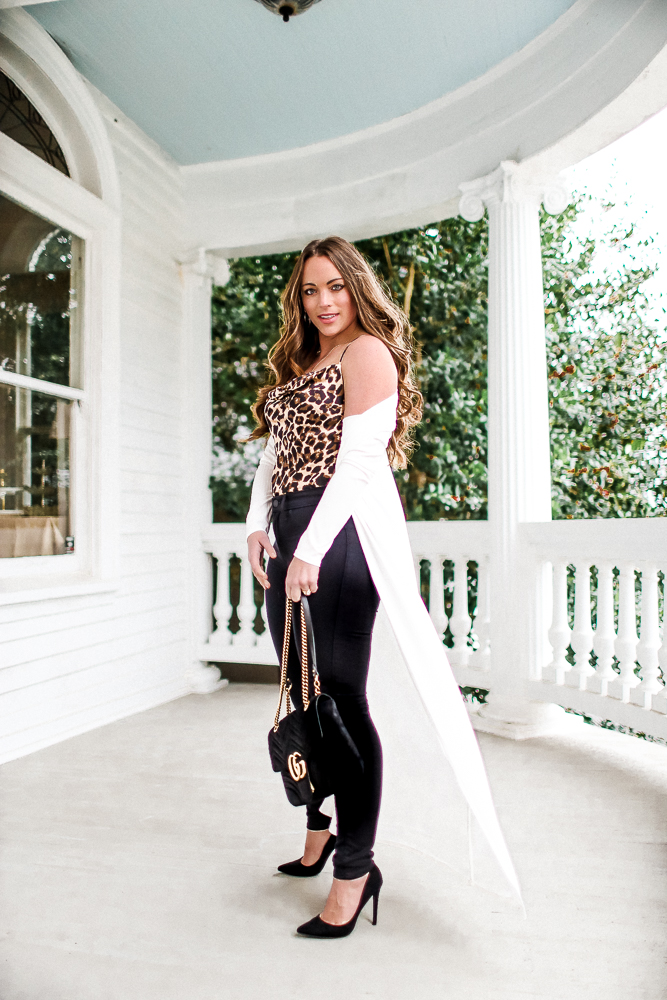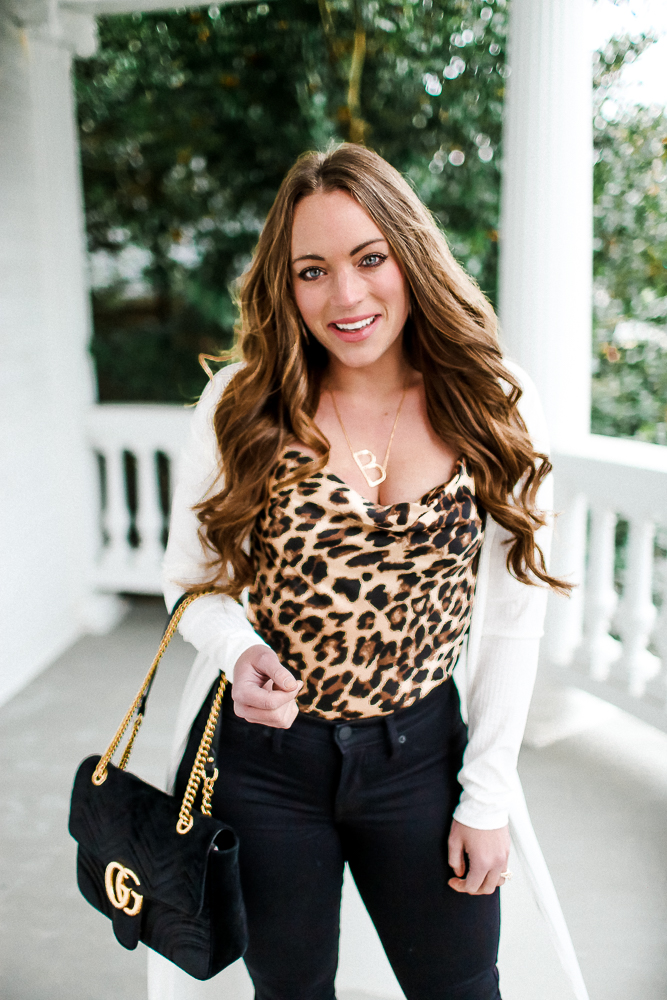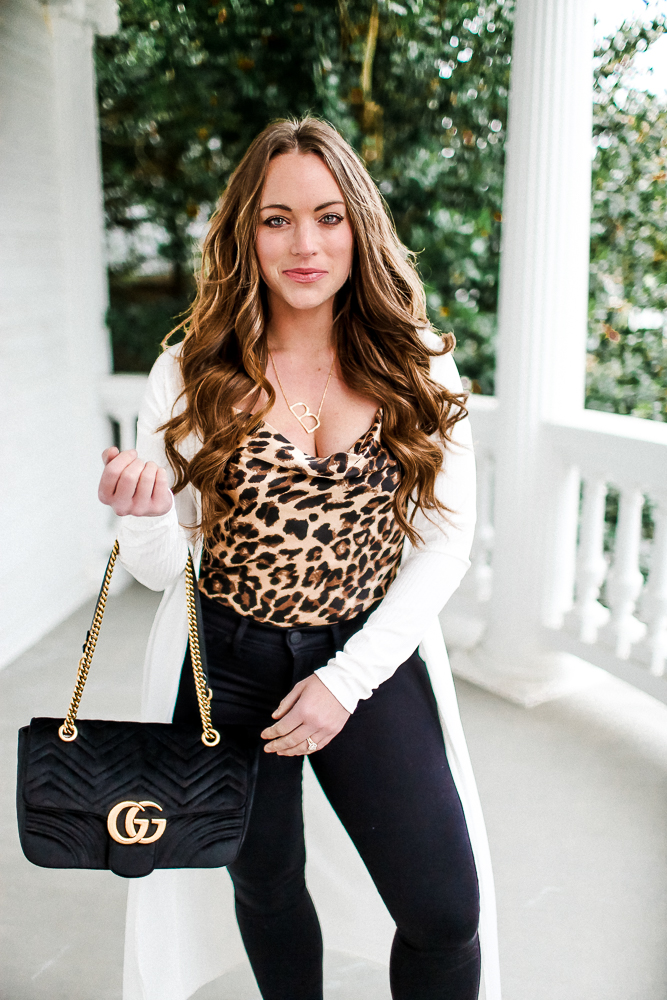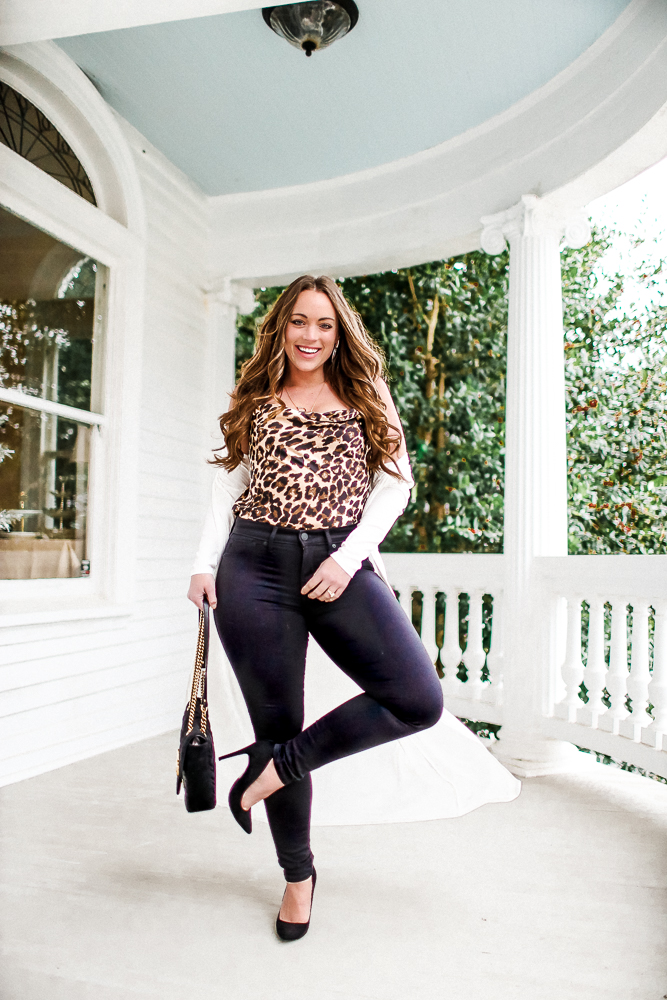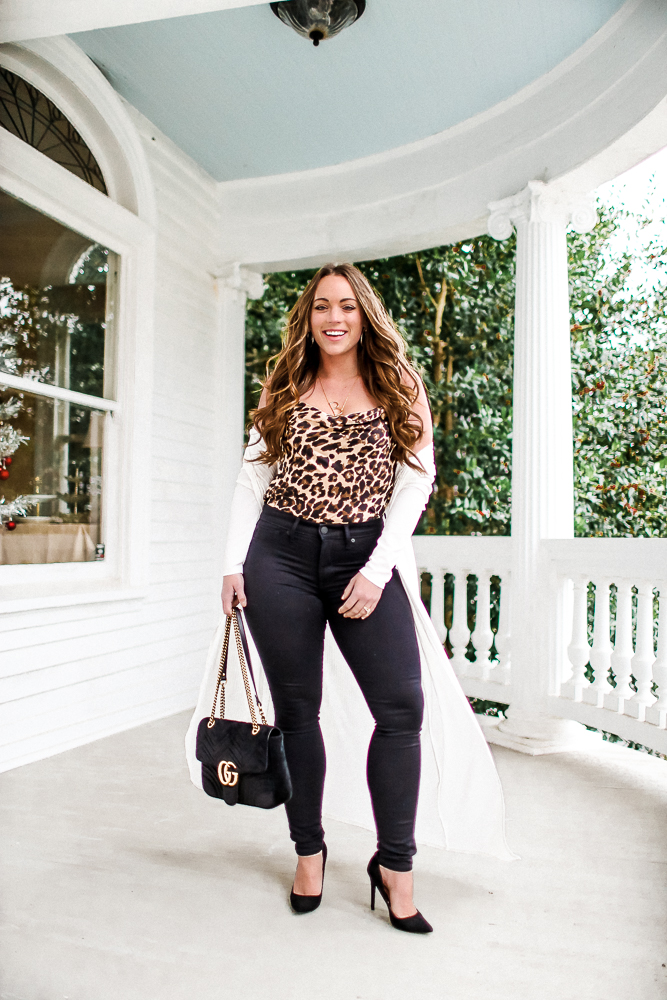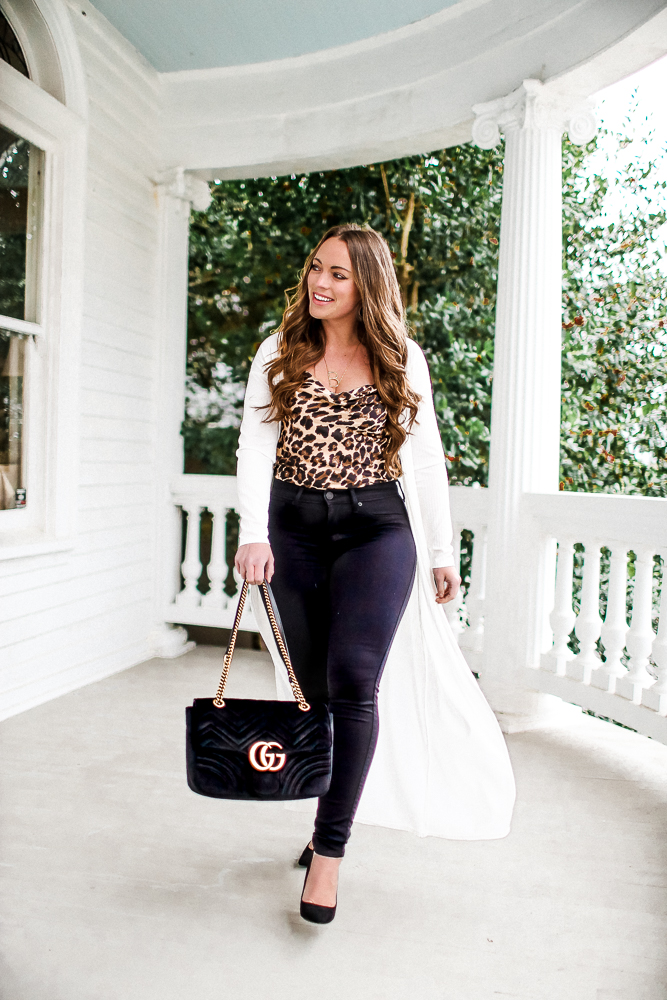 Similar White Duster Cardi // Leopard Camisole // Black Jeans // Initial Necklace // Black Heels
Happy Valentine's Day you guys! I hope you spend the day thinking of those in your life who you appreciate, who you love, who you cherish, whomever they may be. I use to think Valentine's Day to be all about pink, roses, dinner, a handsome man (my Pat!) but as each one passes, I think less about those particular things and more about those who I simply love. Obviously Pat is one of those people in my life and we will celebrate with dinner and dessert and sweet cards but I think Valentine's Day is really about expressing love to those in your life. Your Mom, your Dad, siblings, your girlfriends, those who are always there for you. Send them a text telling them you're thankful for them and that you love them. Doesn't have to be more than that. Just something to let them know you thought about them.
One of those staple pieces in my closet that can be worn all year long? This must have leopard camisole! I am wearing a size 8, unfortunately, this leopard camisole is limited in stock but I have linked a bunch in the below widget! Also, Nasty Gal has a *TON* of cowl neck camisoles / cowl neck dresses available here! Be sure to check those out if you are loving this neckline as much as I am!
Our lives are filled with "being busy" and running from one thing to another but I'm trying to slow down a little bit. The world doesn't end if you miss going to something, doesn't stop if you don't post something, so simply relax a little. Love and be loved. I shared "8 Ways to Self Love" on my blog [here] at the start of the New Year. I'm trying to really make some of these my everyday habits….but #7 is still superrrr tough for me. SUPER TOUGH. Gah! Are you still working on your 2019 Resolutions / Goals? What are they? Shoot me an email brittanyanncourtney@gmail.com or leave me a comment below. I would really love to know them and get to talk to you more! 🙂
Happy Valentine's Day. I appreciate that you stopped by!
xx, Brittany Ann
Shop the Post: