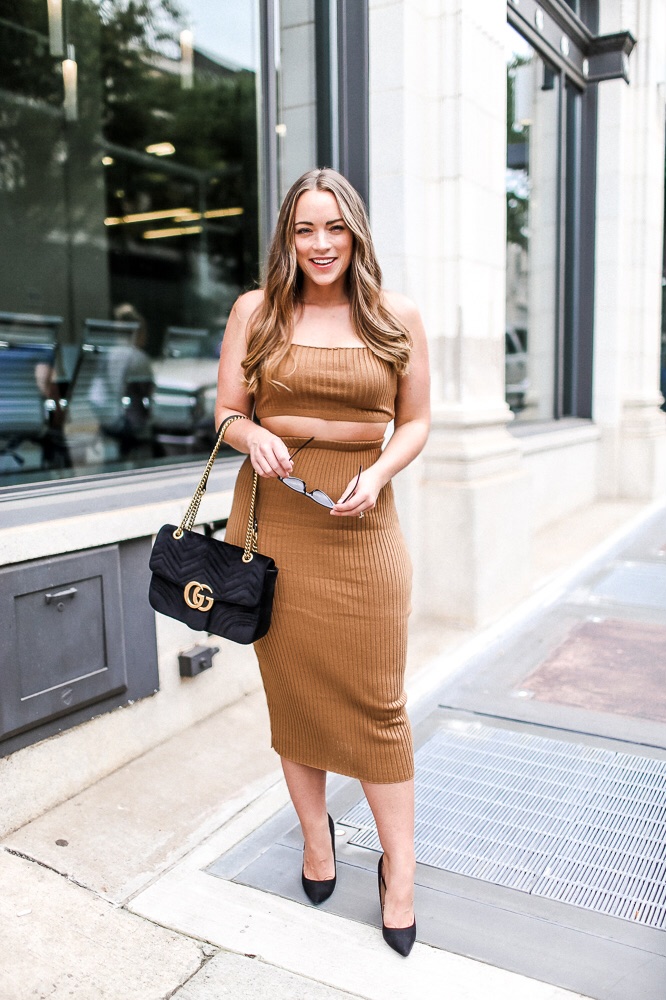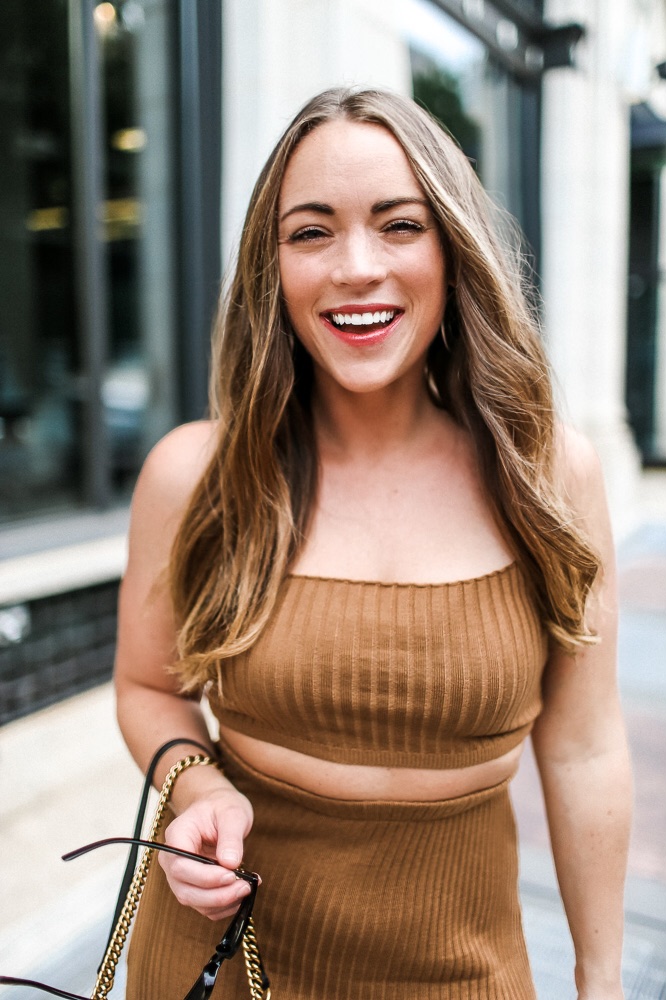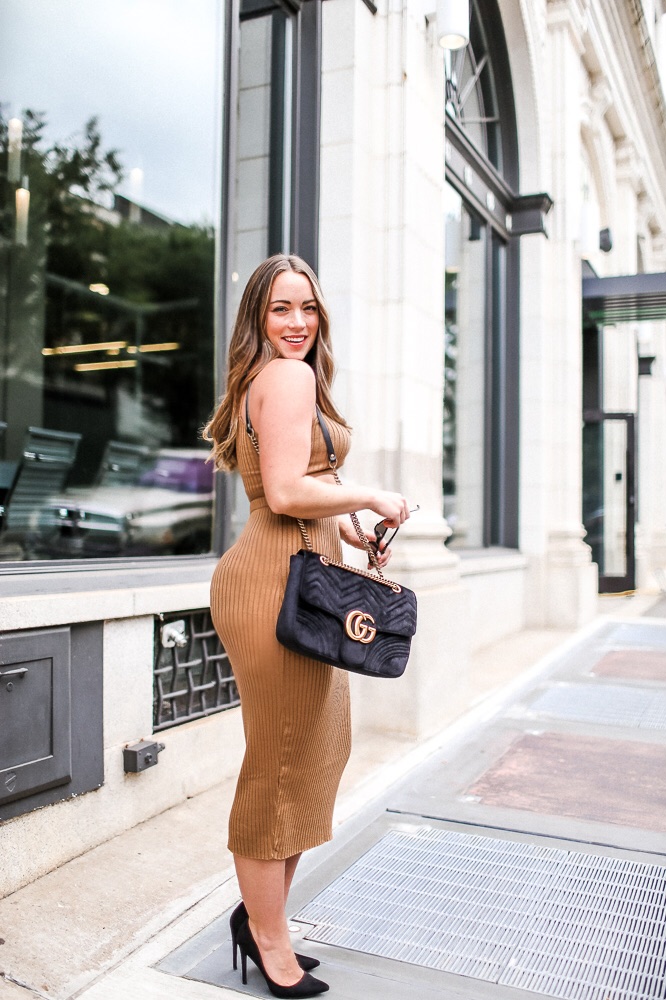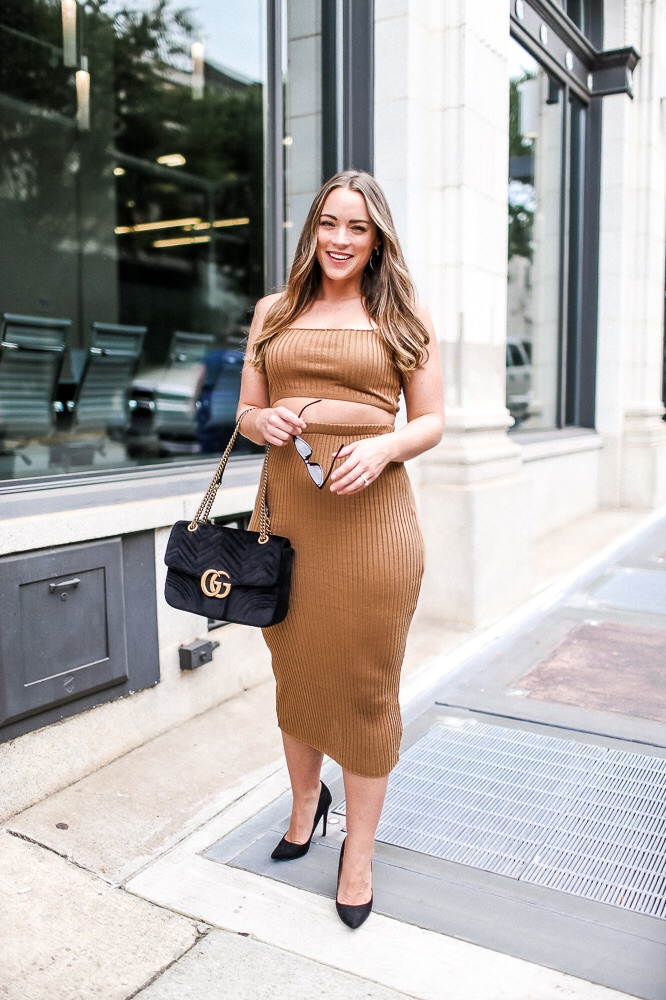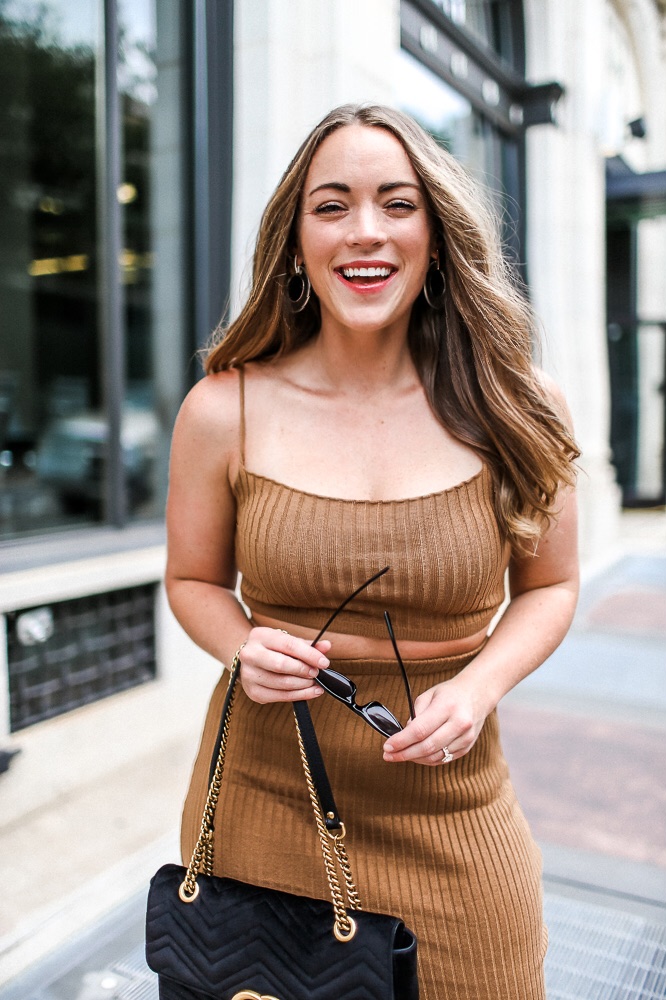 Ribbed Crop Top & Skirt Set (also in black here)  // Gucci Marmont Bag // Pointed Heels // Quay Australia Sunglasses // Lucite Drop Earrings
We live in a world where it is really easy to be able to look around us and want more. We think we want something we don't have and when we get it, we are already on to wanting the next thing. We forget to be thankful for when we do receive those same things we complained we didn't have before. I think we get caught up in our social sharing world where we look at the best of what people want to put on display. We look at someone's perfect photo and think she lives the perfect life. But that's not true, everyone has their days, has their struggles and have their insecurities.   I have lost 18 pounds in the past year and a half and I feel really proud of that, however, the progress is something I have to remain myself to remember. I look at myself in the mirror and on some days all I can see is the extra fat that sits on my hips. You guys, I have been trying and trying and it feels like the dang fat will not leave my hips. My Mom always says when you lose weight it drops from your boobs, but when you gain it, it goes back to the thighs and hips. Does anyone else feel this?  Why can't I lose in my hips and thighs but gain in my boobs. Come on God- Im only asking for different placement! Hahah!
 I wanted to open up and share with all of you how I have been feeling in my fitness journey. I really don't like the photos above that I am sharing today. I see weight on my hips that just drive me nuts. I see thighs that I wish were more slender. I see where I carry bloated weight under my boobs and it could put me in tears. I look at the side angle of my body and wish my butt was lifted higher and wish the width of my butt to my thigh was smaller. I see these things and while I can sit here and dwell on this, I know it's not going to do me any good. I am a believer in "positive thoughts, positive results". I am a believer in "mind over matter". I believe that anything can be achieved when you work for something. I thought I would share a few ways I deal with my body insecurities. What I am trying to remind myself every day is that the changes I want to see, the goals I have set for myself, take time. I look at my body in the mirror and I think of something negative instead of appreciating what changes I do see. If I had these results one year ago I would have been thrilled, but as I stand in front of my mirror I am my own worst critic, I am ready to move on to the next thing that I want. These expectations are out of control and I am trying to change them. I hope in me sharing, you can find peace in knowing that you're not the only one. We all have different insecurities and  I am here for you too!
1.) I wake up every single morning and look in the mirror and force myself to say out loud three things I love about my body. I usually sleep in a bralette and shorts so when I am looking in the mirror I am seeing my stomach and most of my body. I just suggest you do this when you can see yourself mostly naked. Force yourself to look at you and say three positive things! I do this so that I am immediately starting the day off being body positive.
2.) It's always good to take selfies of yourself so over time you can see changes. Day in and day out you won't be able to see the change but over a longer period of time, you most certainly will. When I feel I am in a negative mood towards myself, I'll pull these images up on my iPad and just scroll through them. Work really hard and give it time, change will happen!
3.) Quit obsessing over it. I sometimes can't break the spell. My own spell that I cast upon myself. Sometimes I simply do not feel like going to the gym. Sometimes I think I don't want to eat anything except cookies and brownies because I am so sick of protein shakes, lean chicken and freaking salads. Sometimes I want to sit my butt down on the couch and watch tv for three hours straight and not give a damn about anything else. It's okay. You're going to be okay. I think we all need to take a break every now and then. This past year I have really learned that sometimes you need to give yourself a break and allow that mental clarity to come through. I would decide to skip a day at the gym but then obsess about it all day long and over the next few days. I would decide to eat something unhealthy but then I would be so mad at myself the rest of the day. I'm here to tell you to stop. Quit obsessing over it. Make the best choices you can make each day and remind yourself you aren't a machine and you are not perfect. You will have times when you need to say, "screw it, I am choosing to not go today and I am going to be productive at home in other ways". Then just do that- move pass it, do what you need to do to give yourself that mental break and then wake up the next day with three positive things to say about your body and move on to your workout later that day.
4.) Quit comparing yourself to others. It's said that comparison is the thief of joy. Quit looking at celebrities/models that are not your body type. You guys, this has taken me years to understand. I will never be a size 2 in my life. Plain and simple. Literally the width of my hips would never allow this. Why look at a six foot model that has a lean build for inspiration for what I should look like? It doesn't make sense. Scientifically speaking, my body is not shaped like that and can not get to that no matter what I did. Do I believe I can continue to lose weight and change things about my body? Absolutely YES! But for some reason, we were shaped to believe there is one body type we all should morph to, and that is just not the case. Curvy is sexy! So is thickness! It's unfortunate that every women's body can't just be ideal but it's about dang time where women are praised for being thicker. No matter what your body type is and what your goals are for your body, look at other women in appreciation. Find someone who is super confident in there body and try emulating a little what she does. Look at your progress and remember to appreciate your changes.
5.) End your day with reflection. I swear by this and do it every single night. I track all of my macro nutrients, what I ate that day in terms of carbs, protein and fats. I also track my work outs, how many calories I burned, my avg. heart rate, how many steps I took. I go to bed asking myself, did I do my best? If not, okay, what could I do better tomorrow? Why did I really crave that sweet- was it because I didn't eat a nutrient dense meal and it led to me wanting to consume more? Was it because hey, I am a female and it's that time where I plain and simple crave something? Did someone upset me and I ate it because I know I am a stress eater? Just try to identify areas of where you can improve and wake up in the morning thinking you can do better!
God made us in his own image and therefore we are perfect in our own ways. Try to remember you don't know what someone else is going through until you walk in their shoes. Remember that self love has to happen before you could love anyone or anything else.
If you ever need a girl to vent to, you know how to reach me 🙂
xx, Brittany Ann
Shop the Post: