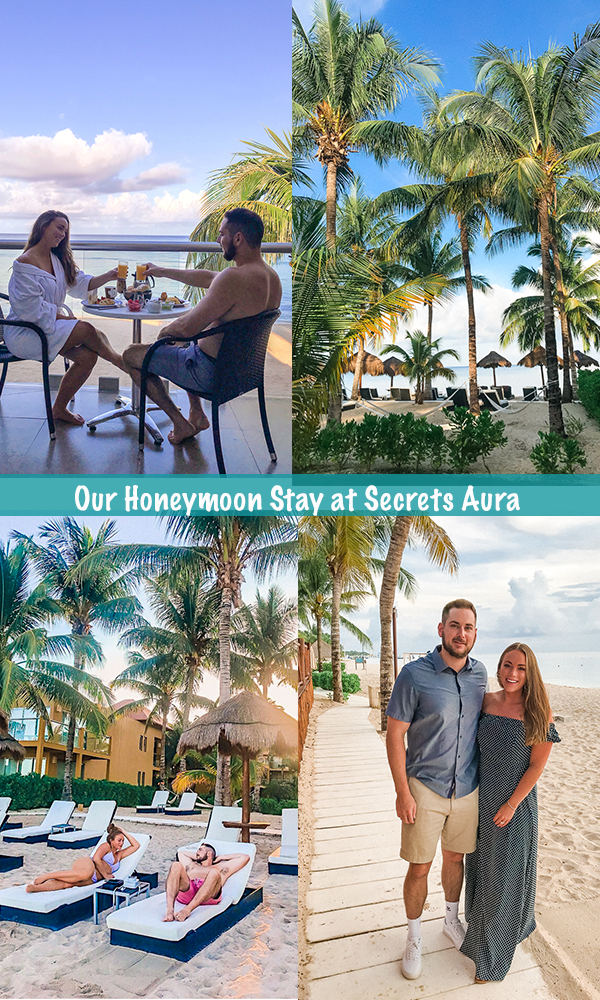 Hi you guys! So excited to be sharing more about our honeymoon with all of you! If you pop on over to look at my instagram (@brittanyanncourtney) under my bio you will see the highlights reel. In that row (circular images) there is one that is labeled "Honeymoon". I saved all of our instagram video stories from our trip so you can see all of the footage there! It was beautiful there and we really enjoyed our time. The resort had life-size checkers and I loved when I asked yall in my instagram stories who you think won (Me or Pat?) the majority voted ME! I actually did win but I love that you guys picked me over Pat…hehehe!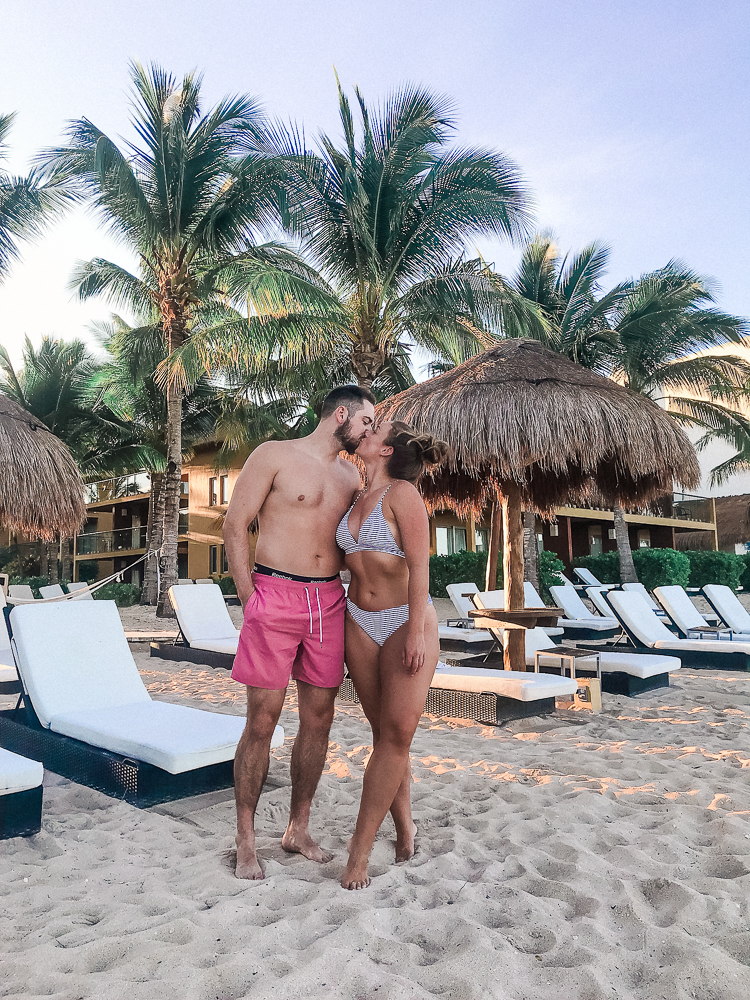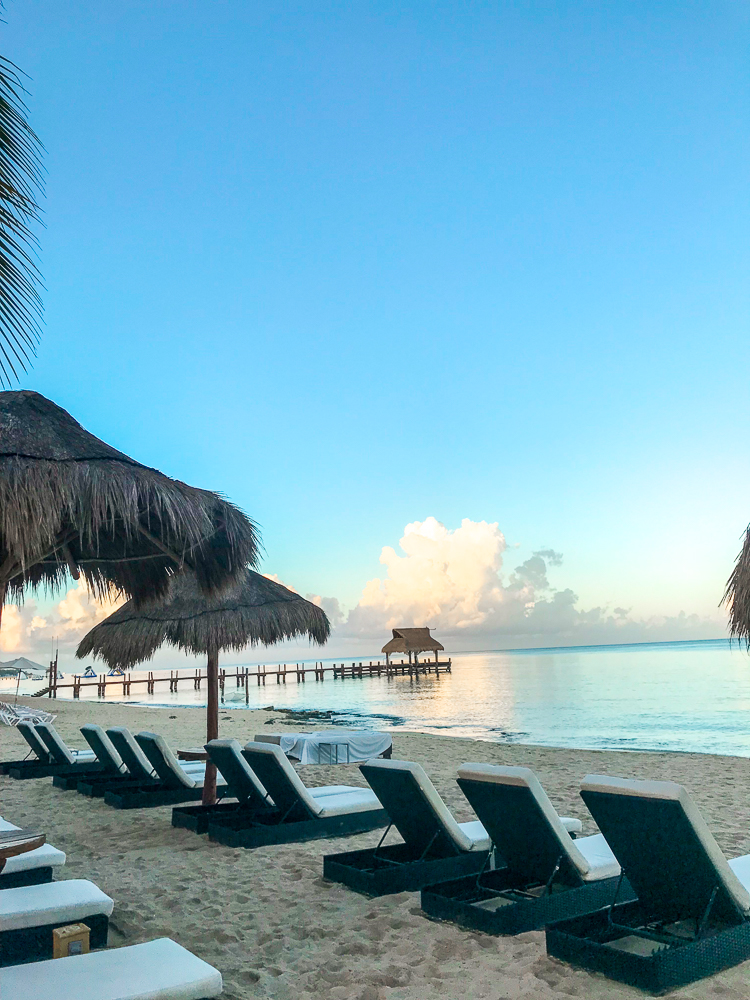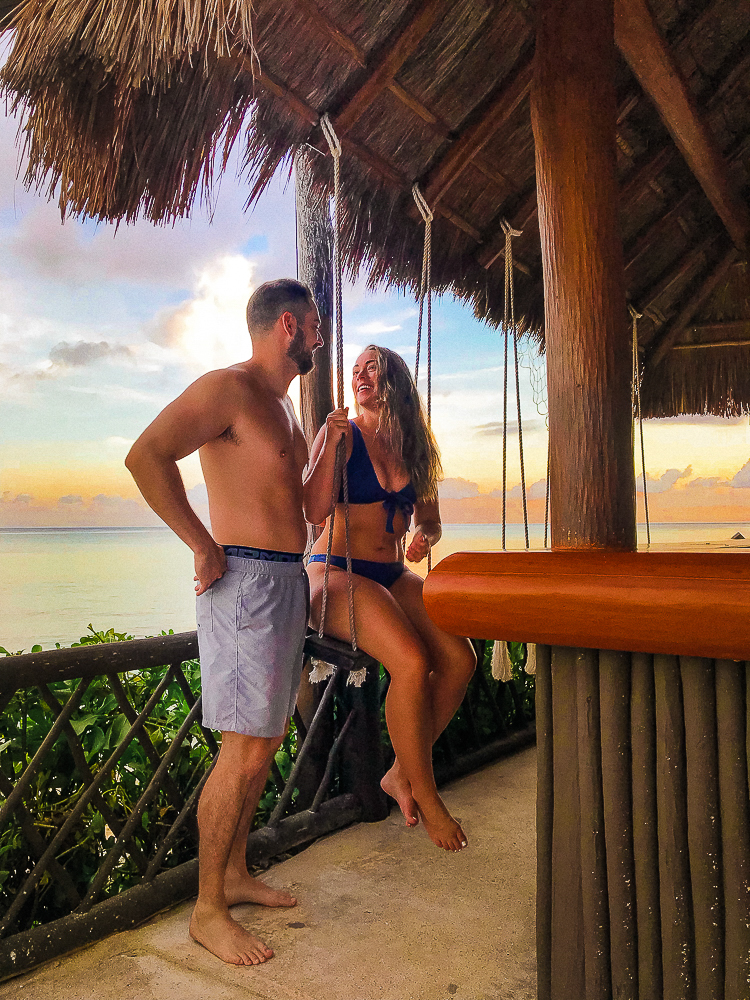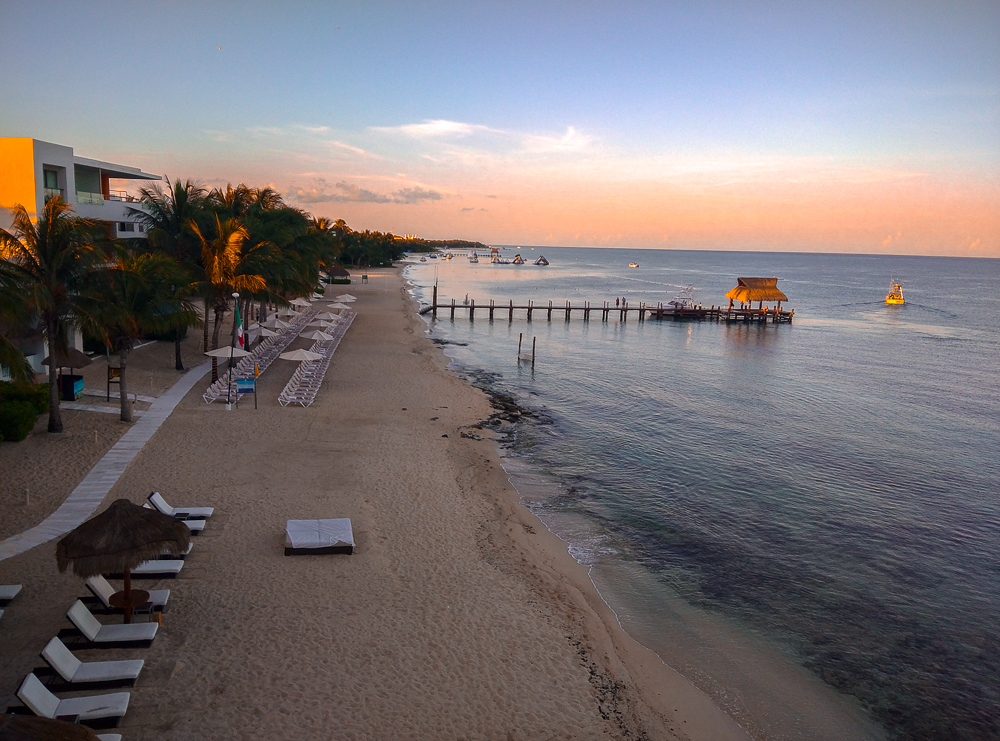 Where We Stayed
I have been to the Cancun/Riviera Maya part of Mexico before and wanted to try out a new place with Pat who has never been to Mexico. I thought it would be fun to explore a new place together! We chose to stay at Secrets Aura, a beautiful resort located on the south eastern side of Cozumel.  Secrets Resorts & Spas are a part of the AMResorts family, in the same family as our wedding resort, Dreams Dominicus La Romana.  We had such a  wonderful stay at our Dreams location, we knew we would want to stay at an AMResort for our little honeymoon trip! In case you missed it, you can see my resort review from my wedding here.
Traveling to…
You can fly straight into the Cozumel (CZM) airport and arrange for a private ride to the resort. With all of the traveling I have done in Mexico (& in the Dominican), I have always have had transportation made through Amstar. They are a well respected company that seems to be unbeatable in their transportation, customer service, tours and excursions. We accidentally made the mistake of booking flights to Cancun (oops!) but everything was taken care of with Amstar. Pat and I flew into the Cancun (CUN) airport and then had to arrange transportation from the airport to Playa del Carmen. Playa del Carmen is a little city (really cool place- I had visited this town center with my family a few years ago) and from there we were able to catch a ferry to get to Cozumel. The thing that was great with Amstar is that once we got out of the car in Playa del Carmen, another Amstar guy was waiting for us to walk us through the city part (it's a lot of stores and it's cobblestone streets, all going at various directions, etc) to the actual dock for the ferry. I think I could have figured it out, but someone that doesn't travel often, or someone that doesn't pay attention to detail might struggle a little. Just warning ya'll incase you do this! The ferry was about 45 minutes long until we landed in Cozumel. Once we got off the boat and grabbed our bags, there was an Amstar lady that was waiting for us and walked us about 50 yards and waited for us until the Amstar driver picked us up. The entire thing was seamless and they did the exact thing on the way back. It was really nice to eliminate any nervousness from the  traveling part of the trip. They were all super friendly too!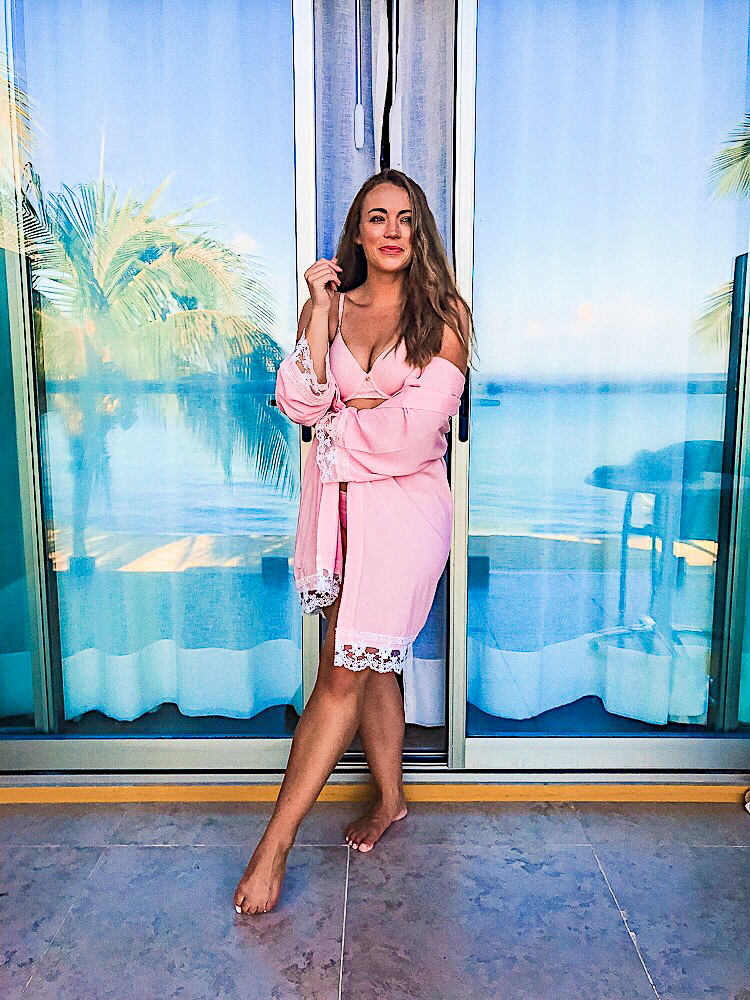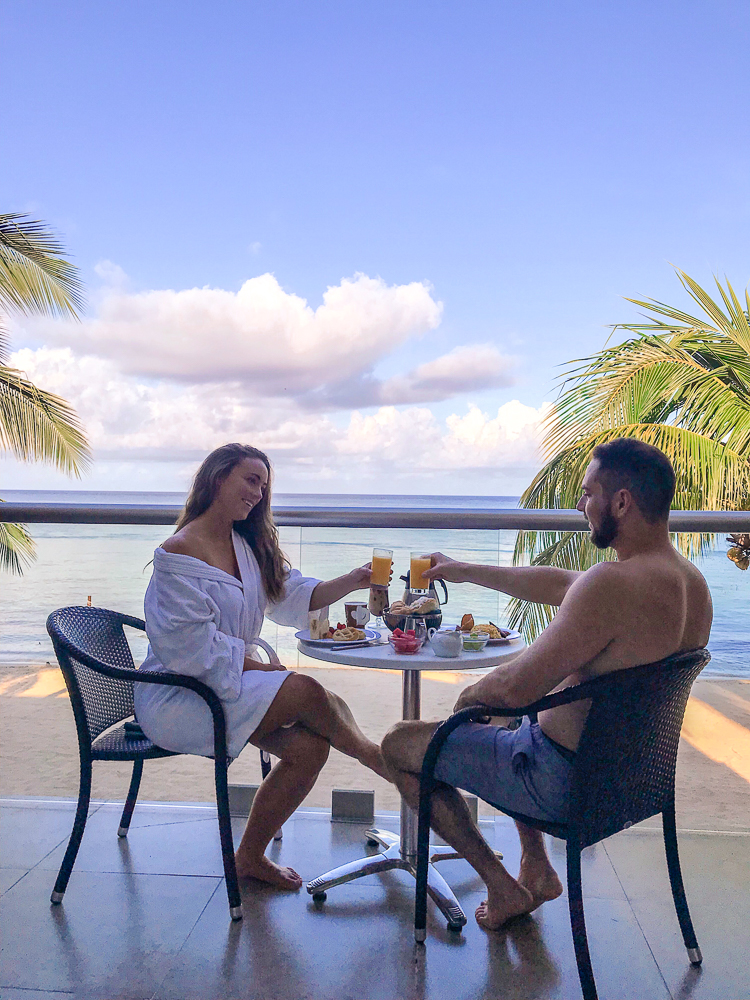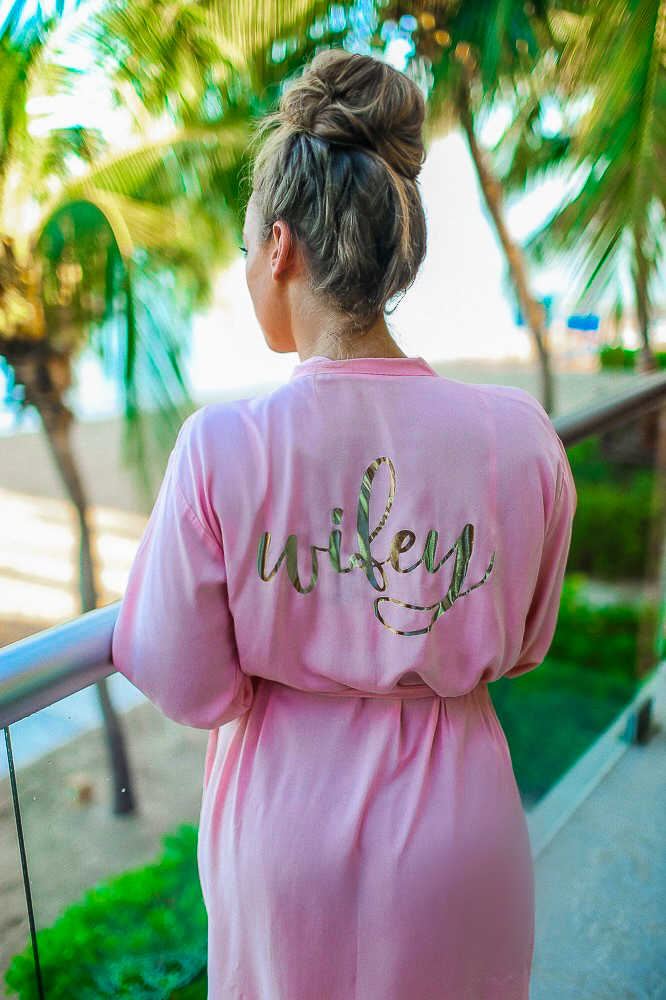 Our Room
We stayed in a Preferred Club Junior Suite Ocean View room. We had this big balcony that just had the most stunning view of the water. We watched the sunrise almost every morning from it and caught the sunset one time when we weren't down walking along the beach! Preferred is a higher level stay the AMResorts. You pay a little more but you have access to a private pool, top shelf alcohol and different restaurants. Over the length of time you stay, the upcharge I find to be really worth it. I would suggest at least looking into it! I have been at other resorts that have called this upgrade "privilege", just FYI! Our room had a large bathroom-large soaking tub, waterfall shower (that was large!) and then a separated toilet. Plenty of space for Pat and I both when we were getting ready! Our refrigerator was re-stocked each day, room cleaned each day, bed was unbelievably comfortable,  it was a perfect spot! Pat loved ordering room service-we ordered for breakfast almost everyday when we got back from the gym!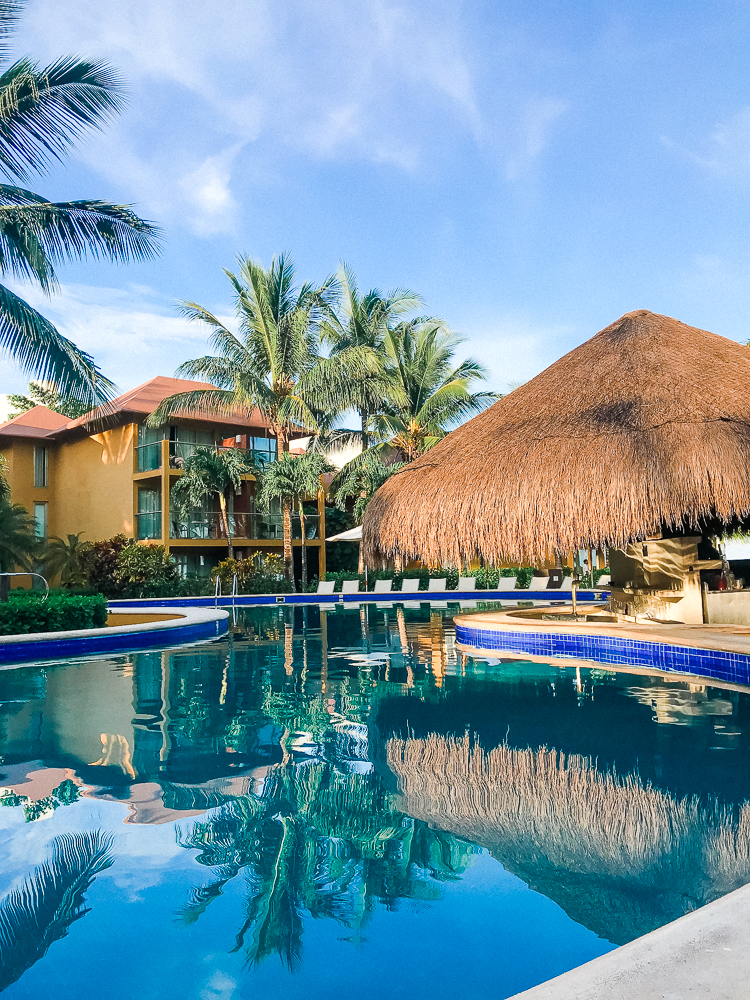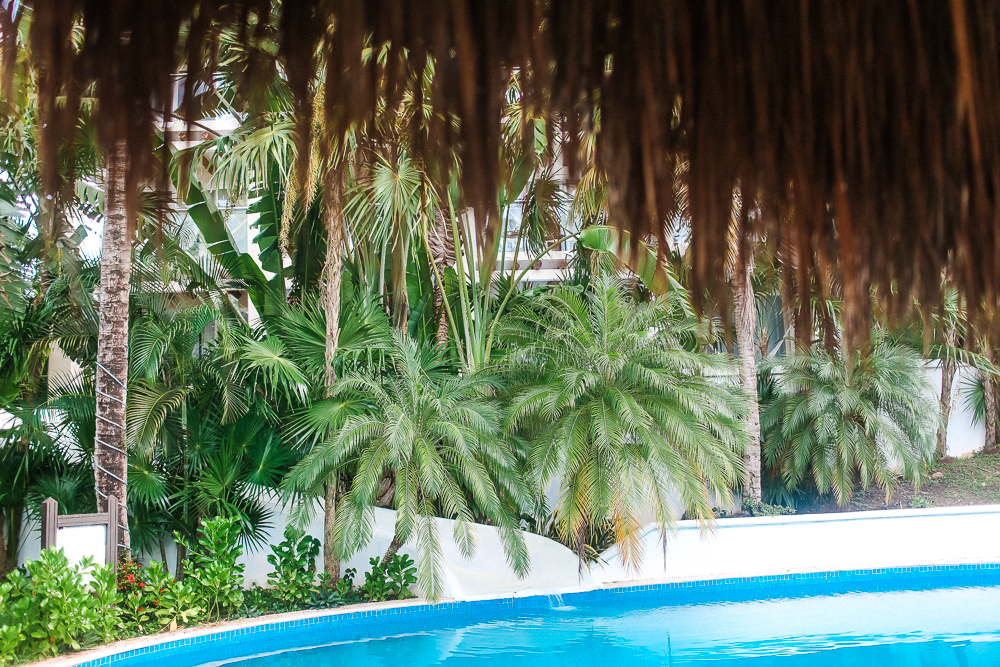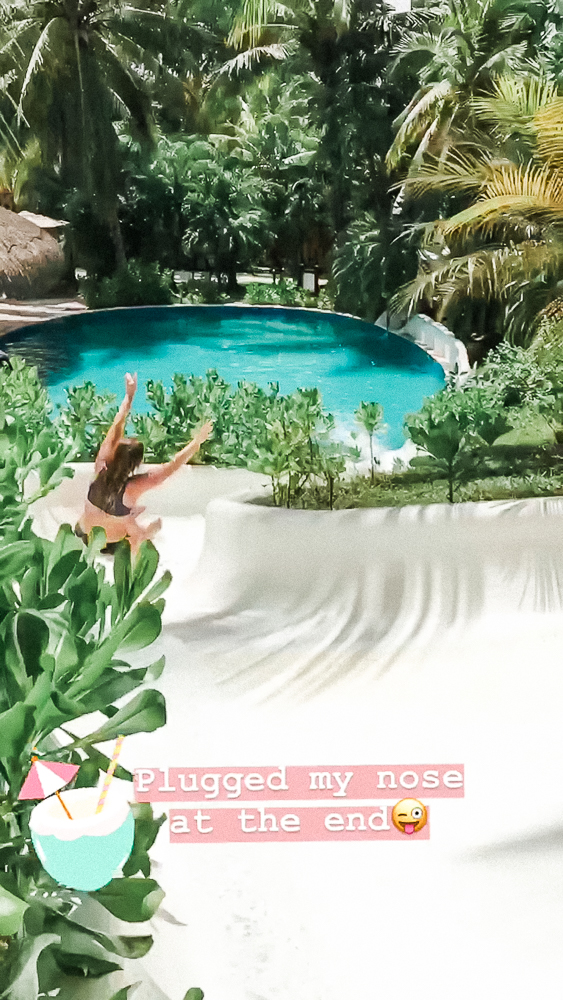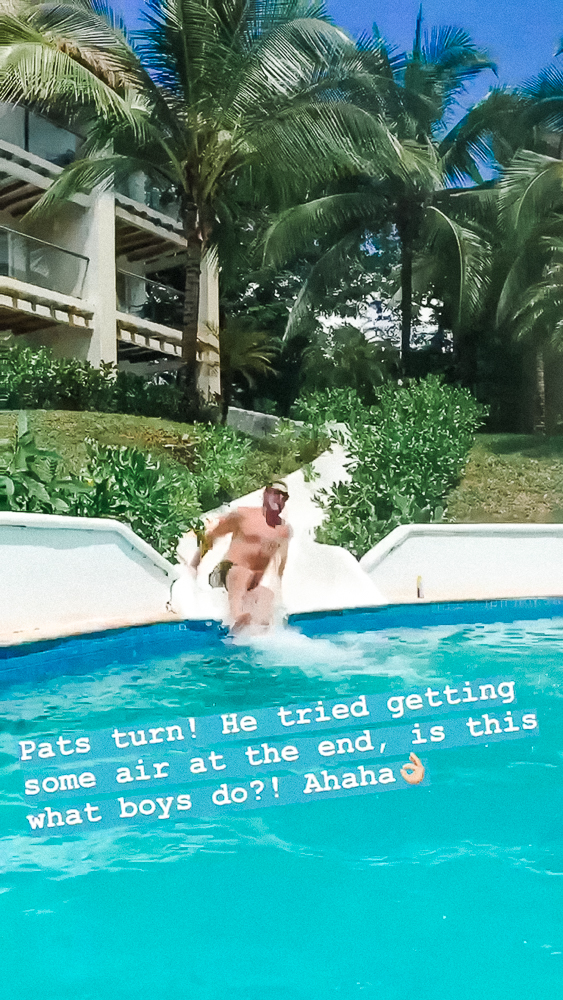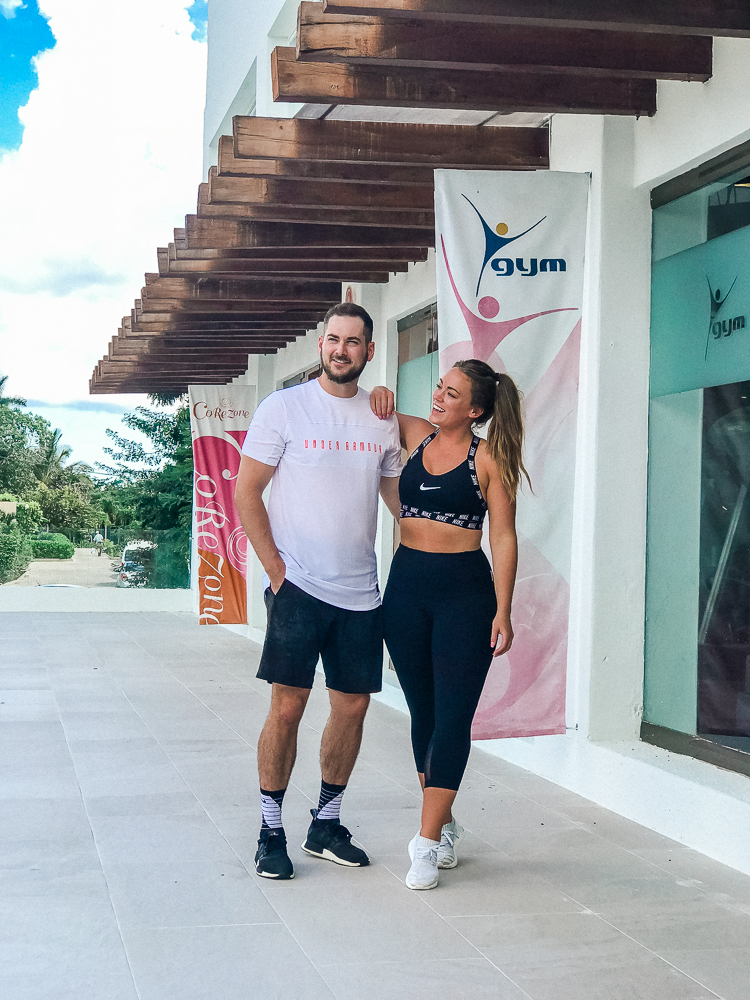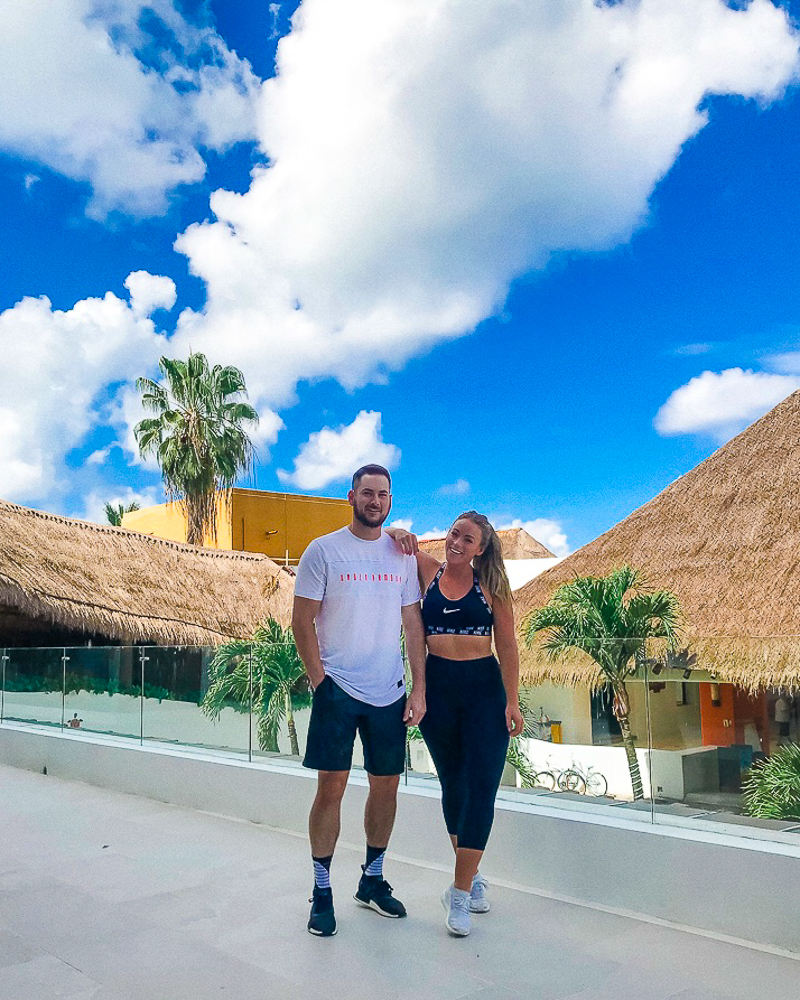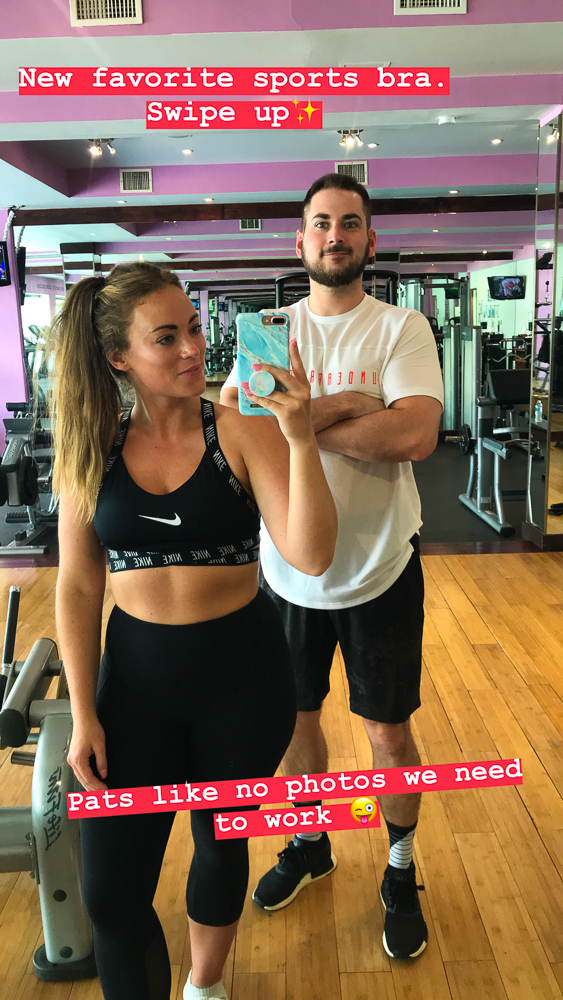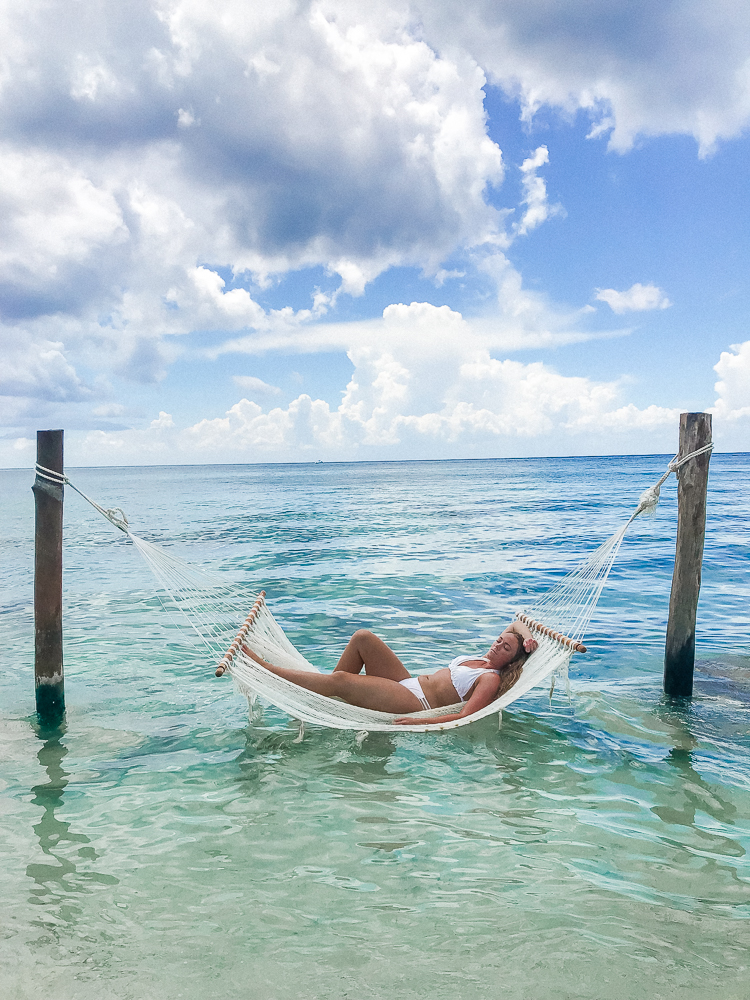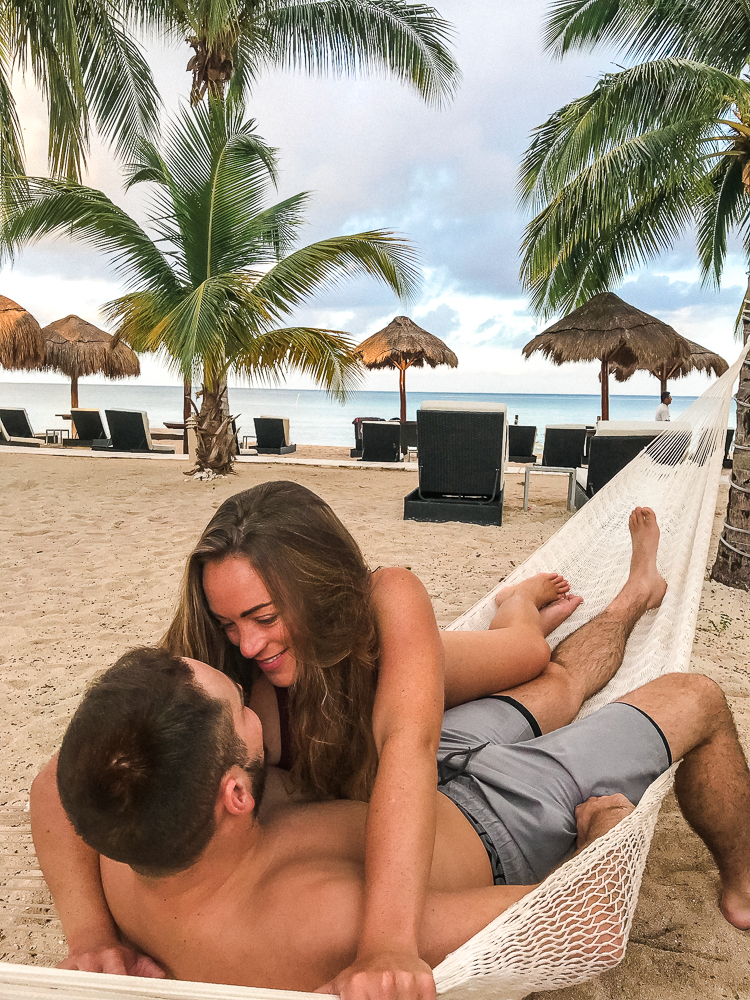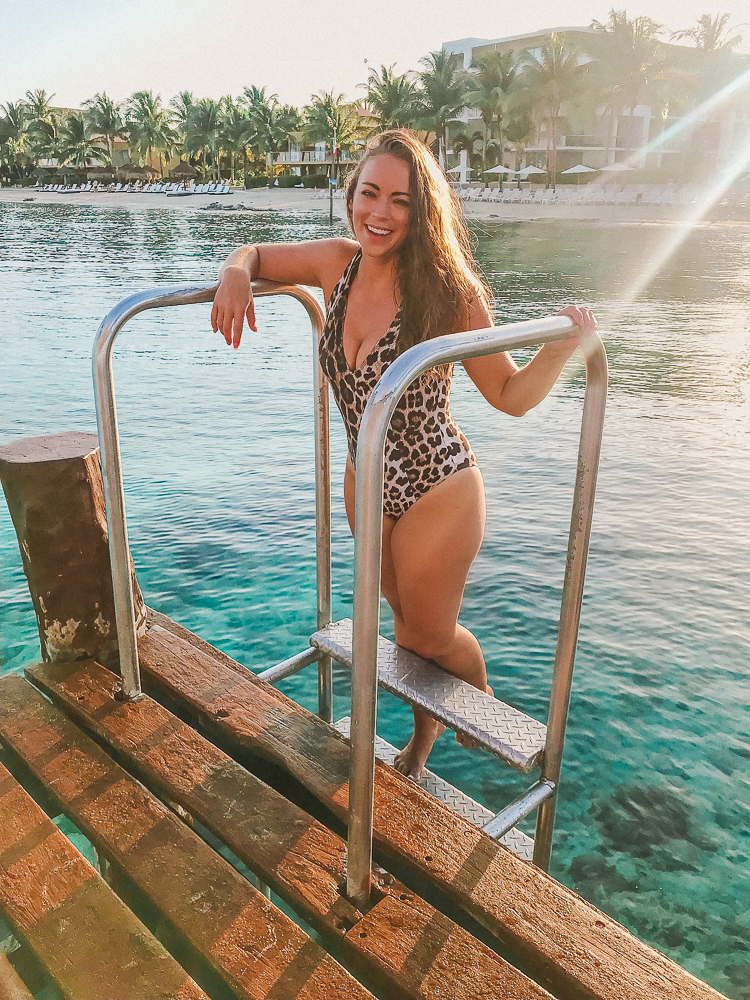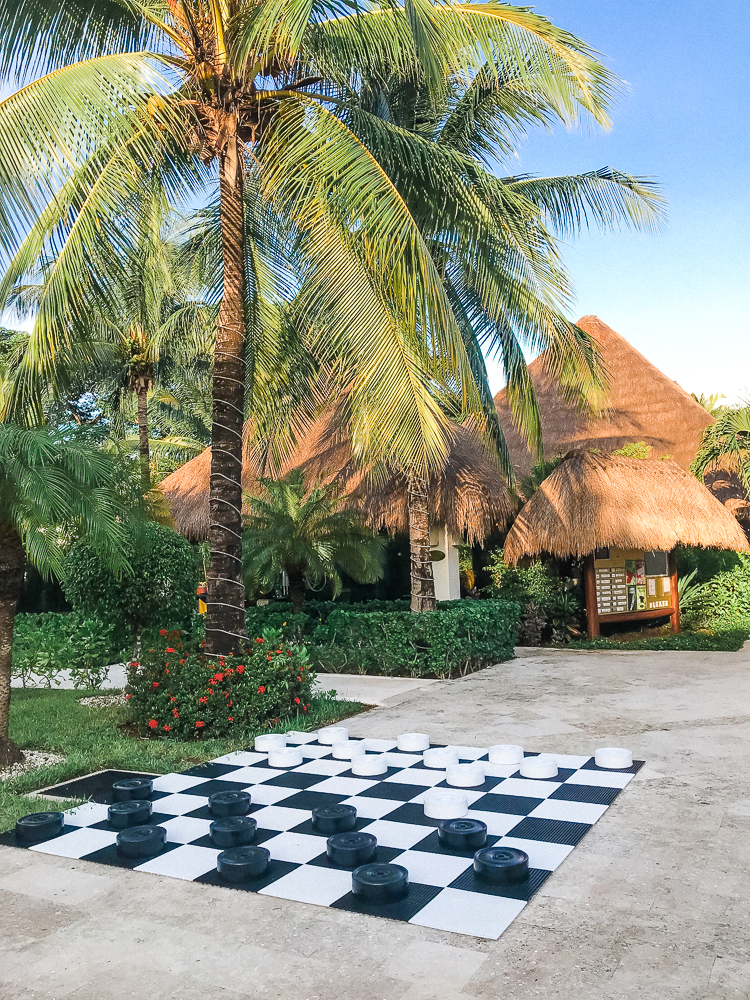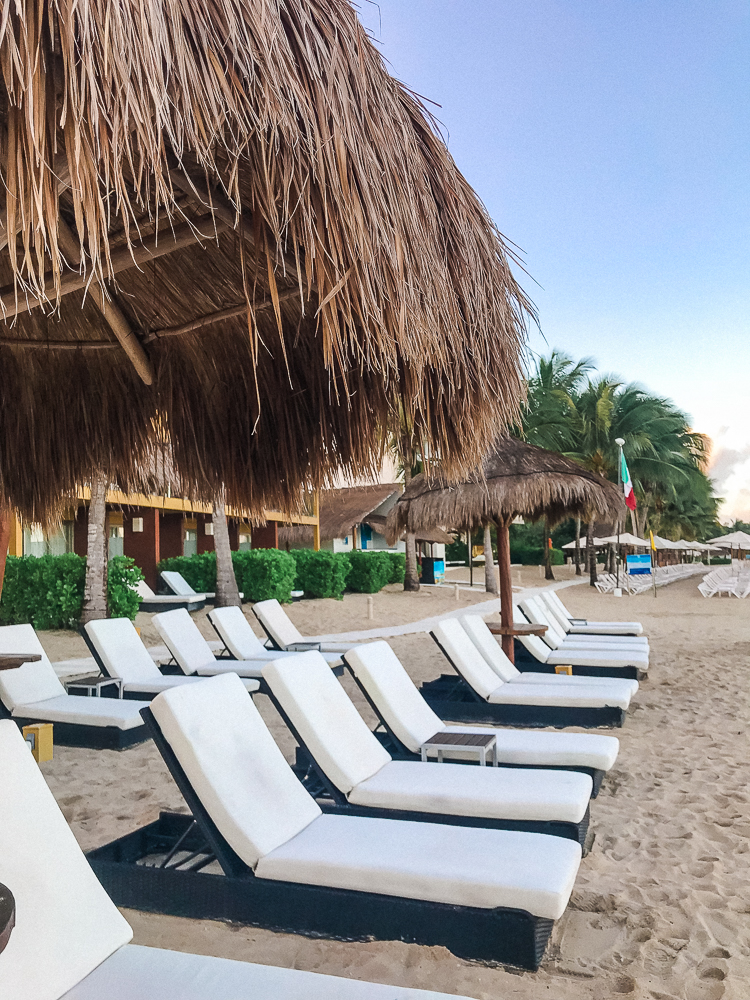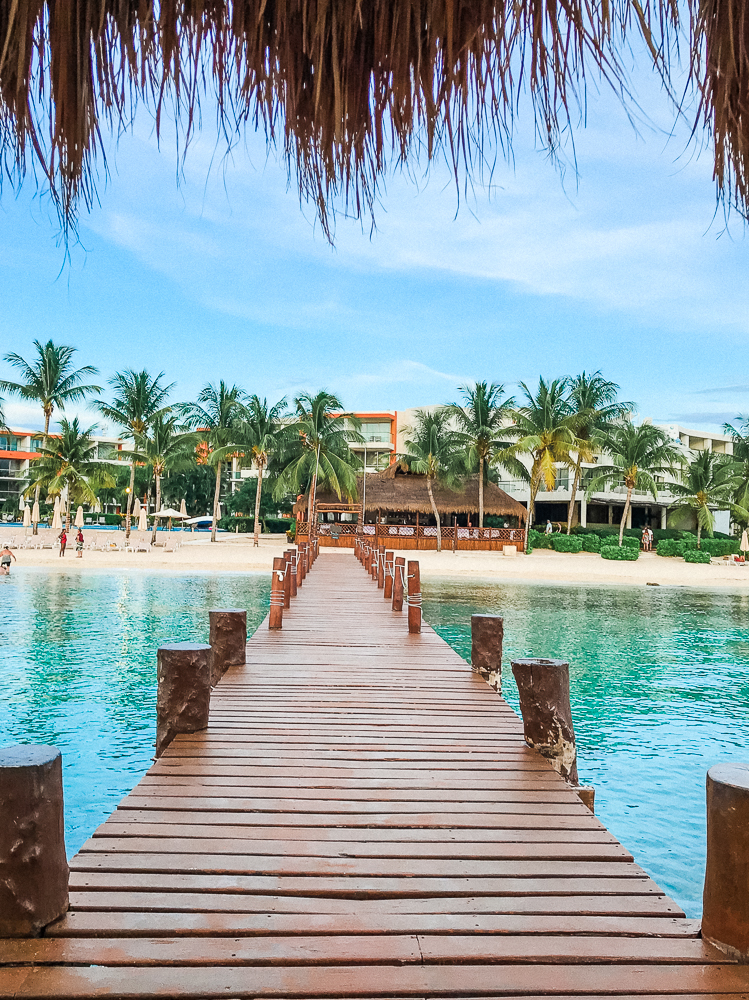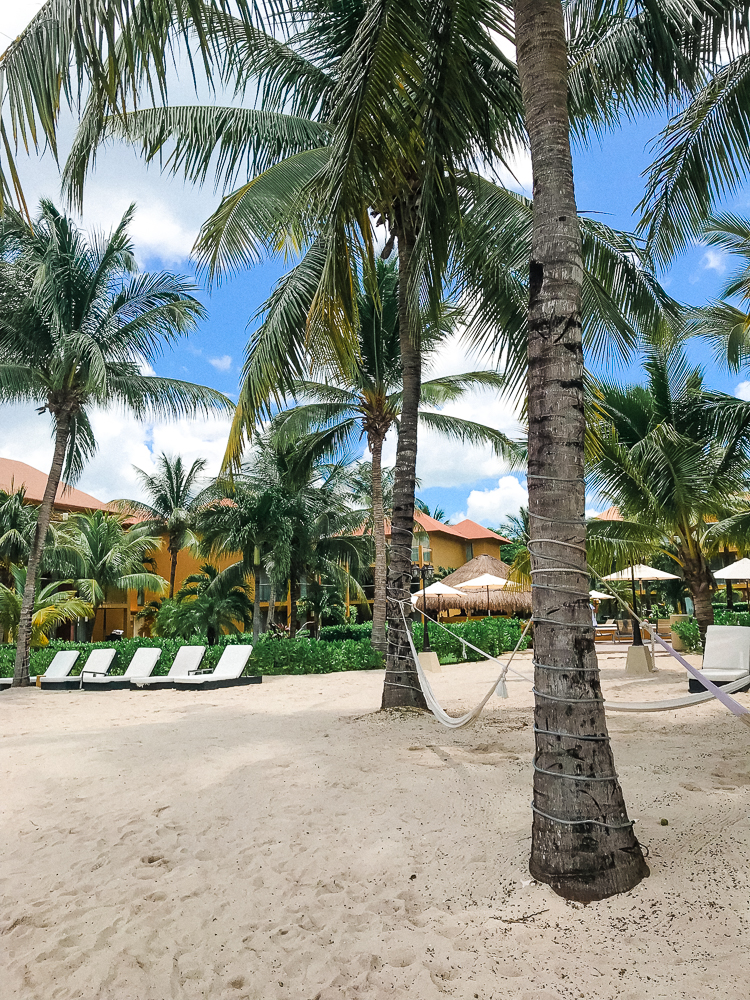 Pools / Amenities / Entertainment
There were three pools and a whirlpool that were so refreshing! Each pool had its own personality and Pat and I loved the one with the waterslides! This pool also had a swim up bar so you didn't even have to get out to grab a drink! We spent most of our time switching back and forth from the preferred pool and the preferred beach area. With them being the preferred upgrade, they had nicer lounge chairs-a huge win for me! I love that we could be in this pool and be able to see the ocean!
Pat and I went to the gym almost every day we were there. It makes us feel good and happy! They had what we expected- the basic machines, treadmills, dumbbells, and a private room for the fitness classes they offer as part of the all inclusive resort!
The pier is a functioning pier. Cozumel is known for their world class scuba diving and boats come into the pier to transport people to and frm the coral reefs. I jumped off the ladder one time into the ocean-for my own fun!
There were tennis courts, a spa and a nearby golf course that were available for guests as well! We didn't utilize the above though, we spent most of our time between the pool and beach and lying on the hammocks all over the resort!
The resort had an entertainment team that rallied people together to engage in various activities. There was sand volleyball, karaoke, a dance show, fire show, something going on through out the day and evening every single day!
There was a club on the resort's property too-it was packed by the end of the night! Who doesn't love blaring music and dancing?!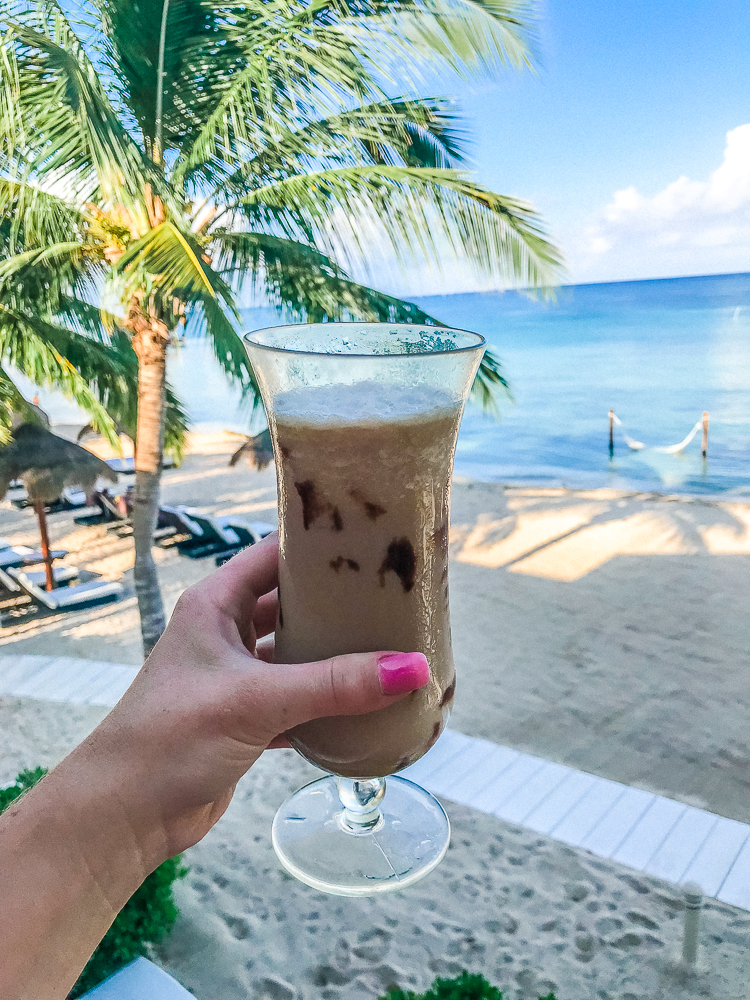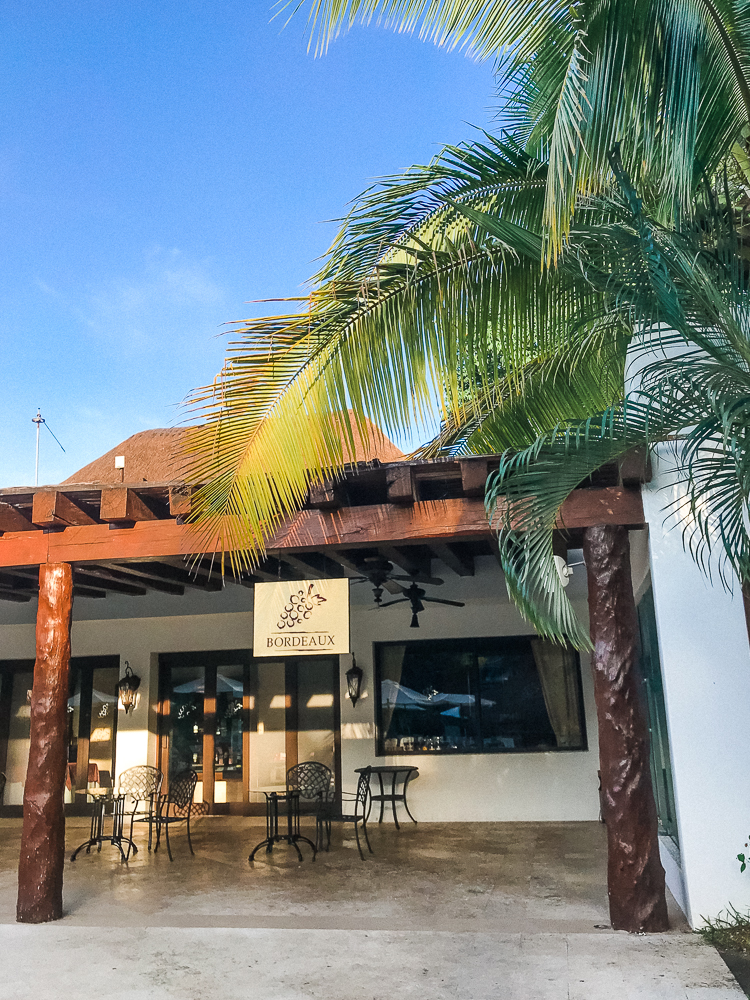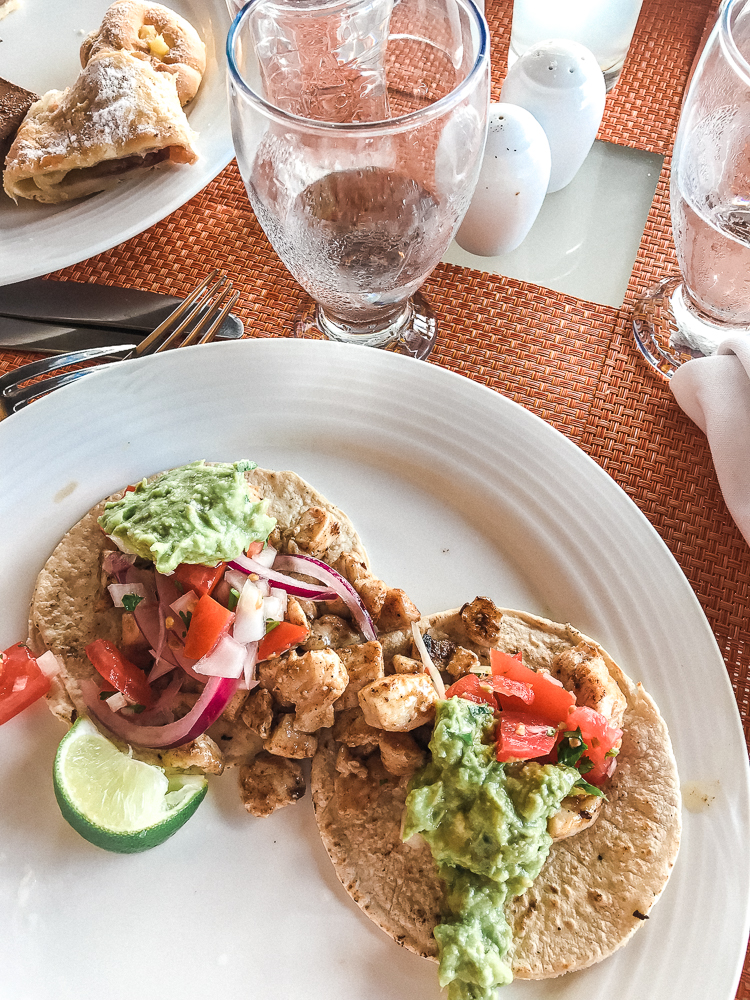 Food & Drinks
There is a wide variety of restaurants at the resort. There were eight or nine dining options at Secrets Aura and about five more next door at its sister resort, Sunscape Sabor Cozumel. All guests have access to walk back and forth between the two. We chose to eat at Sunscape's El Patio Mexican restaurant one night. OMG….it was incredible! Our favorite lunch spot was at our resort named Oceana- the fish tacos were thee absolute best I have ever had. Overall, the food was amazing. Oh- and the GUACAMOLE was the best we both have ever had. I would pay a lot of money to be able to ship a bucket of it to my house hahaha! Every single meal was delicious and the food tasted fresh. Pat and I watch what we eat day in and day out and we certainly didn't have a problem finding healthier and lighter options. We greatly appreciated that! The coffee shop, Coco Cafe, made amazing lattes, mochas, all that. Pat went at least twice a day- I swear!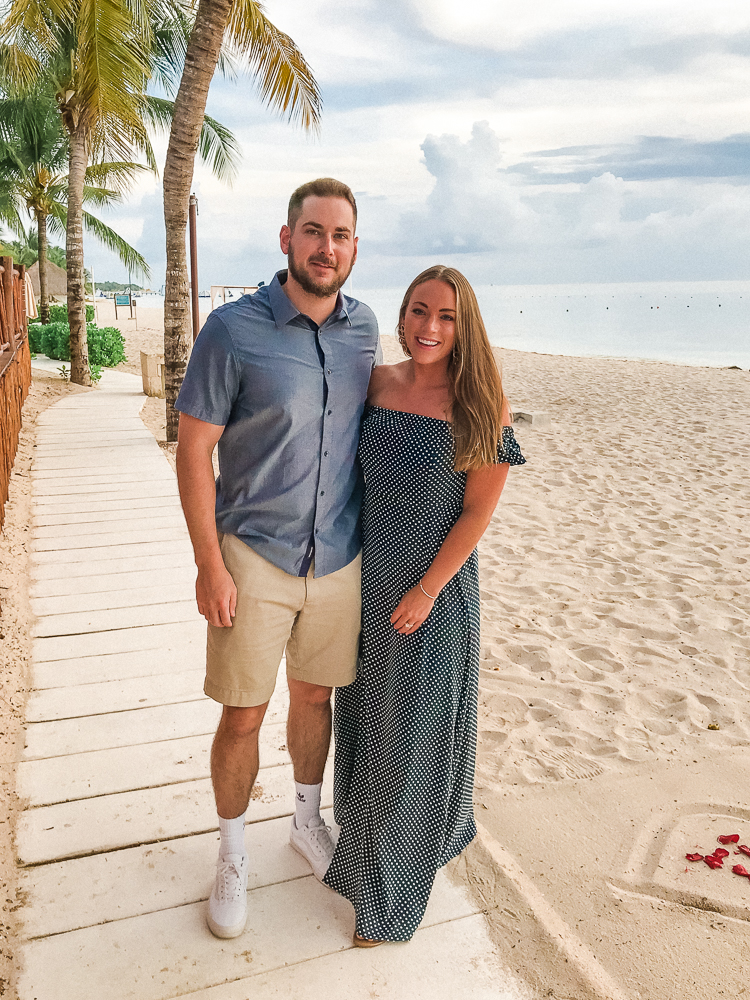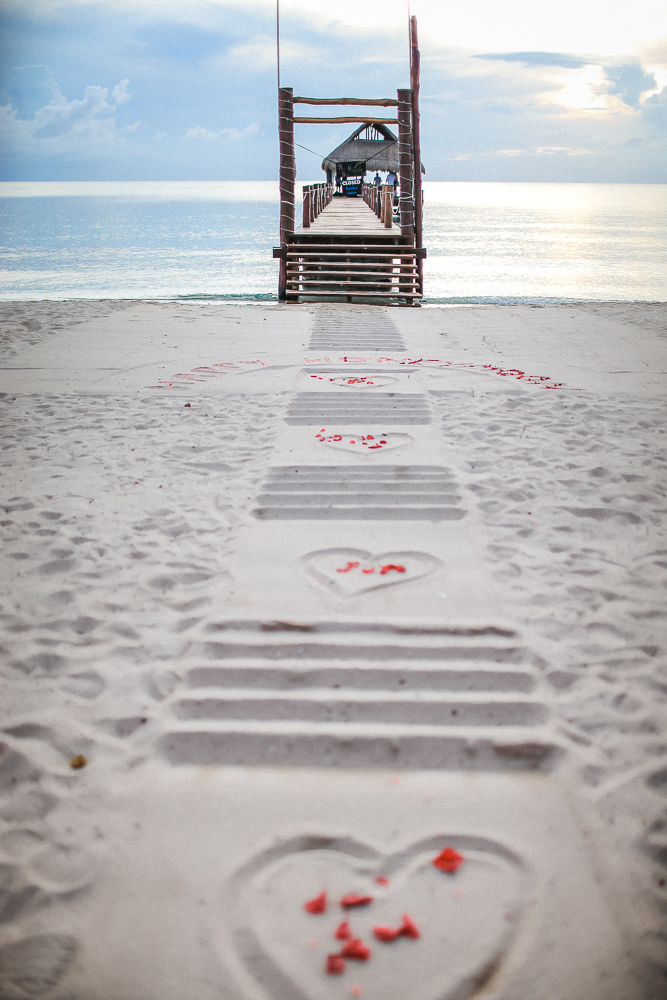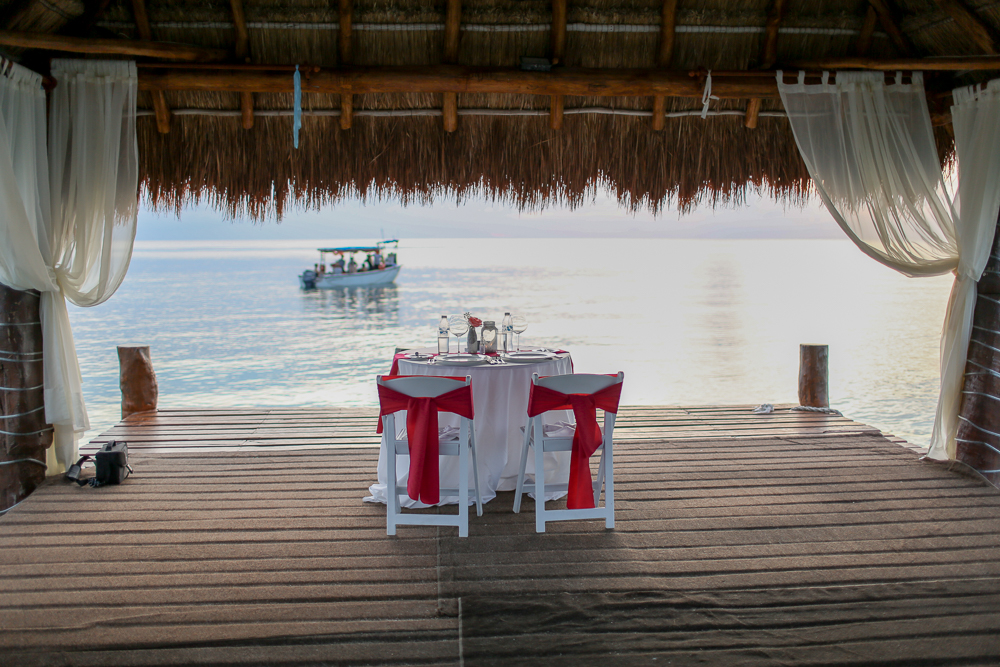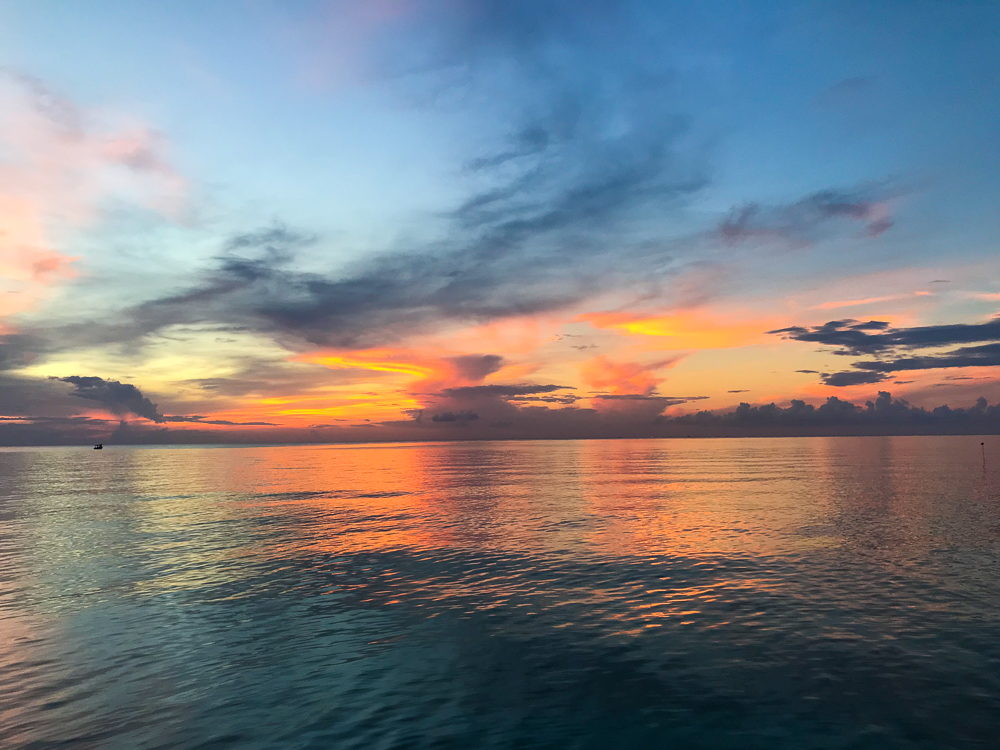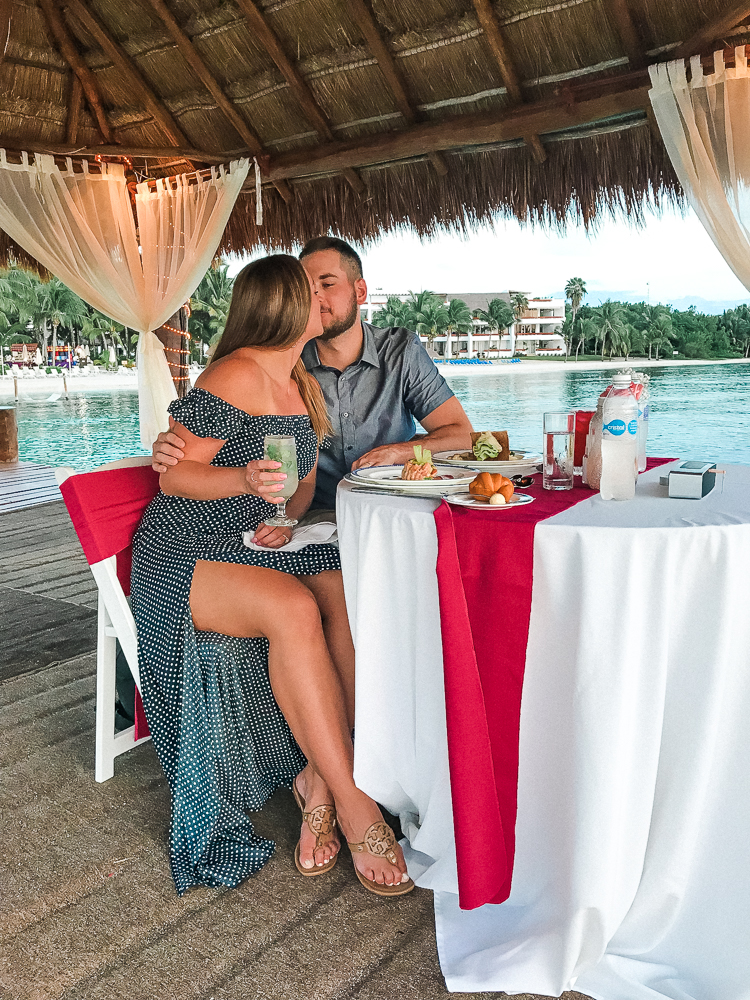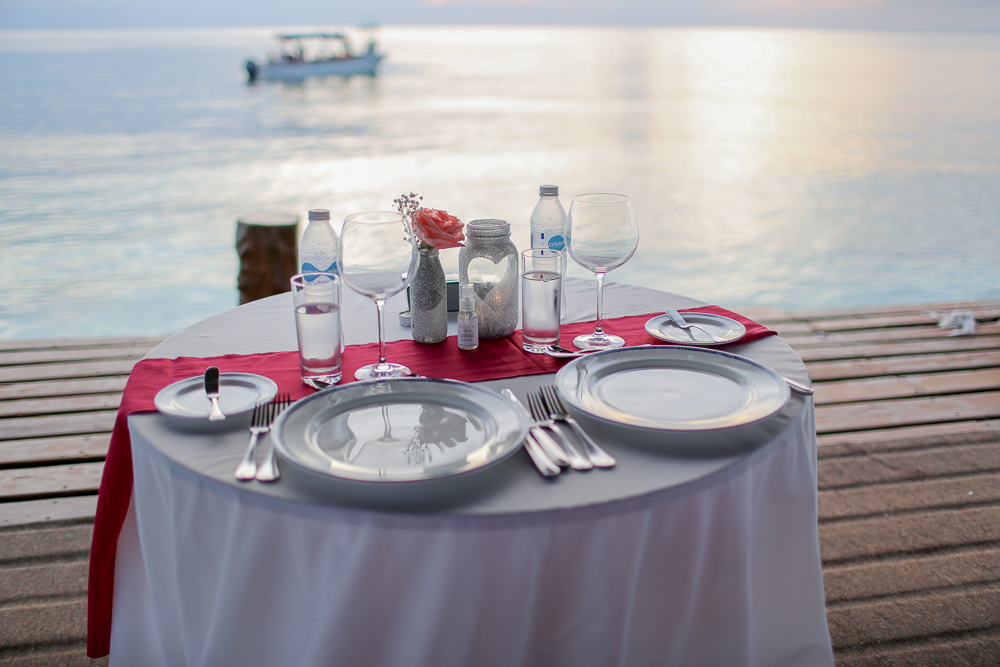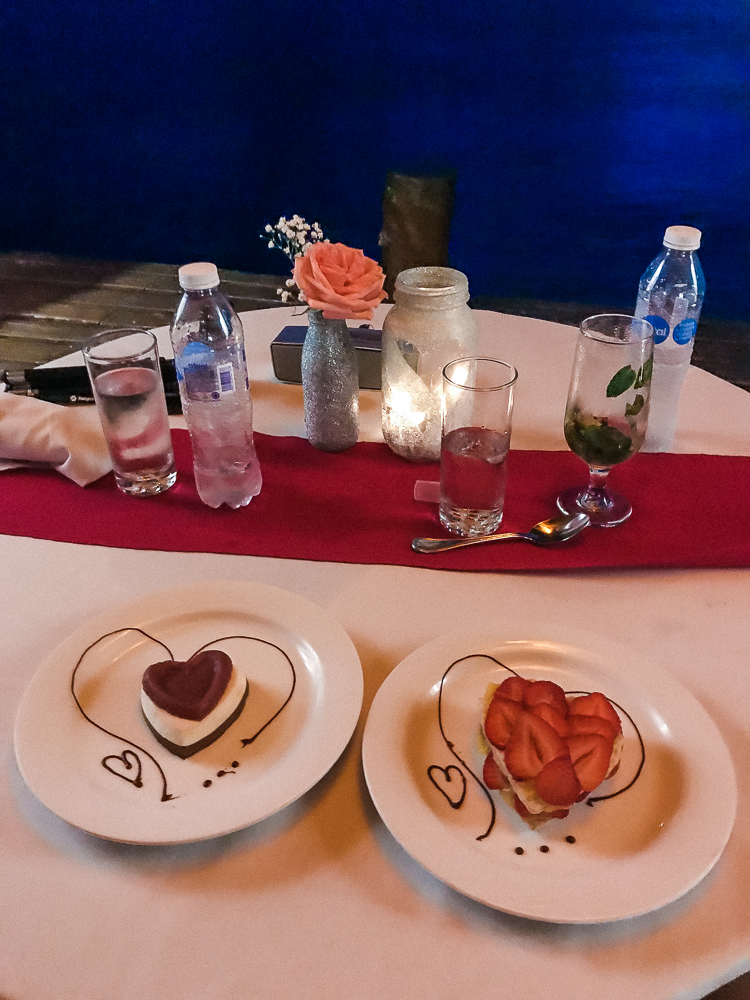 Romance
Secrets resorts are known for being the more "romantic" brand of the AMResorts collection. The resort was filled with mostly couples (of all ages) and there were touches of romance through out. Candle lit dinners, rose petals in the room at turn down, candles in our room lit for when we got back from dinner, etc! We had the most beautiful candle lit dinner out on the pier as the sun was setting. Pat and I had pre-selected our menu options, dinner music and even the color of our table linens the day before. They have an actual romance office at the resort that arranges these dinners, the weddings and any other special planning. The pier was closed for our dinner and you can see leading to it our waiter had spelled out "Happy Honeymoon" and had rose petals. It was so sweet and the entire dinner was so private and romantic. You can see more of the dinner on my instagram stories "honeymoon" reel. We loved it!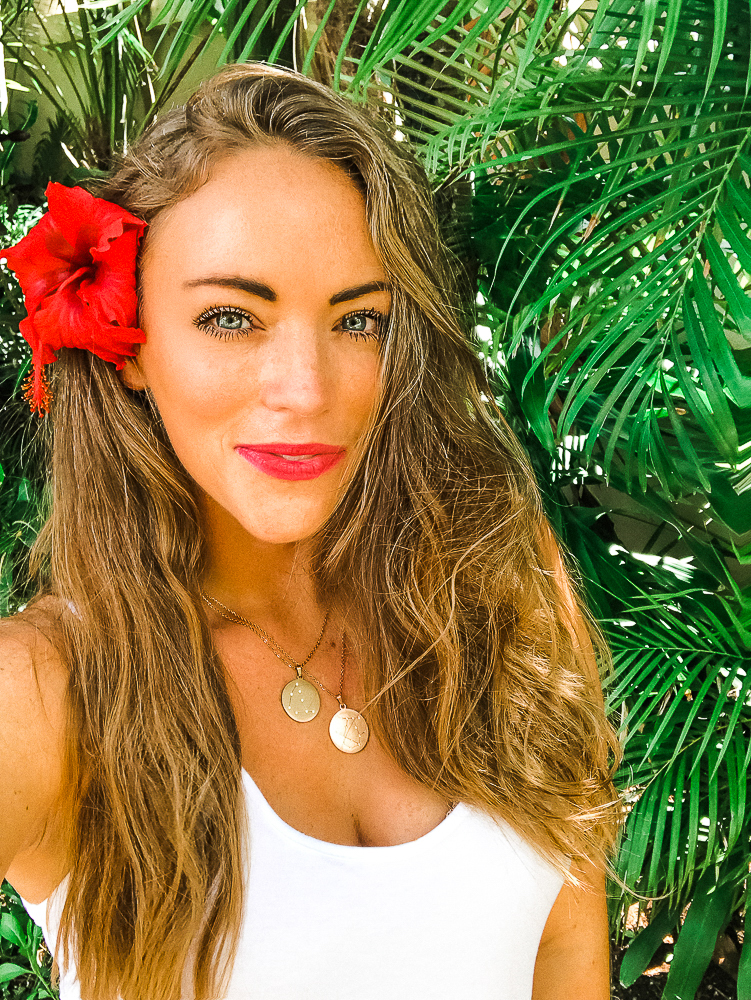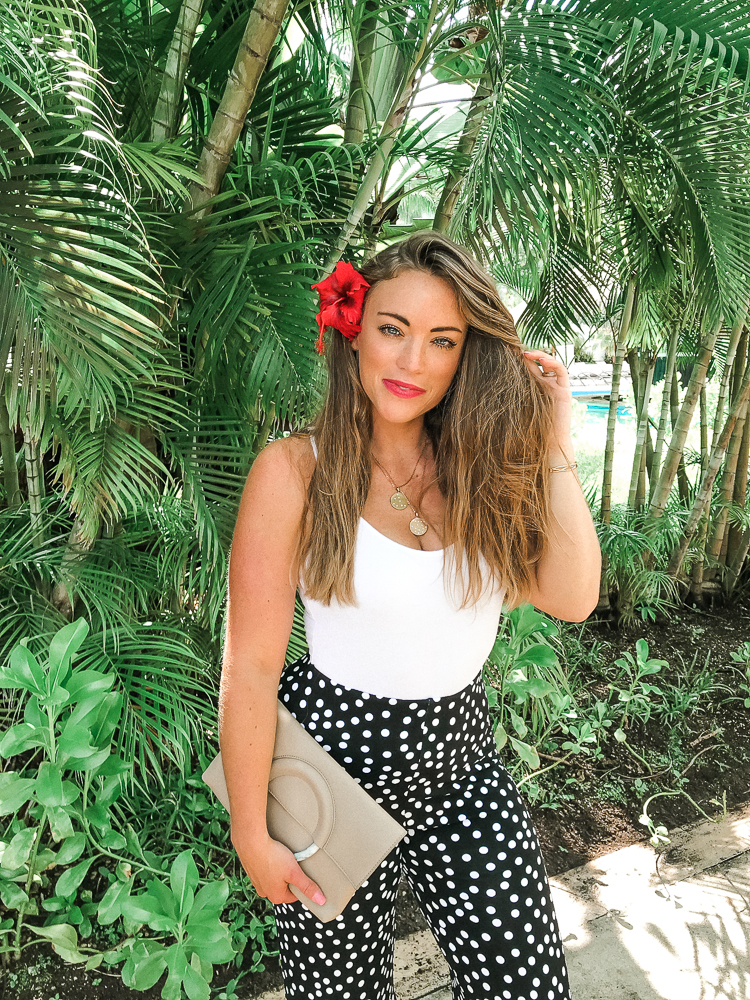 Outfit details here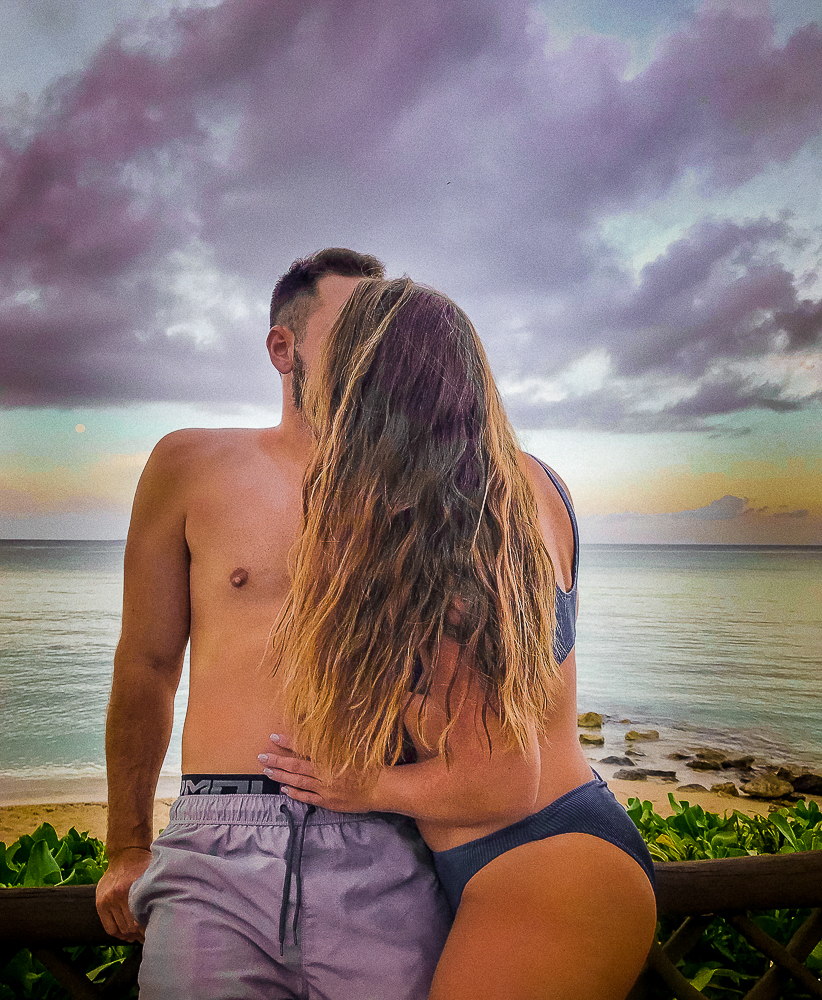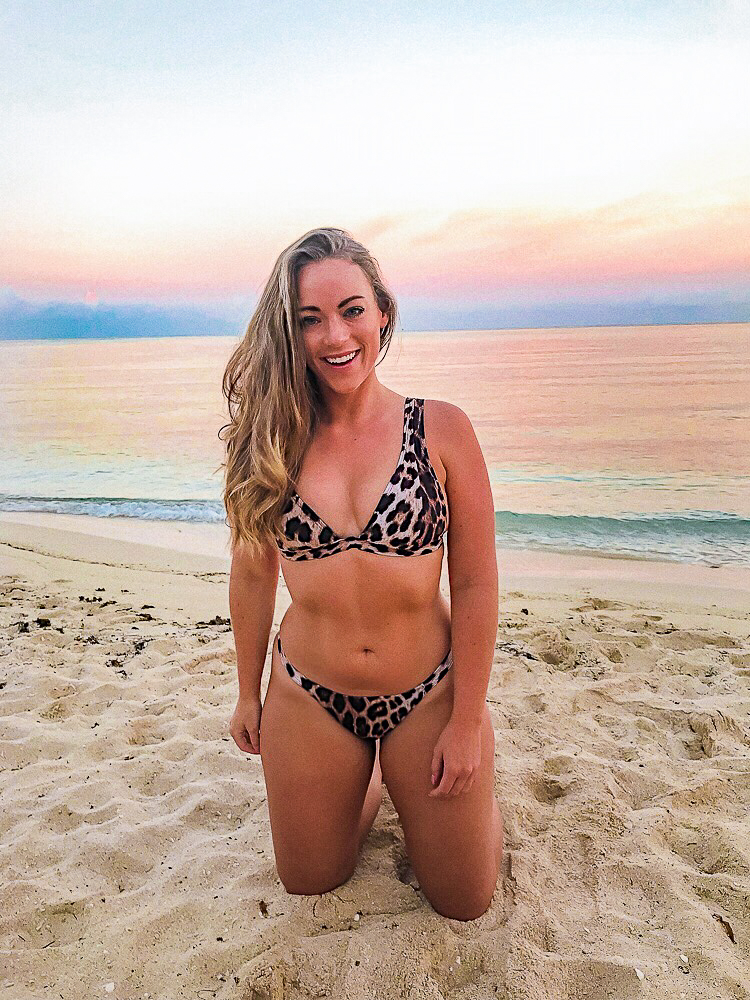 Outfit details here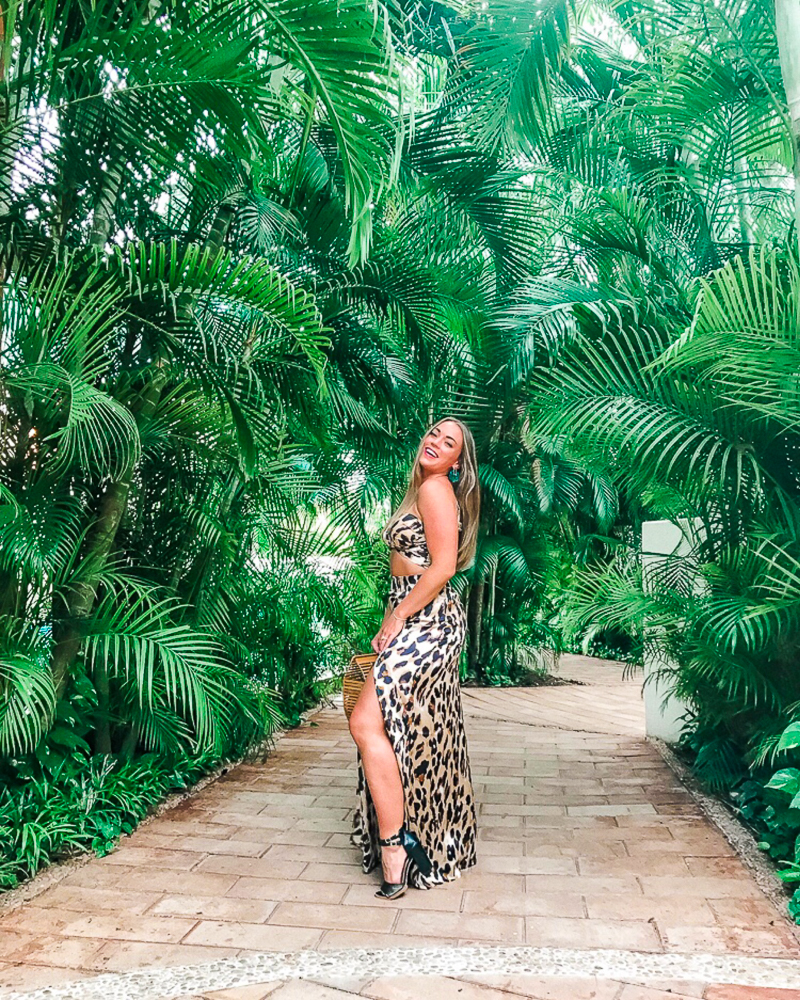 Outfit details here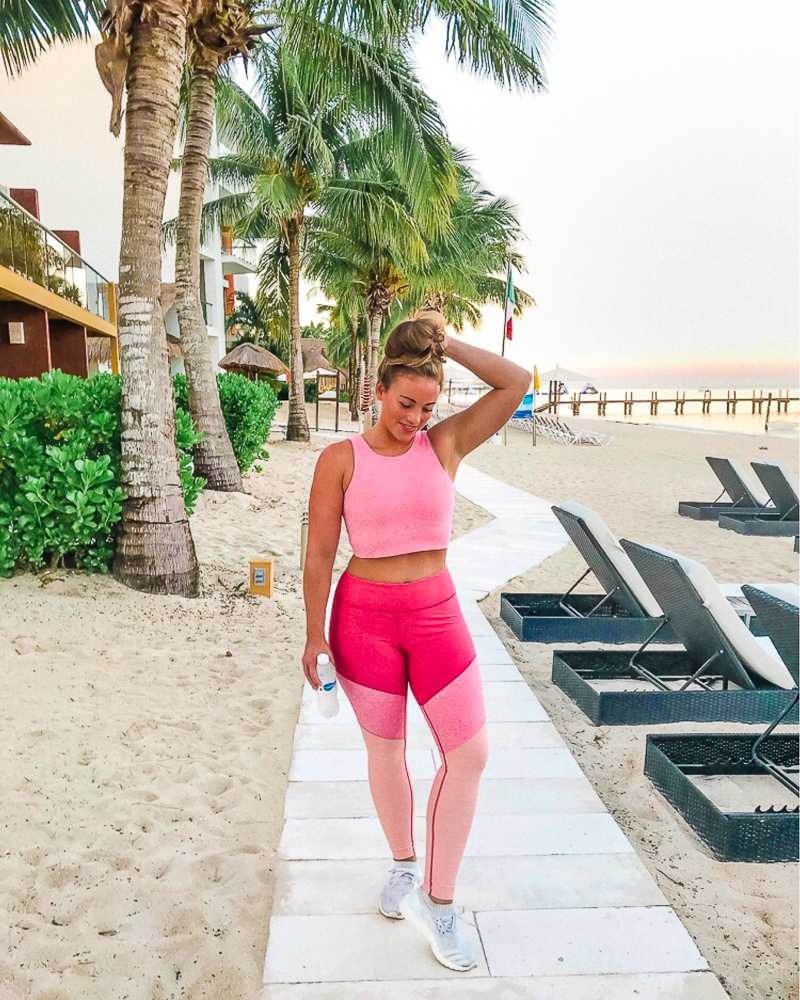 Full blog post of fitness outfit here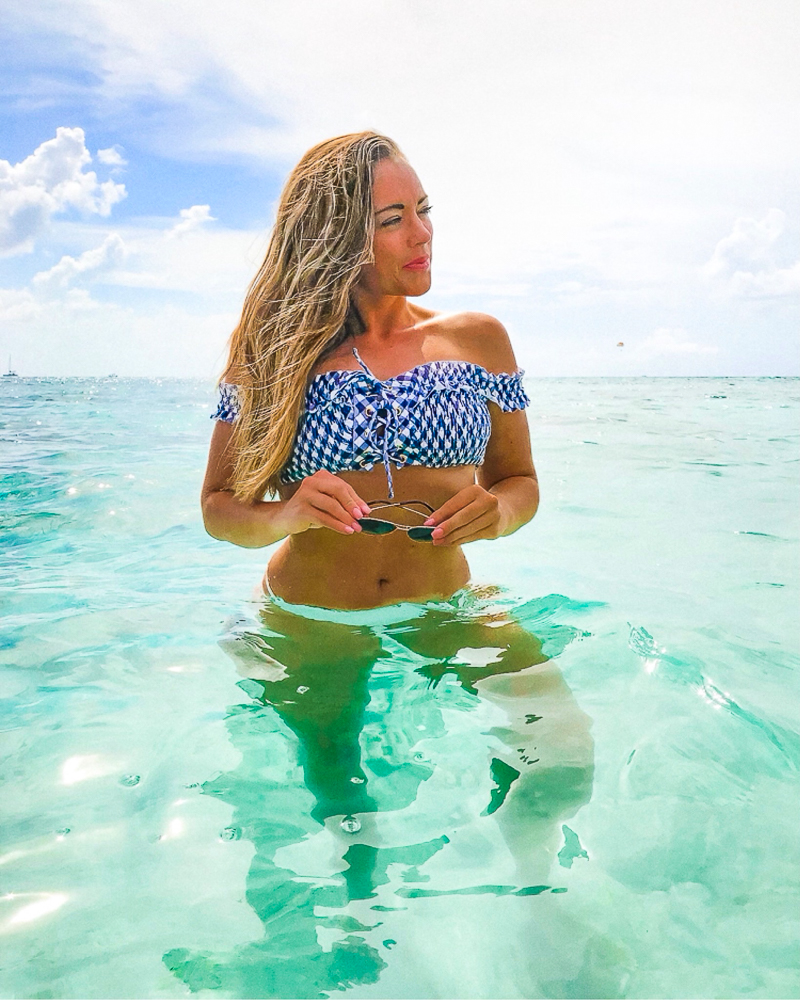 Outfit details here 
Hat from here // Suit from Cupshe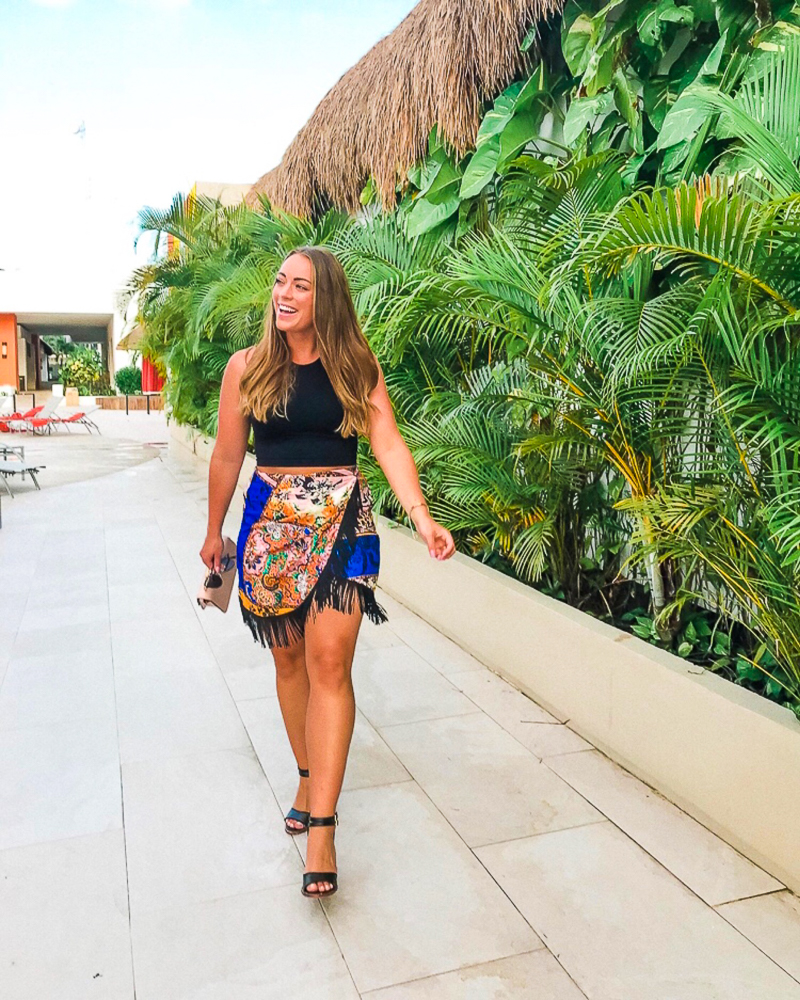 Full blog post of above outfit here
We can't express enough how great of an experience we had at Secrets Aura and hope to visit another AMResort property again soon! Feel free to email me or DM me with any questions you have from the trip!
Happy Friday and if you are in the path of Hurricane Florence, stay safe. Pat and I are prepared just in case of anything here in Winston.
xx, Brittany Ann