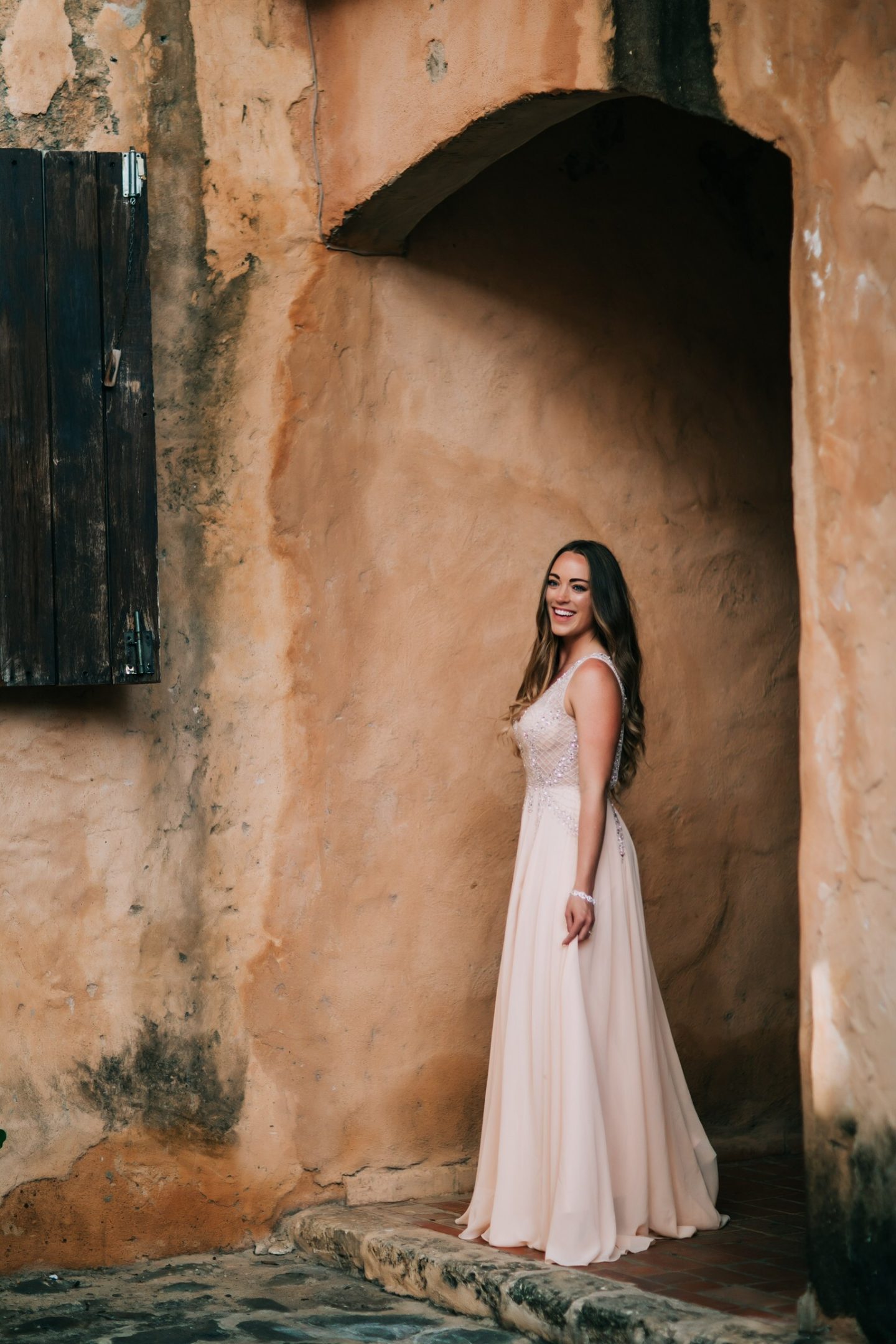 Today's My Birthday + 10 Things on My Mind!
Hey guys! Today is my 28th birthday & my twin sister's birthday too- [Happy Birthday Riss!] The above photos were taken at Altos de Chavon, during our stay in La Romana during our wedding. This is the dress I wore after dinner to dance in! I remember this late afternoon / early evening when we took these photos clear as day. It was the second most magical night of my life with the first being the night of our Wedding! I just remember being in this beautiful location that I had discovered randomly online and I had dreamt about being here at Altos for so long. I remember feeling like I was playing a princess in some fairytale and how lucky was I to have Pat right there with me as my prince. I just remember the entire time we took these photos I wasn't thinking about anything else except my husband standing in front of me and I was so excited for the start of this next adventure together. I felt so beautiful in that dress and it was just so incredible. When you find those things in life that make you feel empowered and beautiful-do all that you can to savor that. For me it's these simple images that immediately rush all those feelings back and I feel really joyful to have these. I have always been a huge photo person- I love printing out all photos and I have albums and photo boxes. They are my biggest treasures because I love how they simply trigger a memory, emotion, a feeling.
Anyways, I thought I would do a different kind of a post today and share 10 Things I am currently thinking about. Some things are silly others not so much but it's what has been on my mind!
1.) How do I empower women to feel more confident through my content & images? Confidence is something that can be gained and is open for anyone to grab to. I think there are "things" that can help you feel more confident, but it's something that really has to be worked on and come from within. My mom raised my brother, my twin and myself by herself until she remarried my stepdad when I was in high school. My Stepdad is the greatest man in my life (outside of Pat!) and filled that Father role in ways I would haven never imagined. It fascinates me that as a child I never knew I was "missing" something (a present Dad) because of the strength & power my Mom had. My Mom always told us that someone else was always worst off, to count your blessings, that everyday is a good day. Positivity and love was what she surrounded us with. I think when you are surrounded by someone with that kind of mindset it rubs off on you. I want to be a source of inspiration for you guys to feel more confident in all areas of your lives.
2.) How do I push my body to be stronger & leaner? I have been really focusing on my fitness for the past two years and while I feel very happy about the progress I have made (I'm down around 18 pounds of fat and have gained muscle through that, see more fitness post here) I want more 🙂 I want to continue to lose body fat while gaining lean muscle mass. I feel the holidays are always really tough to stick fiercely to a plan and I am currently in that mode of trying to get back into a strict plan but it has been a bit slow and challenging for me….
3.) I feel so grateful for our home. Our dining room table and couch deliver today and I can not wait for Pat and I to be able to snuggle up on the new couch after a long day. It'll be so nice to have an actual place to sit! Some of you have messaged me asking to share more of the house-I will, we just don't have much in it yet so once I get some rooms completed I will share!
4.) Our nightly walks. Pat and I have been walking around our new neighborhood every night. We have been bundling up and walking around 10 or 11 pm every night. It just feels so good. I love ending our day with us talking about random things and it just feels like this is where we are supposed to be right this second. I love that.
5.) New favorite scent: White Strawberry Bellini by Yankee Candle-you need to smell this for yourself- it's heaven and will bring you out of those winter blues!
6.) Kevin Hart is my favorite person to follow on snapchat. Need some motivation to get you pumped up for the day? Follow him on snap-just makes me so motivated and happy! Huge fan over here!
7.) How do I get better sleep? I have struggled with sleep for as long as I can remember. I am someone that can run on 4-5 hours, however, that only last for so long before I run myself down so thin that I end up sick and needing to sleep for like 12 hours. I really want to get in a better night time routine and I need to find ways to "shut my mind off". I have been putting my phone down before we walk and then I don't touch it until the next morning when I shut the alarm off lol! I have been trying to read once getting into bed too! I will take any suggestions from y'all!
8.) I appreciate my work out playlist because it gets me in the right mindset. It's on Spotify & titled "Workout Twerkout". Enjoy!
9.) How are the Steelers done playing? We didn't even make it to the playoffs this year and I honestly get sad this time of the year every year when football is about to come to an end. I love watching this sport and enjoy our Sundays where Pat and I watch every game!
10.) I have four weddings coming up from March to July and I can't wait to share wedding guest dresses for yall! I am just so excited to be witnessing some of my best friends marry their loves! Ah, it gives me goosebumps even thinking about them in their wedding dresses! Chels, Bri, Kels, Bec – can't wait girlies! <3
I'll be back to posting my usual Monday, Wednesday & Friday post. Wednesday I'll share an athletic outfit / fitness update & Friday I'll be sharing this tweed jacket I am obsessed with right now!
If you made it this far into reading this post-thank you. Thank you for taking time out of your day to read little about mine and to learn a little more about me. I love being able to share everything I am thinking about with you. I appreciate you.
xx, Brittany Ann