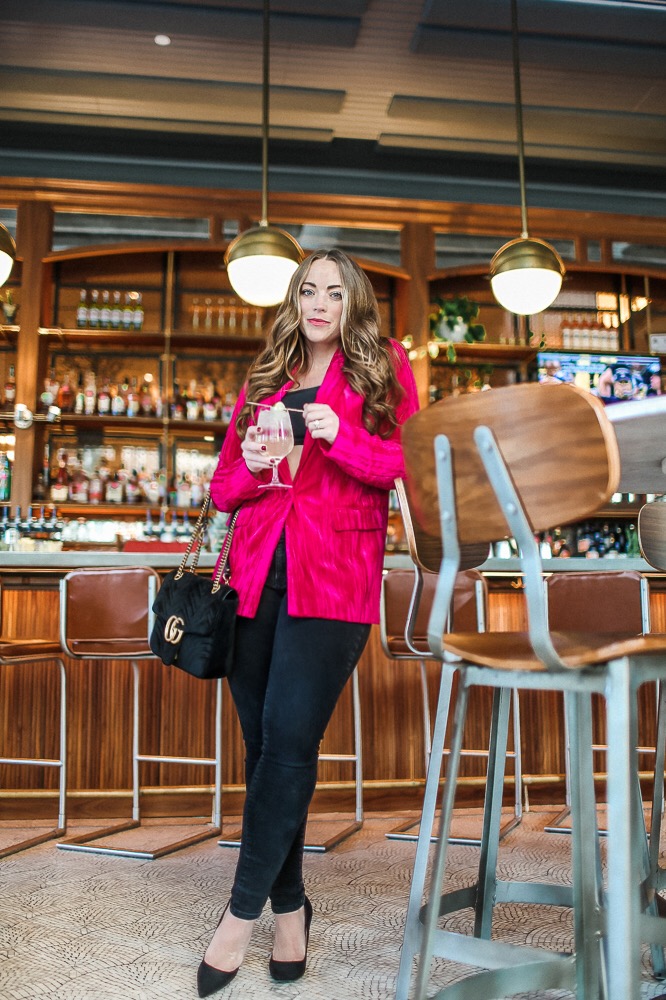 Sharing this Valentine's Day Pink Blazer look with all of you today. Isn't it crazy how it is the end of February already? Time just simply flies by!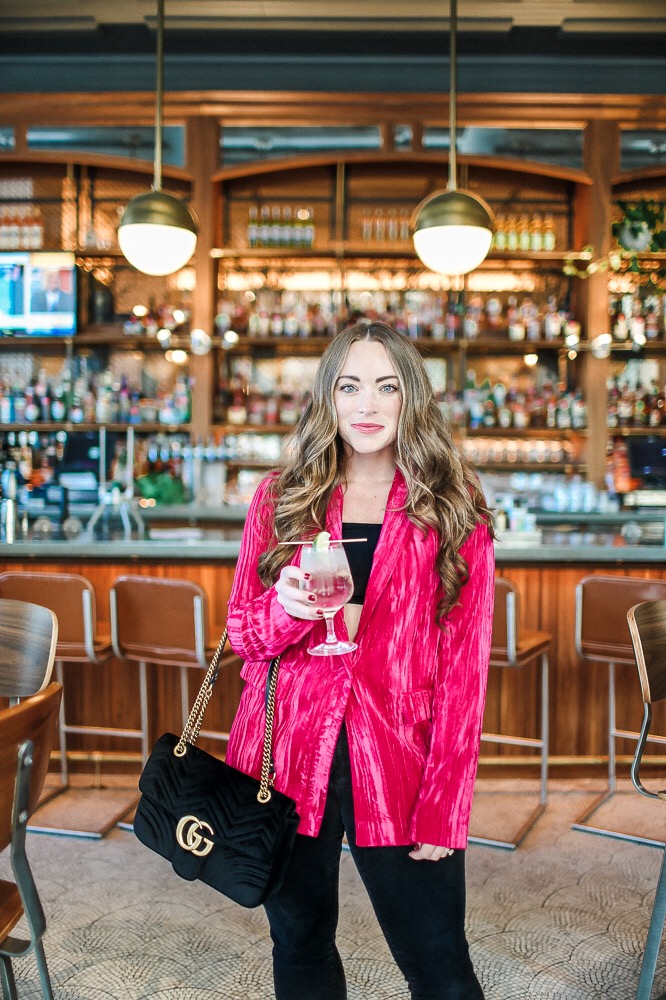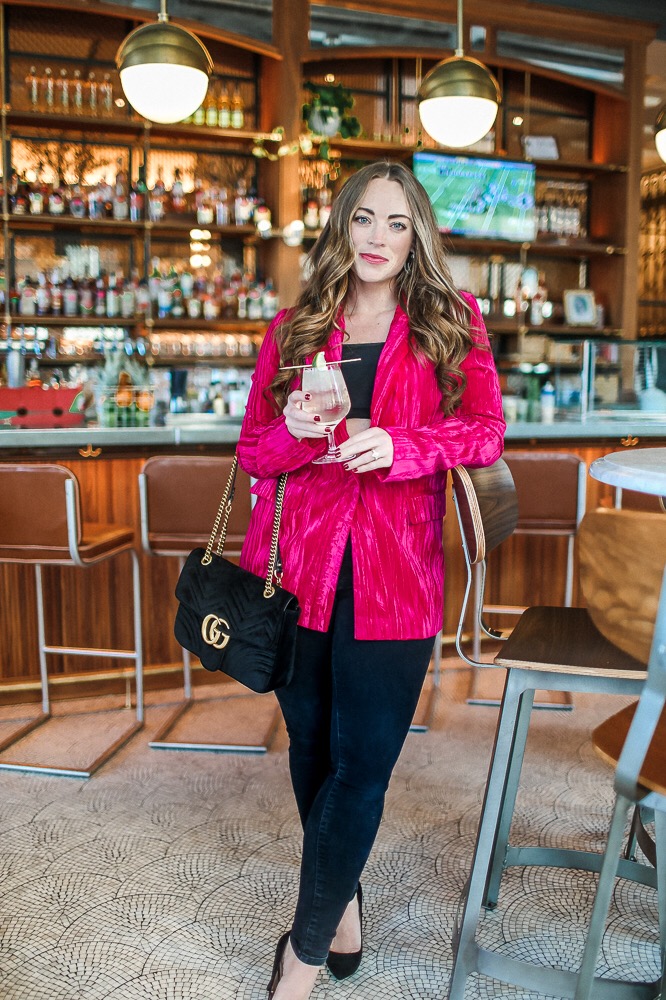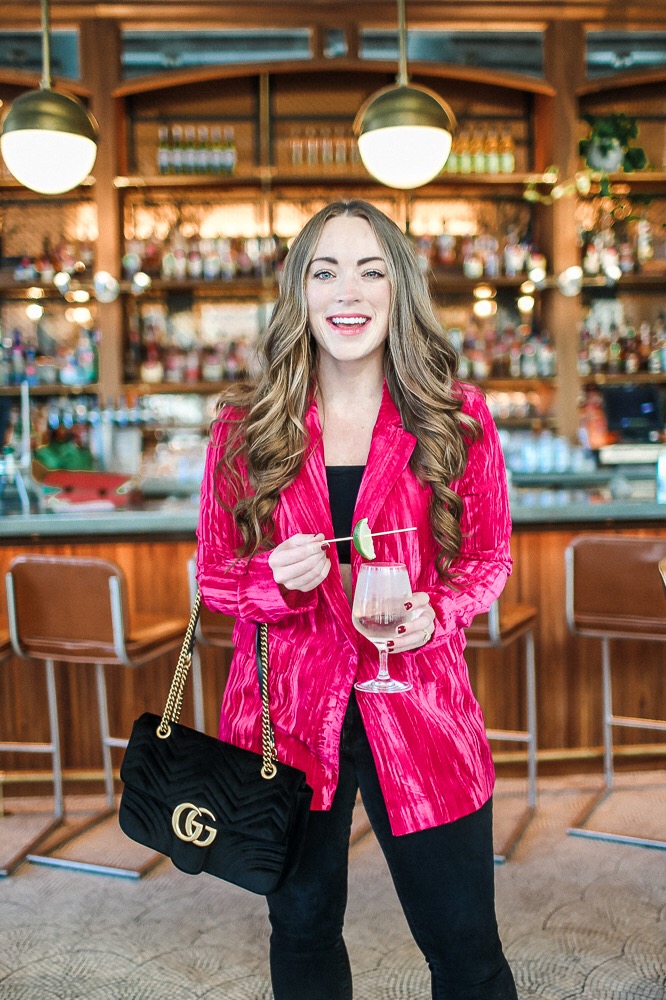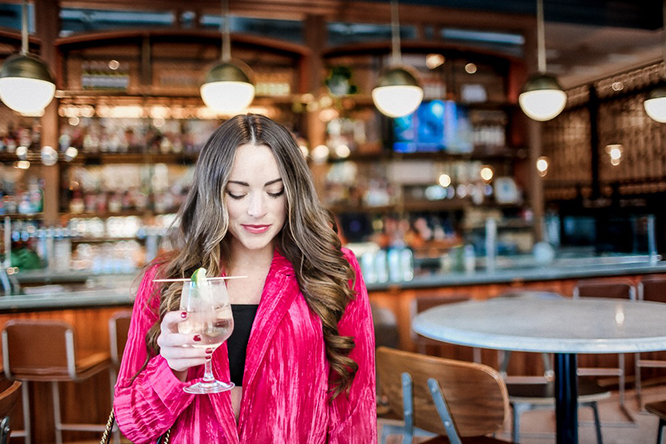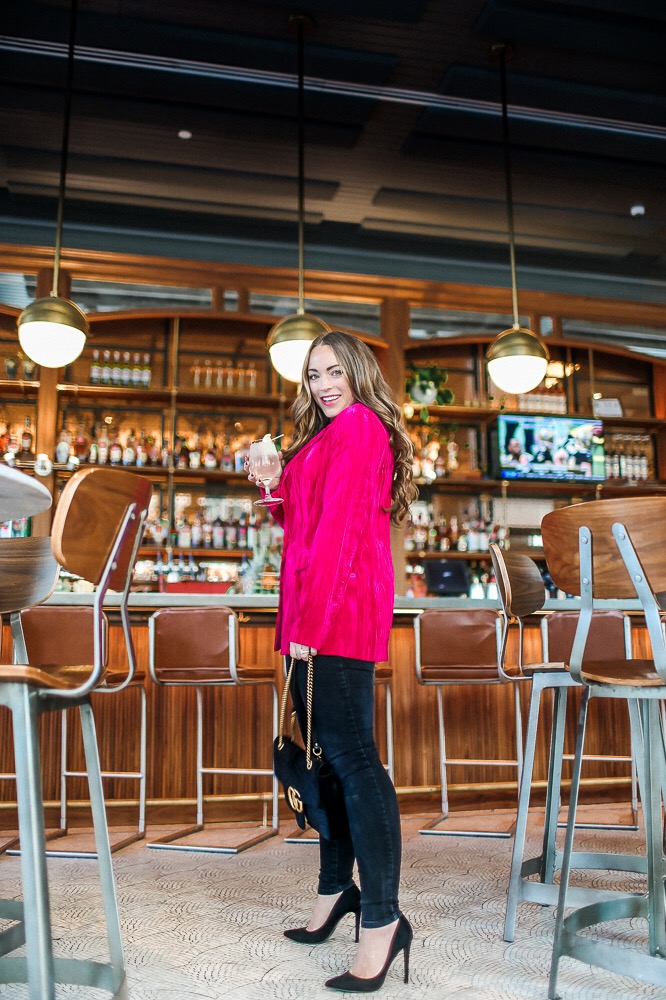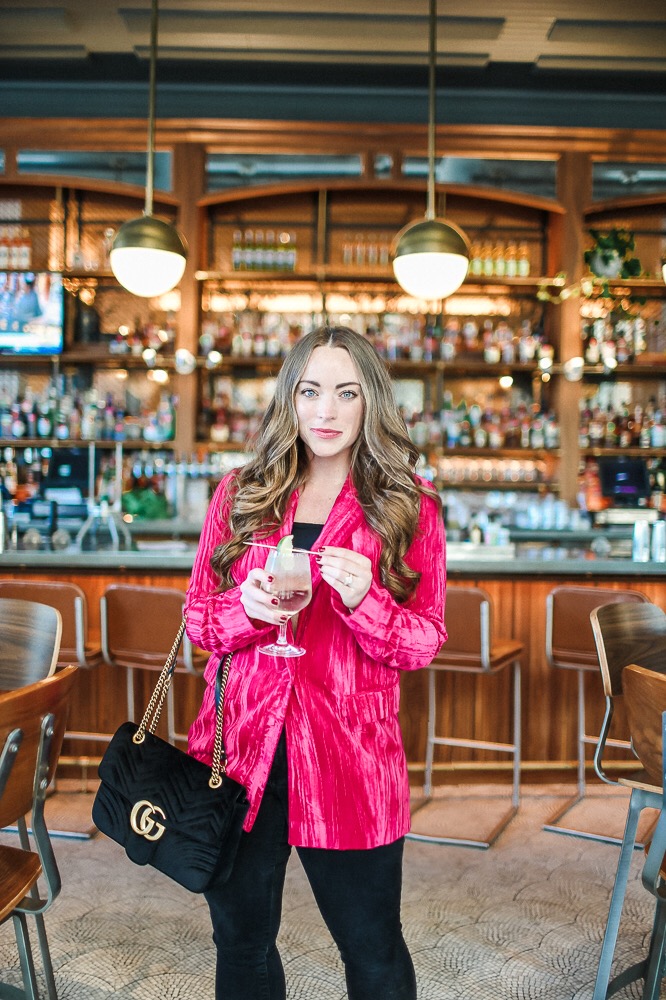 Pink Velvet Blazer // Topshop Black Jeans // Gucci Marmont Handbag // Sam Edelman Pointy Heels // Black Bandeau Top // Clear Statement Earrings // Mac Lipstick "Mehr"
Hi guys! It's Friday! Whose ready to be out and about doing things? ME! Saturday Pat and I are headed down to Charlotte to eat at one of our favorite restaurants before heading to our friend's couple's shower! I have four girlfriends getting married between March-July and I am so excited for them! It's such a wonderful time, I can't believe mine and Pat's one year anniversary will be here soon(ish)!
Anyways, with Valentine's Day only a few weeks away, I thought I would share an appropriate look for a date night out celebration! This can be with your girlfriends too, BTW! This pink blazer is from the brand Topshop, purchased from Nordstrom, and I am wearing the size 8 (US 6-8). I love the crinkled velvet material and it has a glimmer to it which makes it even more fun! I paired it with a basic black bandeau, I got this bandeau when I purchased this pant / bandeau set last month. I wore the top + bottoms in this blog post for a fun night out in the Theatre District of Pittsburgh! Anyways, the bandeau is super basic, doesn't have support but can be super versatile. I just wear my strapless bra or sticky boobs with it and it lays evenly over my bra and chest! You could totally wear a basic camisole like this one underneath if you wanted a little more coverage. I paired the top with my go to Topshop Black Jeans (size up if in between sizes) but with the basic camisole and black skinny pants this would make a super chic look for the office too!
Oh my gosh! I almost forgot to mention that this blazer is currently 50% off and it also comes in navy here! Get it before more sizes are gone!
Also, aren't these photos fun and different? I have always wanted to shoot here in Winston and finally I was like, I'm doing it! They were totally cool about it. My go to drink? I rotate between vodka water + lemon/lime and vodka water + splash of sprite so basically it's the same thing. I love mojitos & margaritas but those extra calories and carbs- girl, no! Hahah!
Enjoy your weekends you guys!
xx, Brittany Ann
P.S. This Valentine's Day Pink Blazer look totally gave me Legally Blonde Vibes. I don't know why but it did. Also, major side note here but is Reese Witherspoon ever going to show signs of aging?! She looks the same as Elle Woods!
Shop the Post: