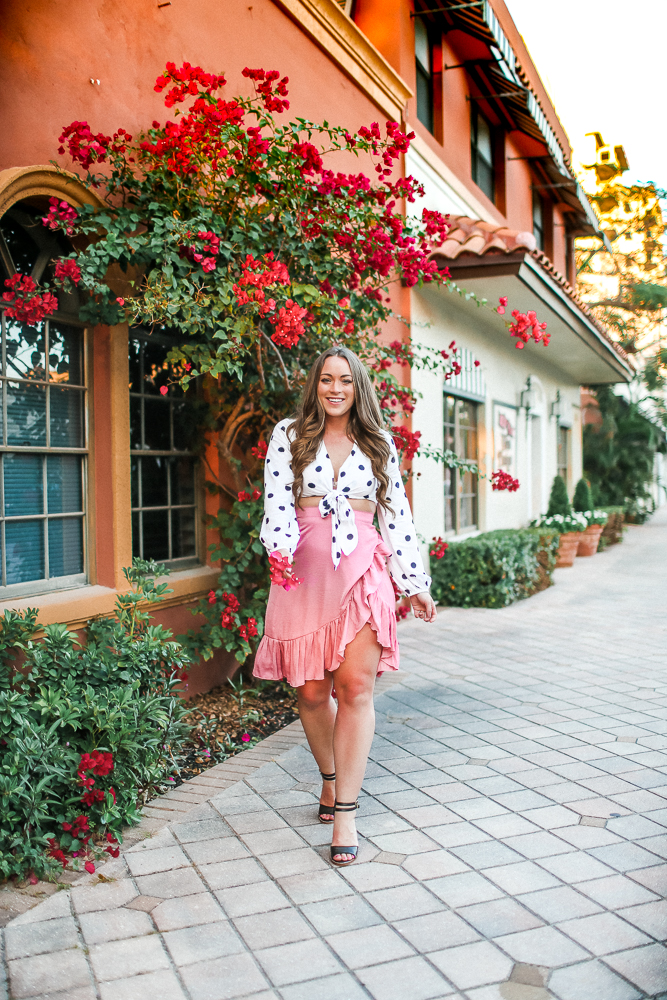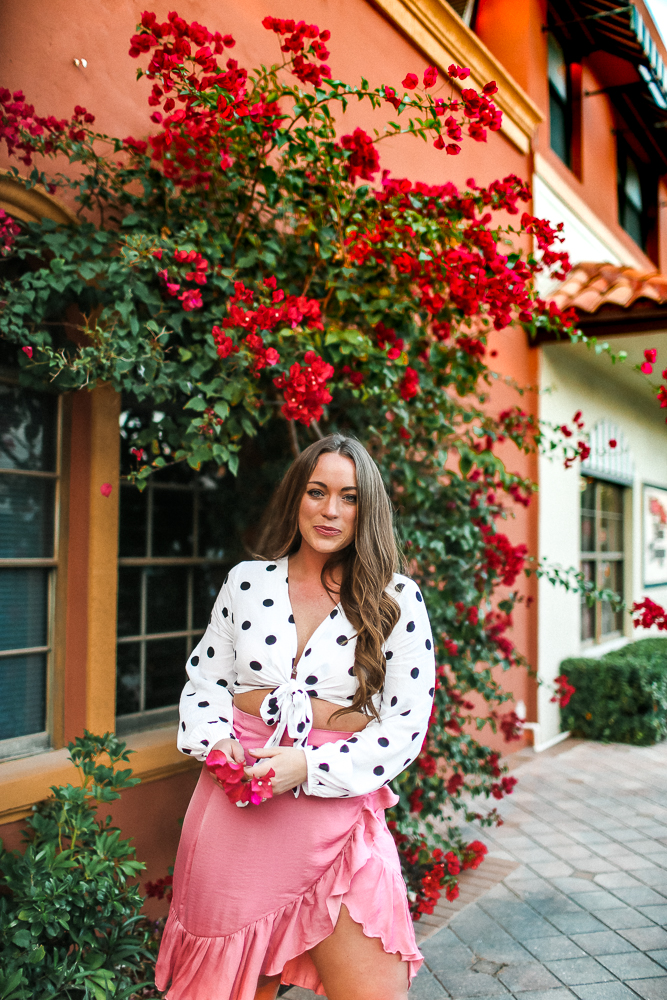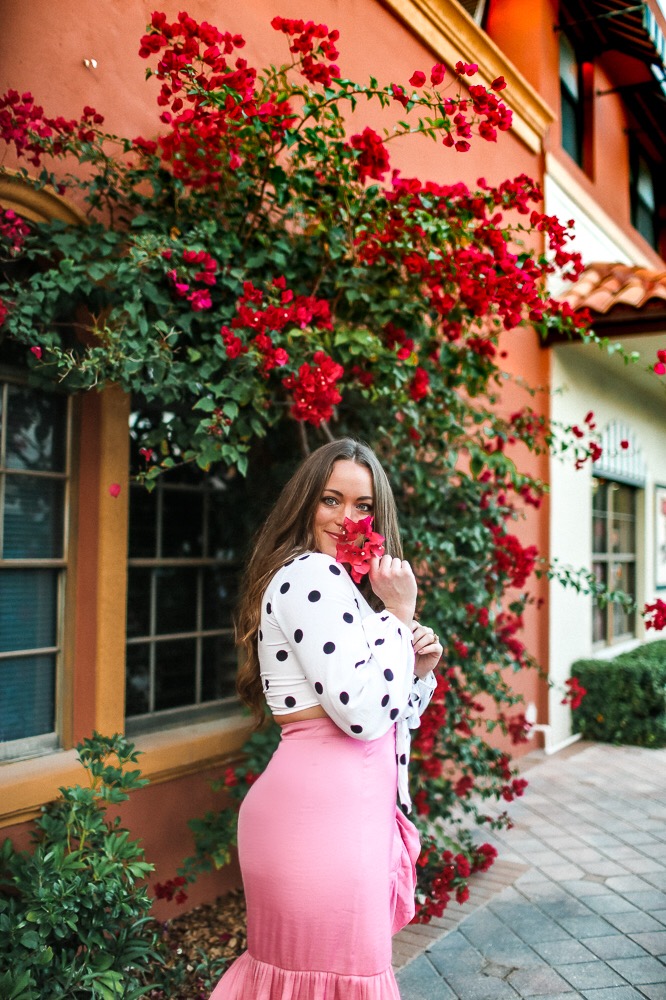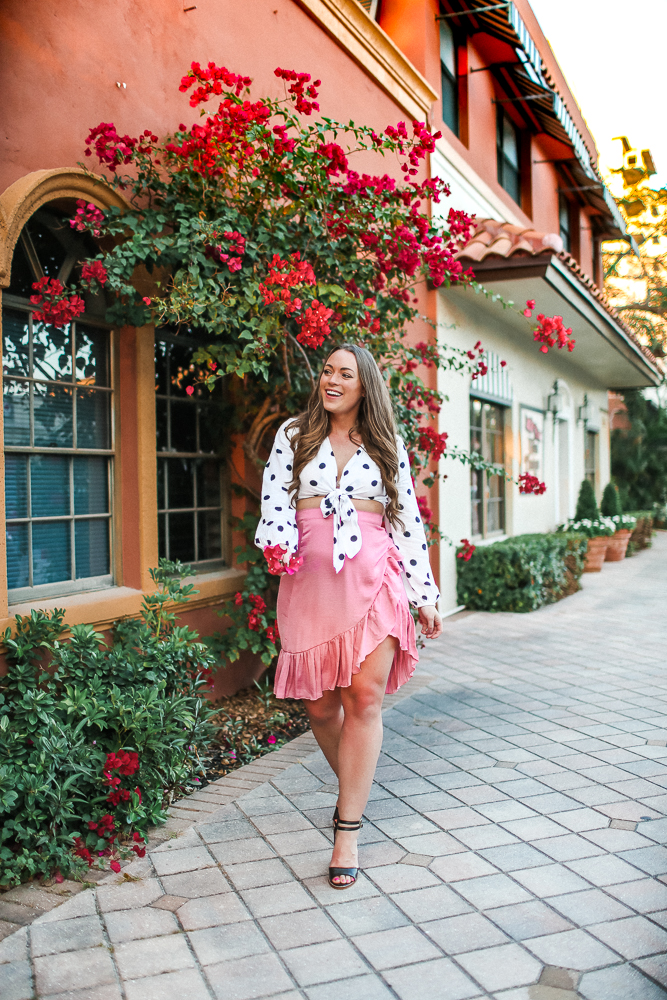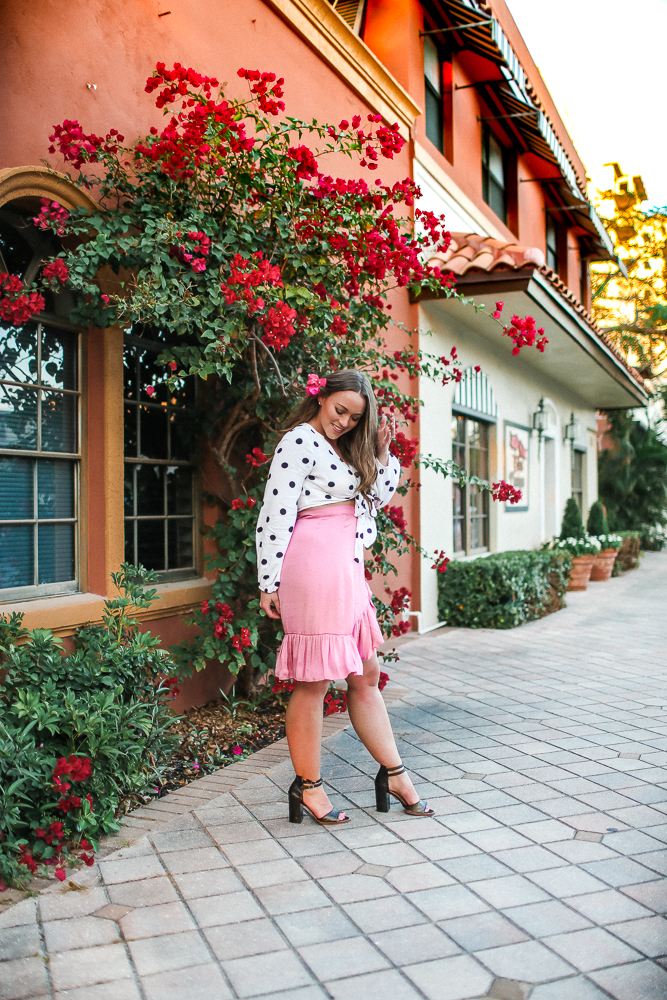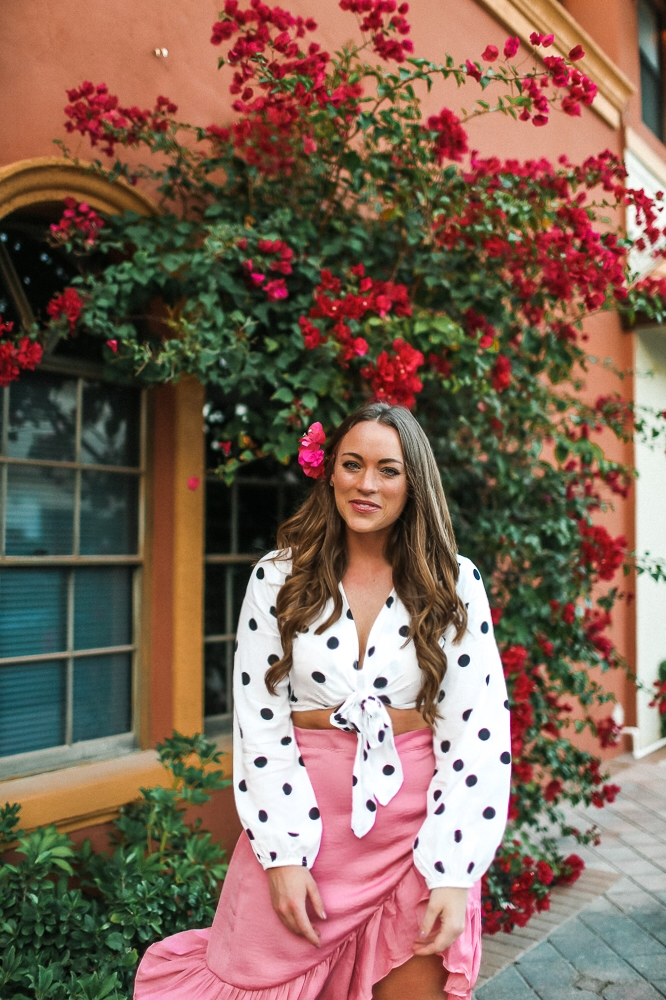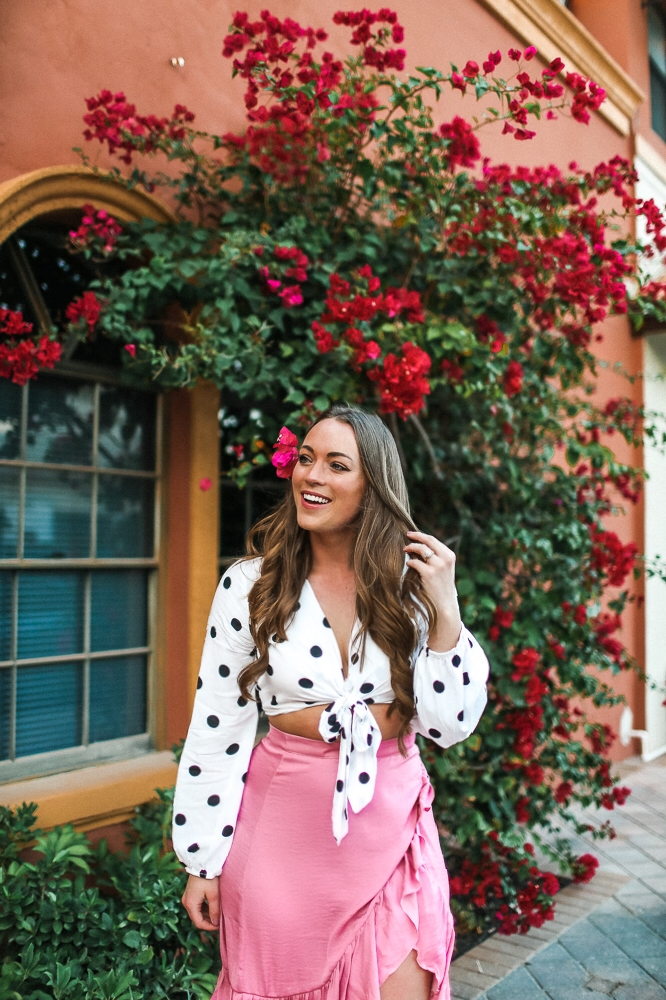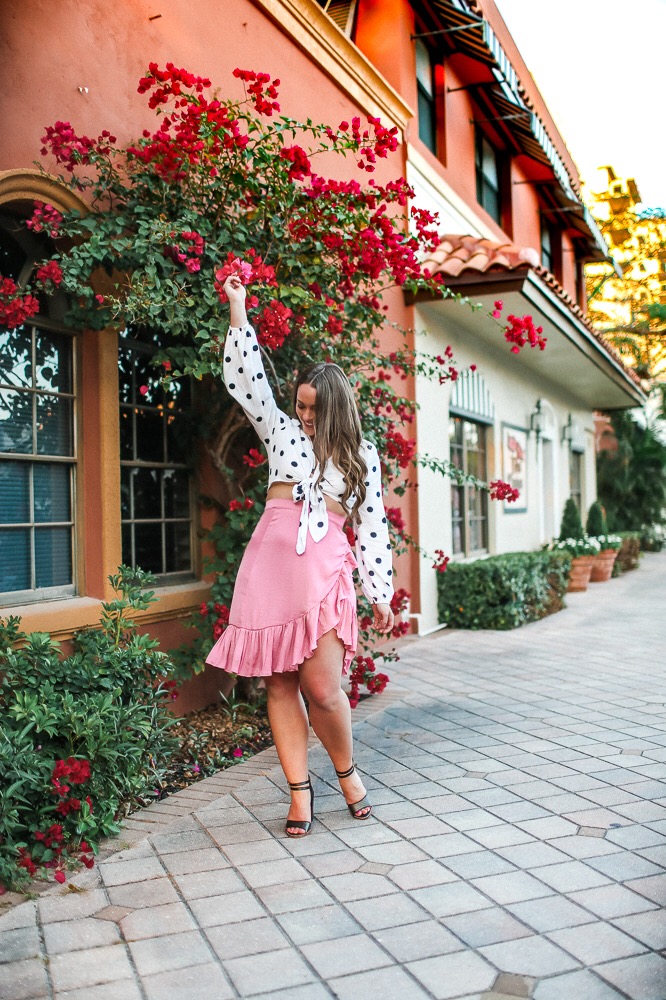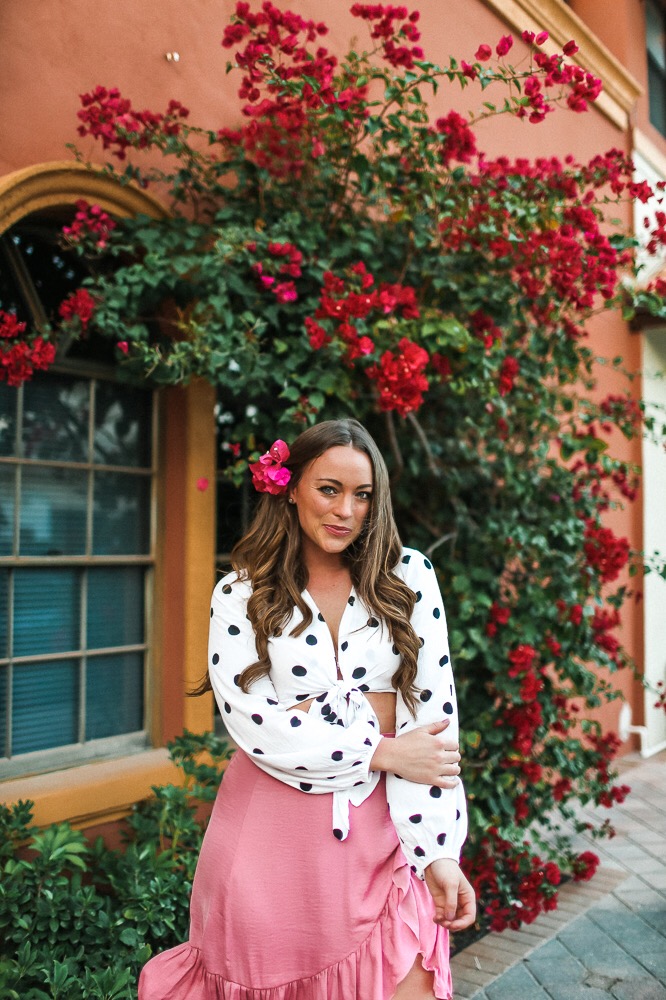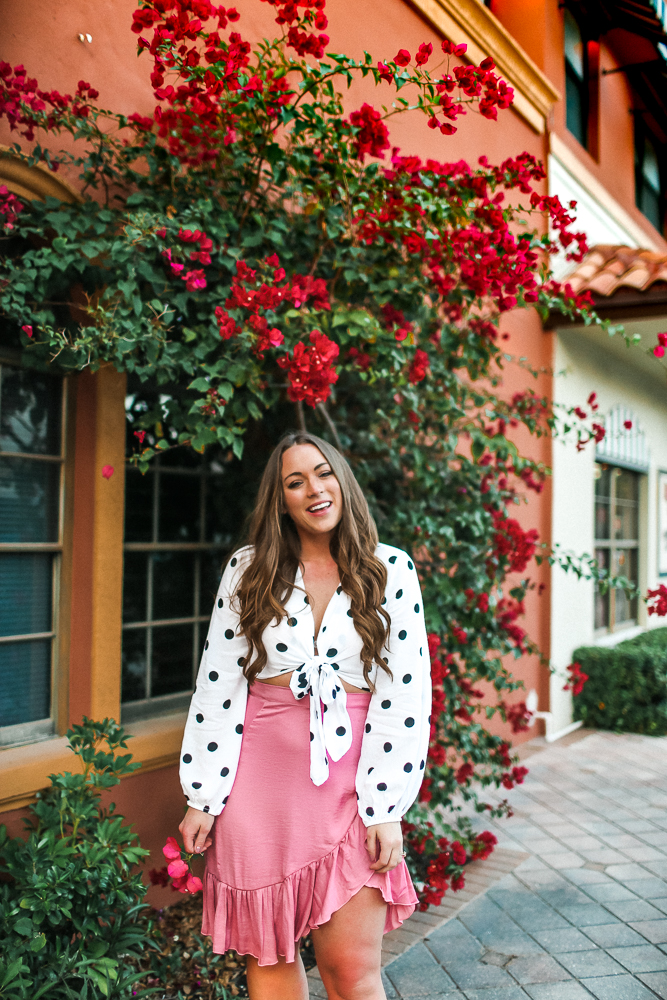 Similar Polka Dot Tie Top // Wrap Over Pink Skirt // Similar Ankle Strap Heel
It should be no surprise if you have been following me for a while, that I love a good wrap skirt, wrap dress, wrap anything. I can't express it enough, Diane Von Furstenberg was absolutely right. There is something so feminine, flattering and so classic in the wrap silhouette. I have worn wrap skirts, dresses, tops, you can name them, all here on my blog. If you type "wrap" in the little magnifying glass at the top of my website page, it will pull tons of post where I have shared this favorite silhouette of mine! You can search or you can look here! This post here often pops as a "popular post" for me, and I often wonder if it's the pretty blue wrap dress or is it that my hair is super long and pin straight?
Anyways, this wrap ruffle skirt is from retailer NA-KD, have you ever shopped from them? They ship from overseas but offer free shipping and free returns! I ordered a big package from them for this trip and an upcoming trip and I was really pleased with quality and fit for the price of the pieces. If you are between sizes, I would recommend sizing up. The fit is a bit tighter and smaller than I would say your average box store, it has a more boutique smaller size fit! I ordered my true normal size M/8 and everything did fit me, just some of the items I would have been fine to have had the next size up! The good thing though, free returns. Doesn't that make the world's difference in ordering clothes from different places? It does for me!
We took these photos as we were heading to dinner in Mizner Park. It was my first time to Boca Raton and it was simply beautiful there. My best friend and I had flown into Fort Lauderdale and the drive was only about twenty five minutes north to Boca. I would love to visit West Palm Beach ( a little bit north of Boca), Miami (south of Fort Lauderdale) & eventually the Keys which is way farther south. The weather in Boca was beautiful- sunny and 80 degrees every single day. I wore the above look to dinner one night and was pleasantly surprised that it didn't drastically cool off at night. I was completely fine in my polka dot crop top ruffle wrap skirt look! My favorite part of the trip? Spending time with my childhood best friend, Becca. Every night after dinner I made us go back to the hotel and change into comfy clothes & tennis shoes so we could walk around Boca for an hour. Our nightly walk- lol! Becca is getting married in June and I can't wait! Pat and I have several friends saying "I do" this year and I am just so excited to witness their ceremonies and enjoy the evening celebrating!
This past weekend Pat and I worked on a few house projects and a few work projects for me! On Wednesday I am sharing a different kind of post, "5 Ways I am More Productive". I will share 5 things I do each day to ensure I get done what needs to get done! Come back and comment on what you do to stay organized or what makes you productive, I would love to know!
xx, Brittany Ann
Shop the Post: