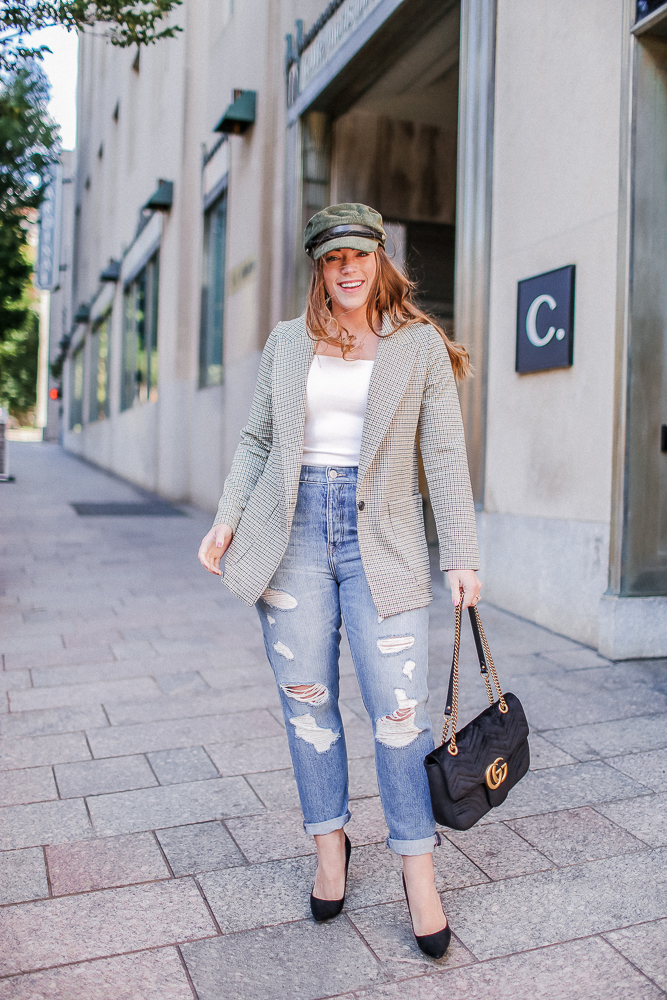 Tartan Blazer (sold out similar here, here) // Similar Distressed Jeans // Bodysuit // Baker Boy Hat (on sale!)  // Suede Heels // Gucci Marmont Handbag // Initial Necklace // Lips "Kinda Sexy" 
Good Morning! Happy Monday to each and everyone of you! Pat and I had a super productive weekend at home, we only have one weekend left in our apartment! We can't believe it, we are so excited to be moving into our new home! We have been looking at furniture and we both are a little shocked at how expensive everything is. I'm over here like maybe by February we will have most of the big items in….I'm approaching this slow and steady!
Tartan Blazers have been trending this Fall. Actually blazers in general and this print have individually been strong. I thought why not combine them to bring you guys a trendy outfit for this early Monday morning?! I am wearing a size 8 in the blazer, I love that it is an oversized straighter fit and that it is a stretchy fabrication. It's from H&M which has anyone else noticed they have changed their sizing? I now typically wear my actual normal Medium / 8 size where before there, I was all over the board! I appreciate this because it makes ordering online so much easier! You should give them a try again if you haven't in a while! Also, since this blazer is sold out, I linked a couple others above and in the below widget. I love this plaid blazer because of its timeless print color combo. It's one of those similar to mine, that you'll be able to wear for years and years on end!
Are you a fan of the baker boy hat trend? Pat always makes fun of me when I wear one because he thinks I'm super trendy for Winston, but I think they are super cool and fun. I found it interesting when I posted a poll on my instagram (@brittanyanncourtney) stories asking if you guys liked the trend and the majority of you said you didn't! Have you tried one of these hats yet though? I promise you, they are super cool! This one that I am wearing in the above photos is on sale for $15, 50% off! Give it a try girlfriends!
xx, Brittany Ann
Shop the Post: