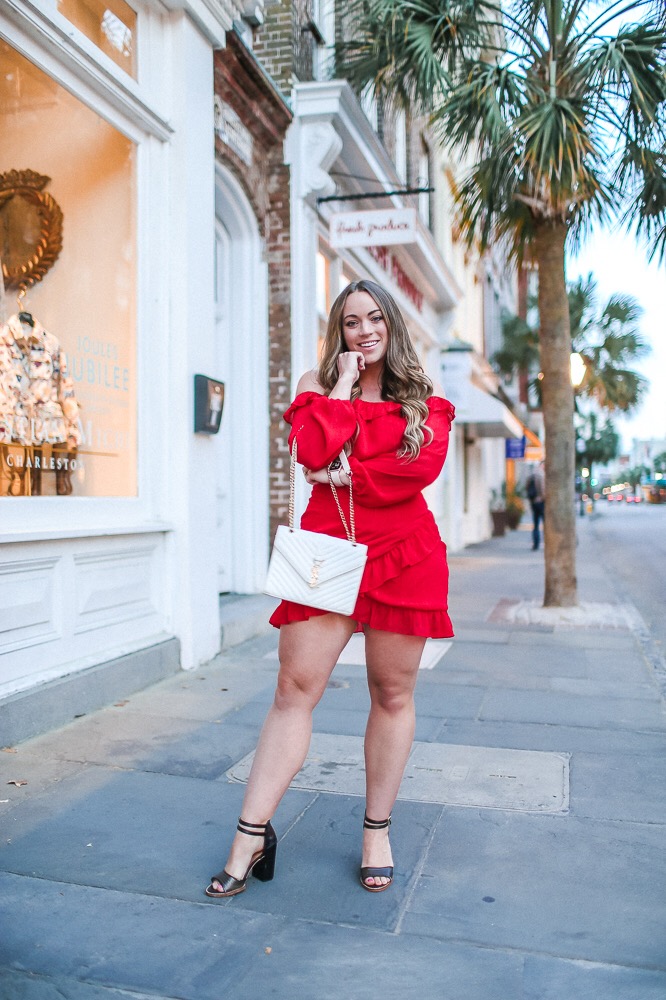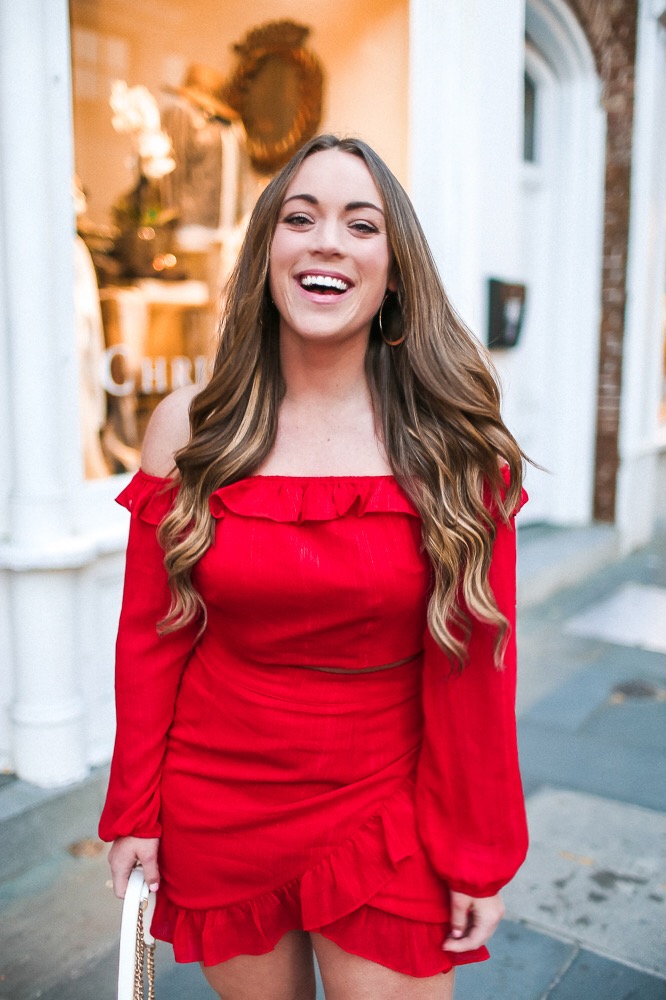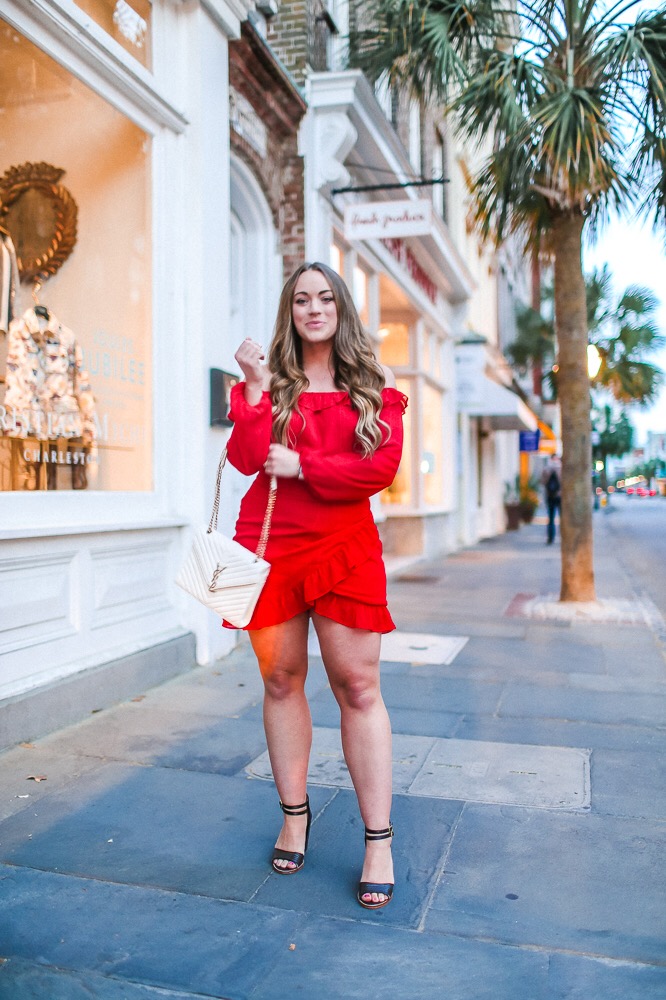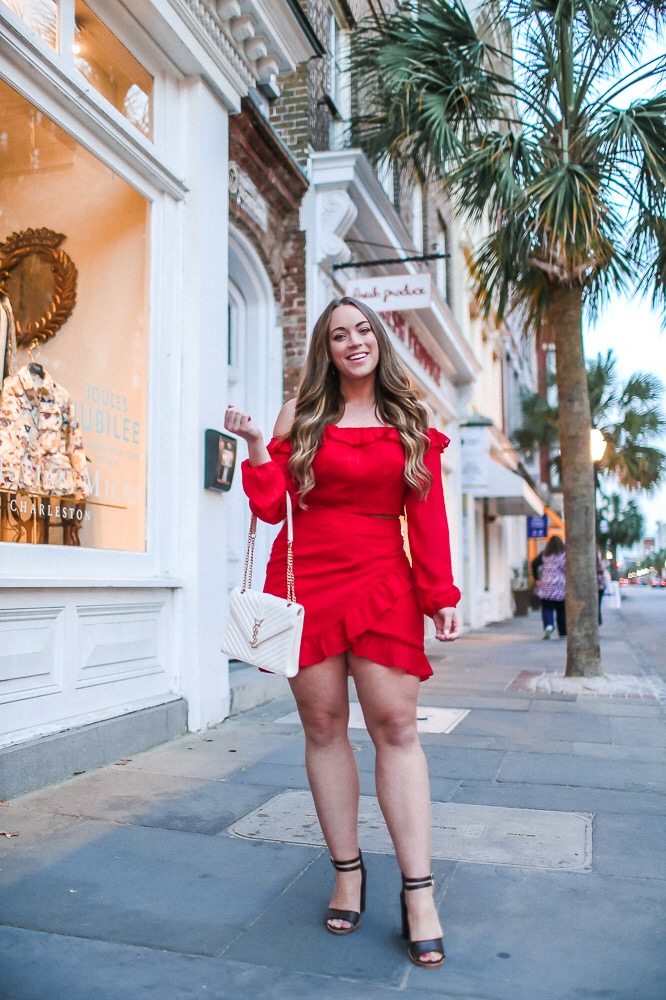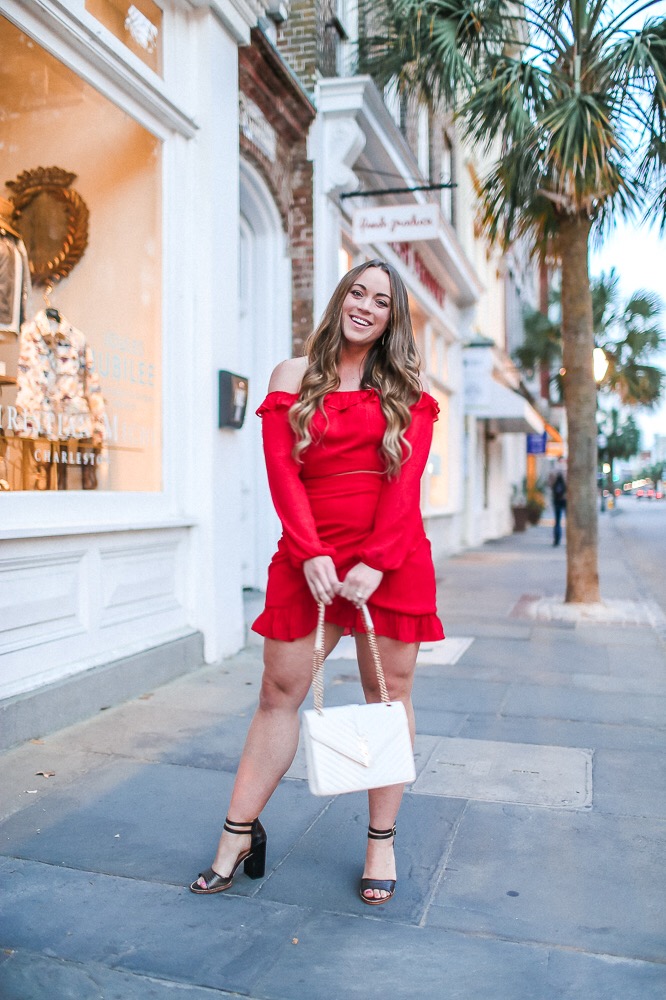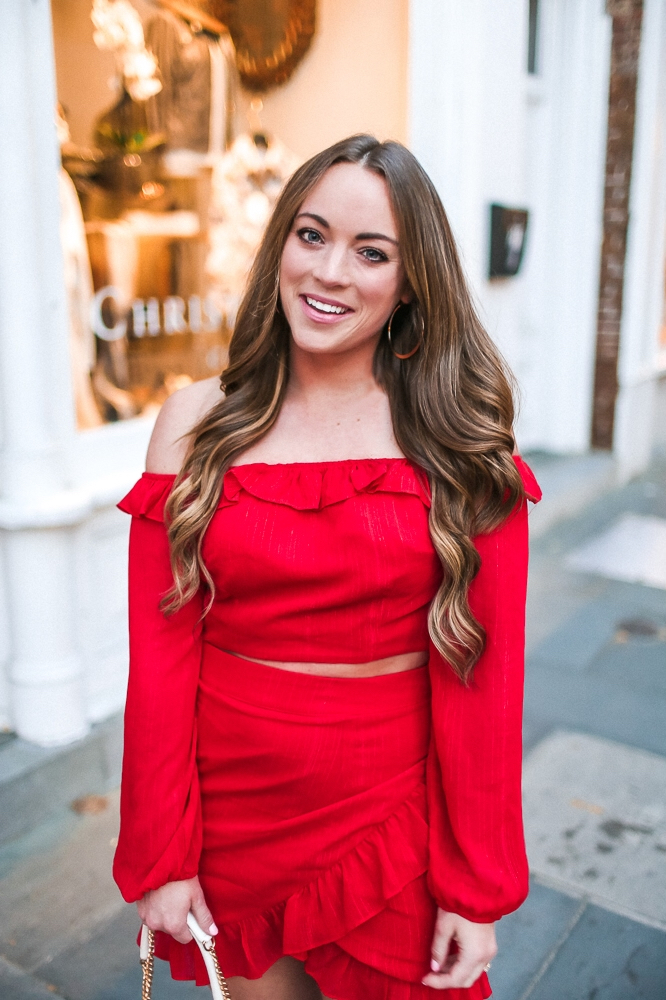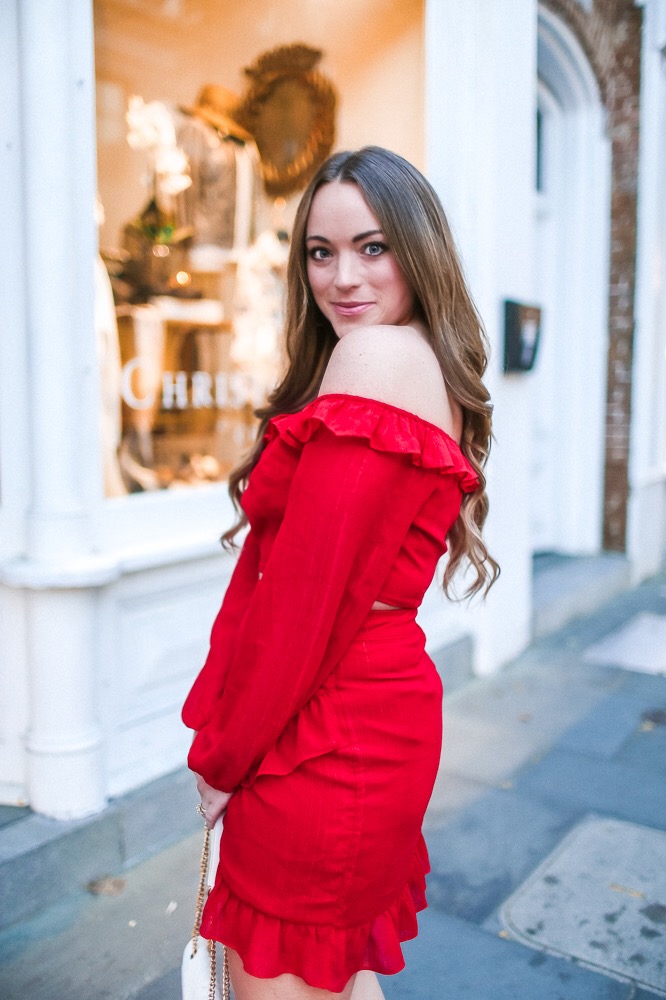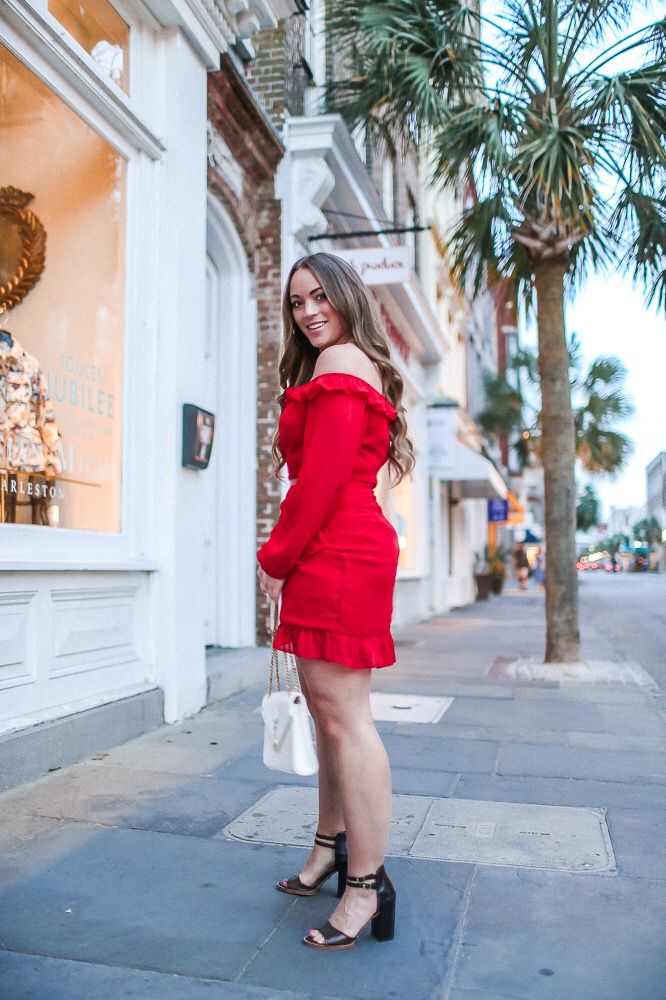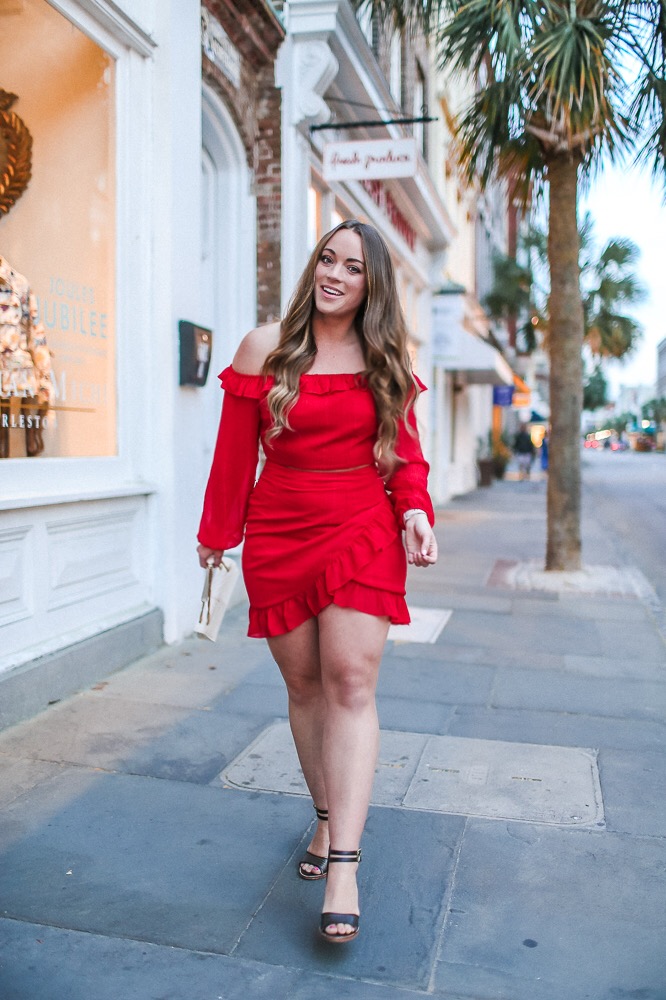 Revolve Red Set // Similar Black Ankle Strap Heels // YSL Handbag // Gold Hoops
Hi everyone! I feel like it has been a really, really long time! Things got pretty busy last week, my best friend Monique came in town to see the house. Pat, Moey and I then left Friday morning to drive down to Charleston for our friend Chelsea's wedding. It was absolutely beautiful, and Chelsea was stunning and glowing the entire night. It was so fun to be there to celebrate her's and Matt's big day! Our trip started off a bit rocky- one hour in we stopped at a Chik fi La and while we were backing out and pulling forward to leave (with frozen coffees, fries and chicken tenders already bought and in our laps) a truck back into us when he was pulling out of his parking space! No one got hurt but my car door has a massive dent and we got an estimate on it today and the entire door needs to be replaced! So you know how that goes, it's back and forth with insurances and all that jazz!
Anyways, I think this Revolve red set is one to have! I am really loving red lately, every time I wear it and see it on myself, I'm like ooh! I like this! The top and skirt is sold as one set for a total of $79. I am wearing a size Large. I think it fits well, I typically size up to a L with skirts that are this chiffon material because I need room for my butt! I can not stand wearing a skirt that is tight and doesn't have length to it, typically if you size up there is a bit more room for the skirt to sit lower on you and give coverage! Revolve has the best sets let alone best pieces for Spring! They just dropped over 365 new items today and I am so excited to be shopping through them! I always feel Revolve has clothing pieces other retailers simply do not have! Their stuff is different and they have free shipping (comes in 2 days) and free returns! Can not beat that! Also, I wore a similar set here last summer if you want to take a look at that!
This is the perfect date night / girls night out look! I love the ruffled details, it feels very feminine! Love it, love it!
My Revolve red set and similar items are linked in the below widget. Click on any to shop!
xx, Brittany Ann
Shop the Post: