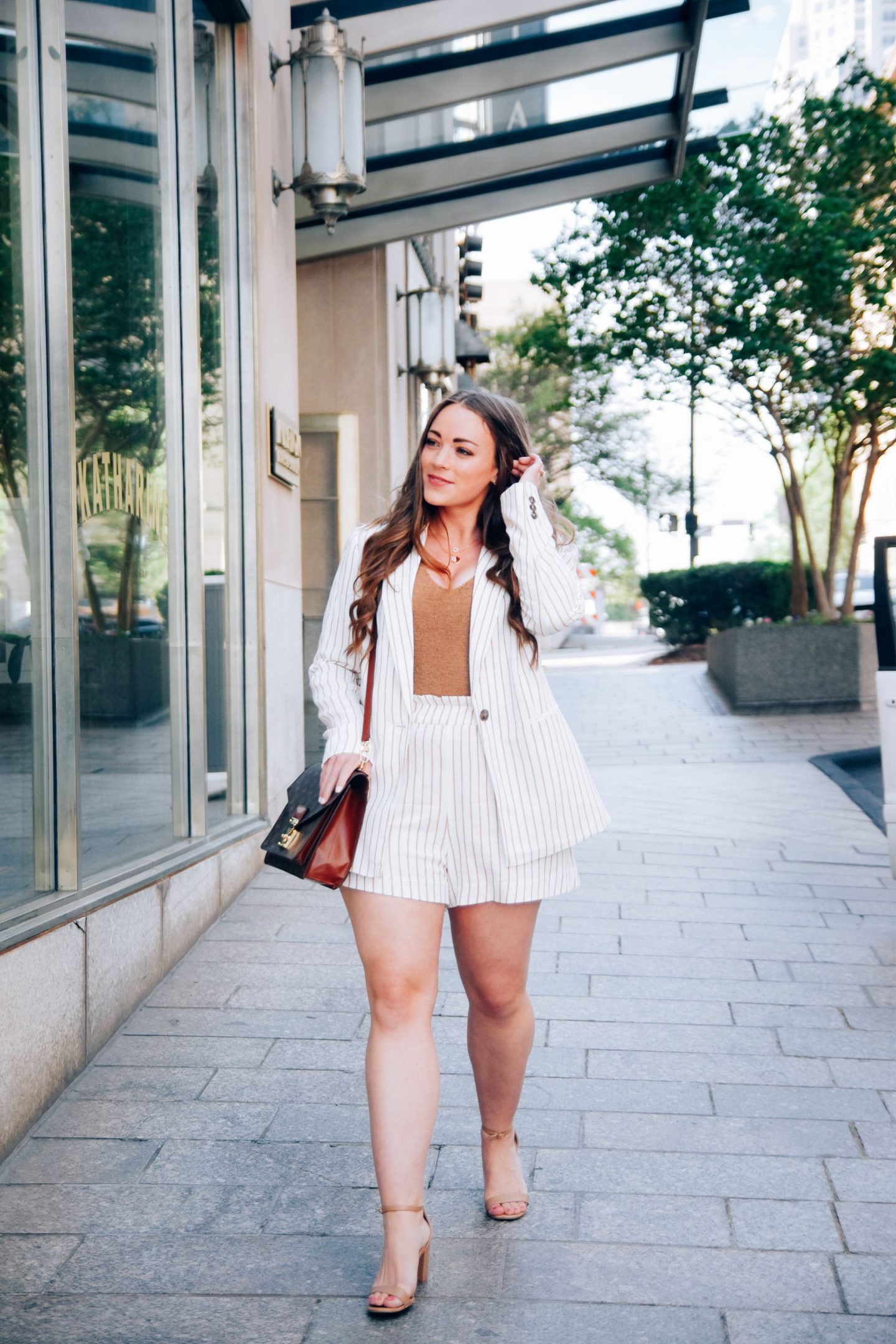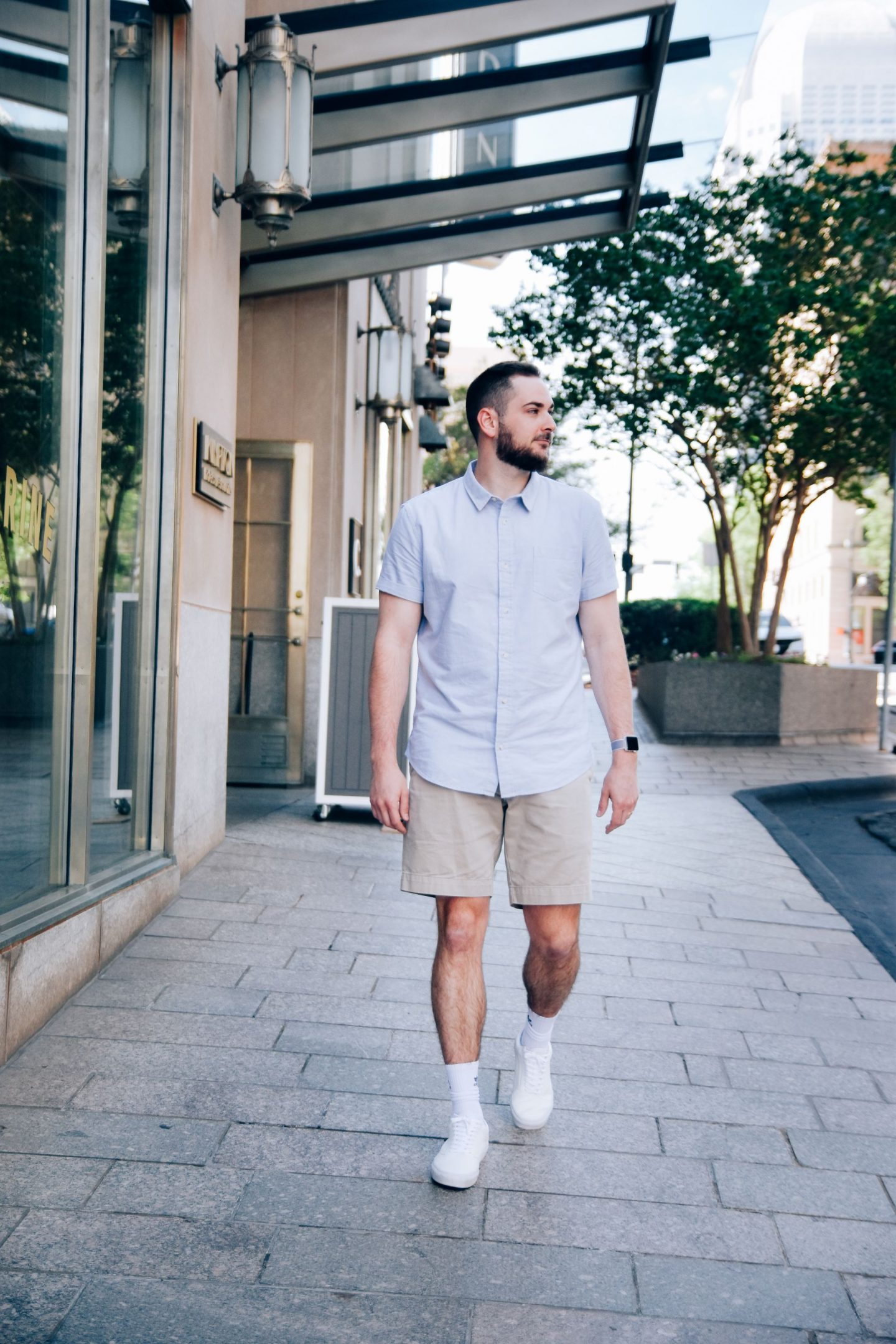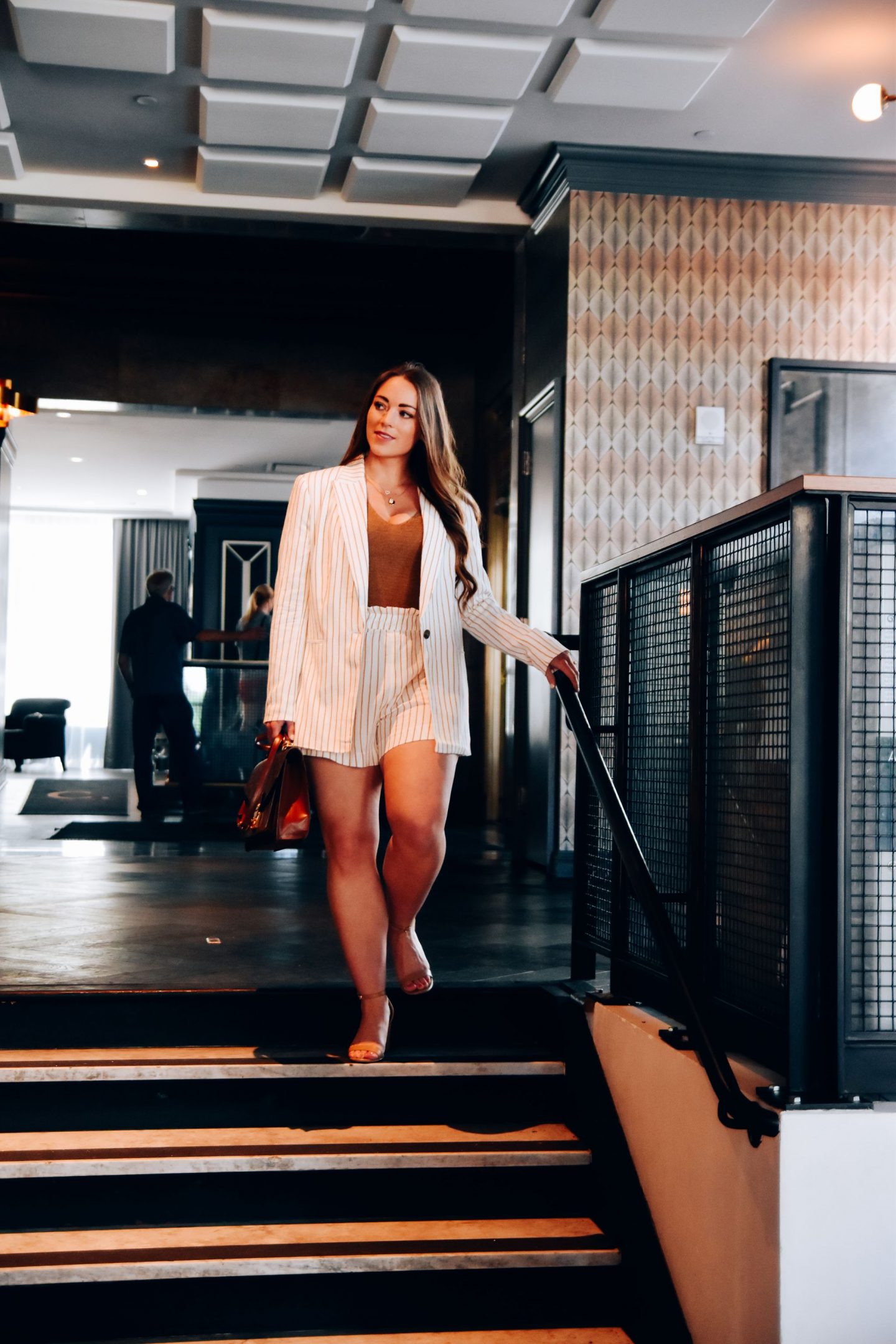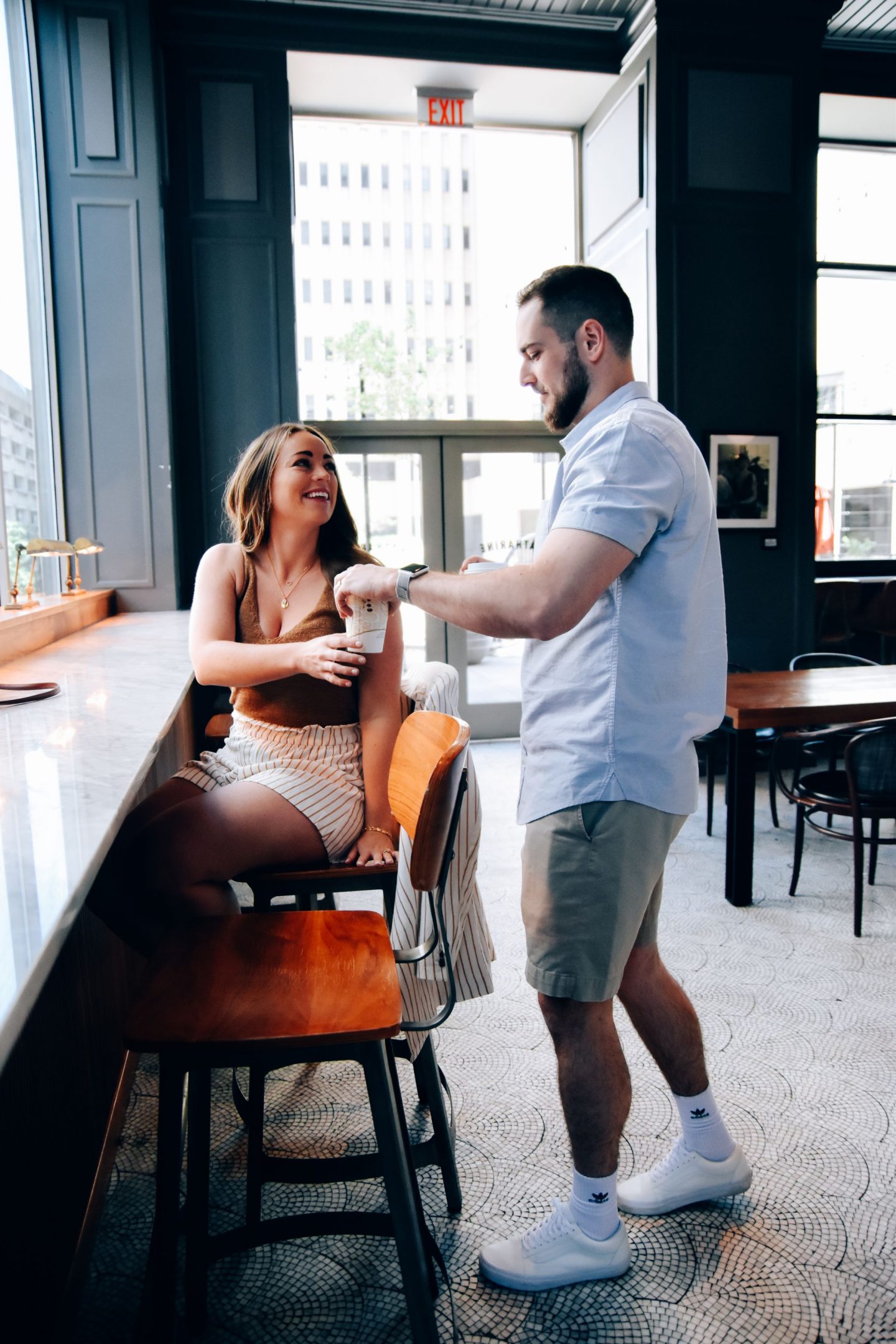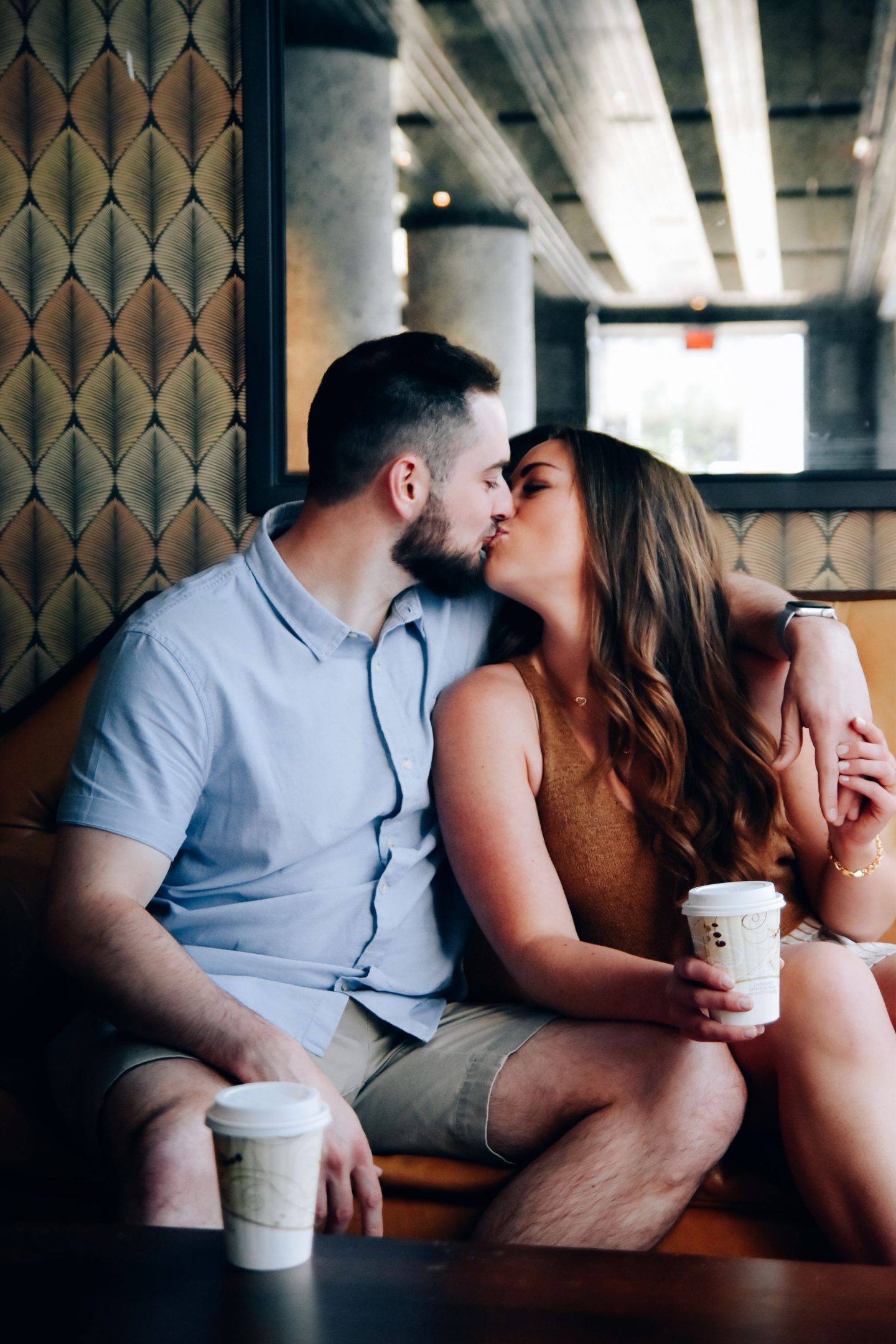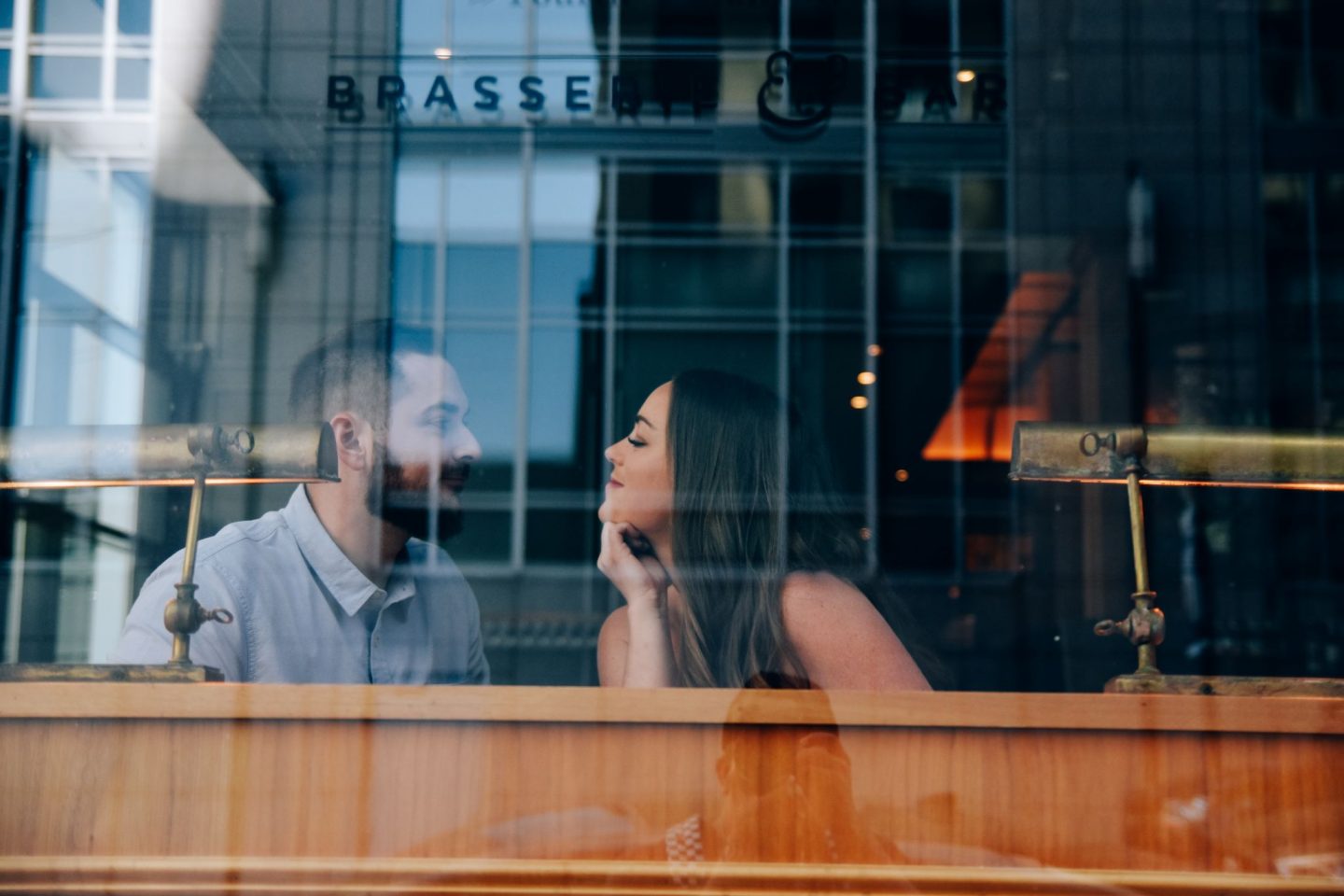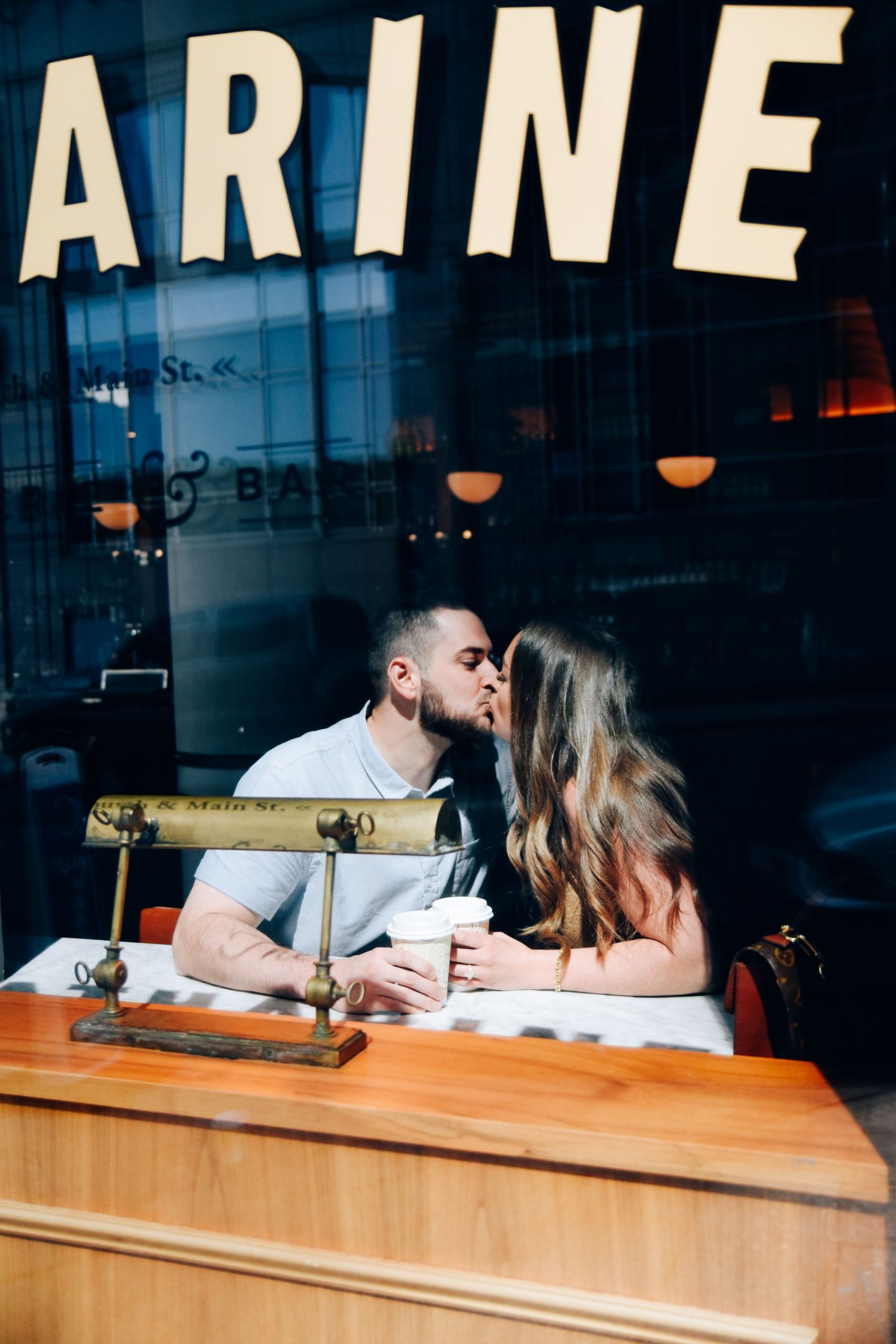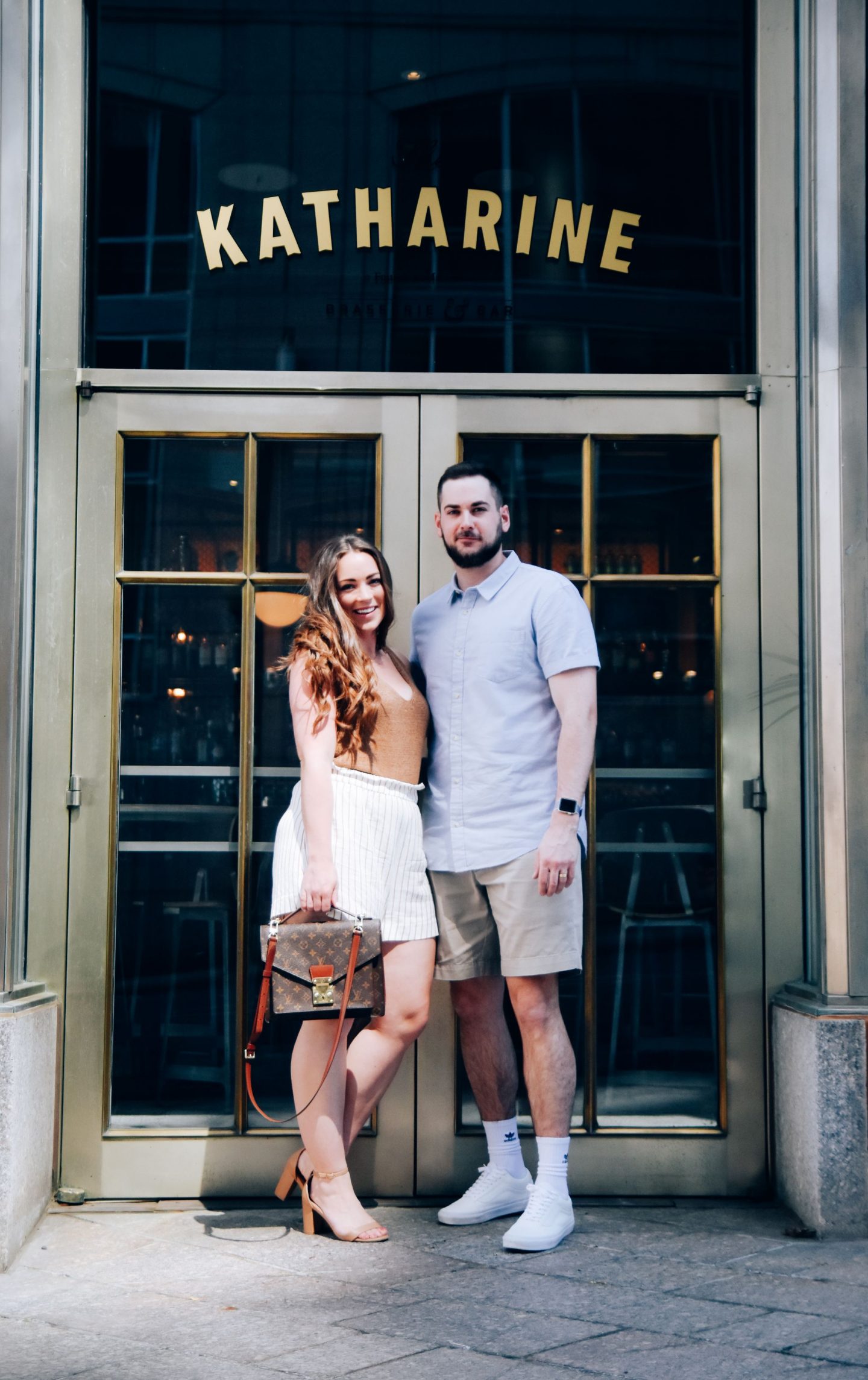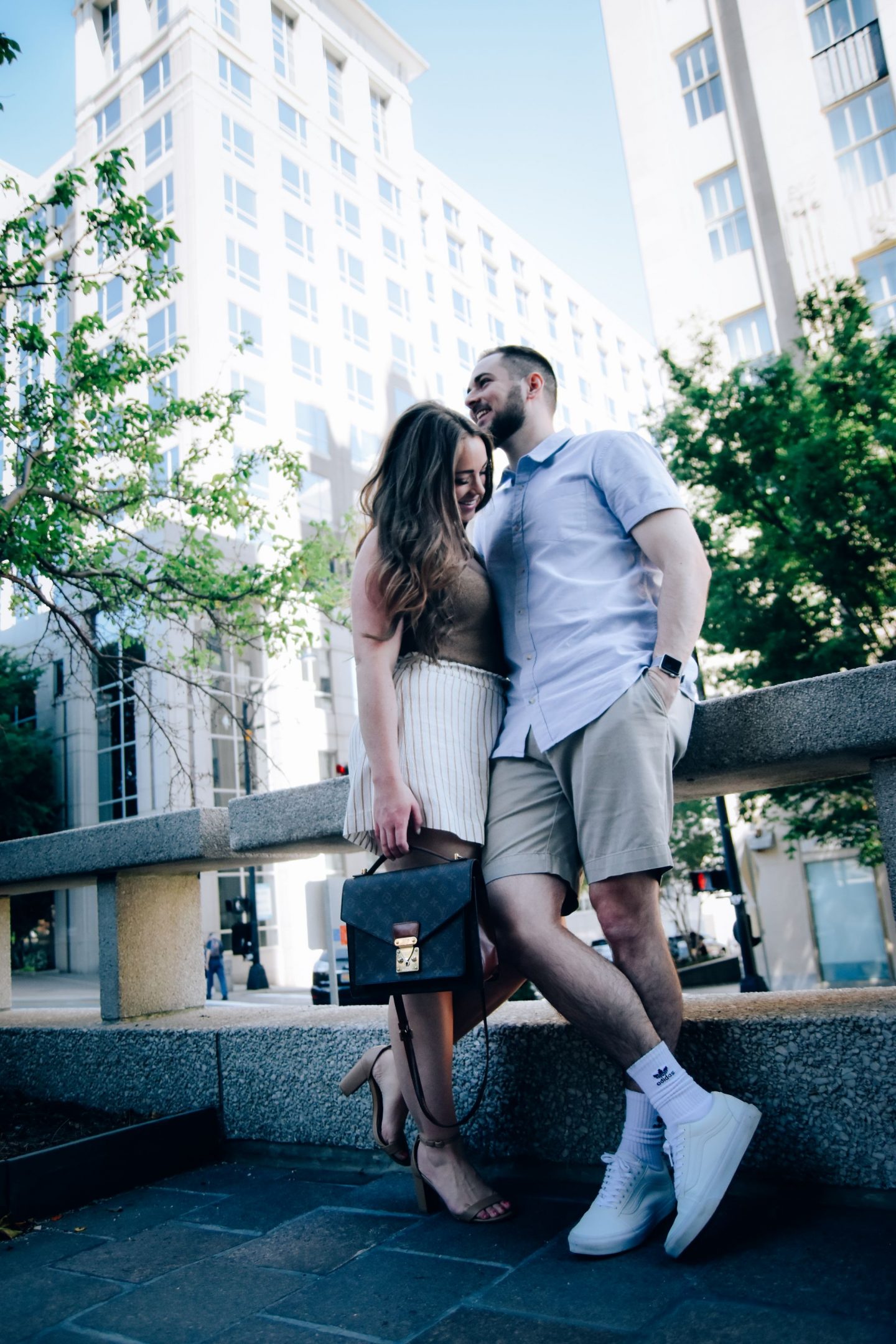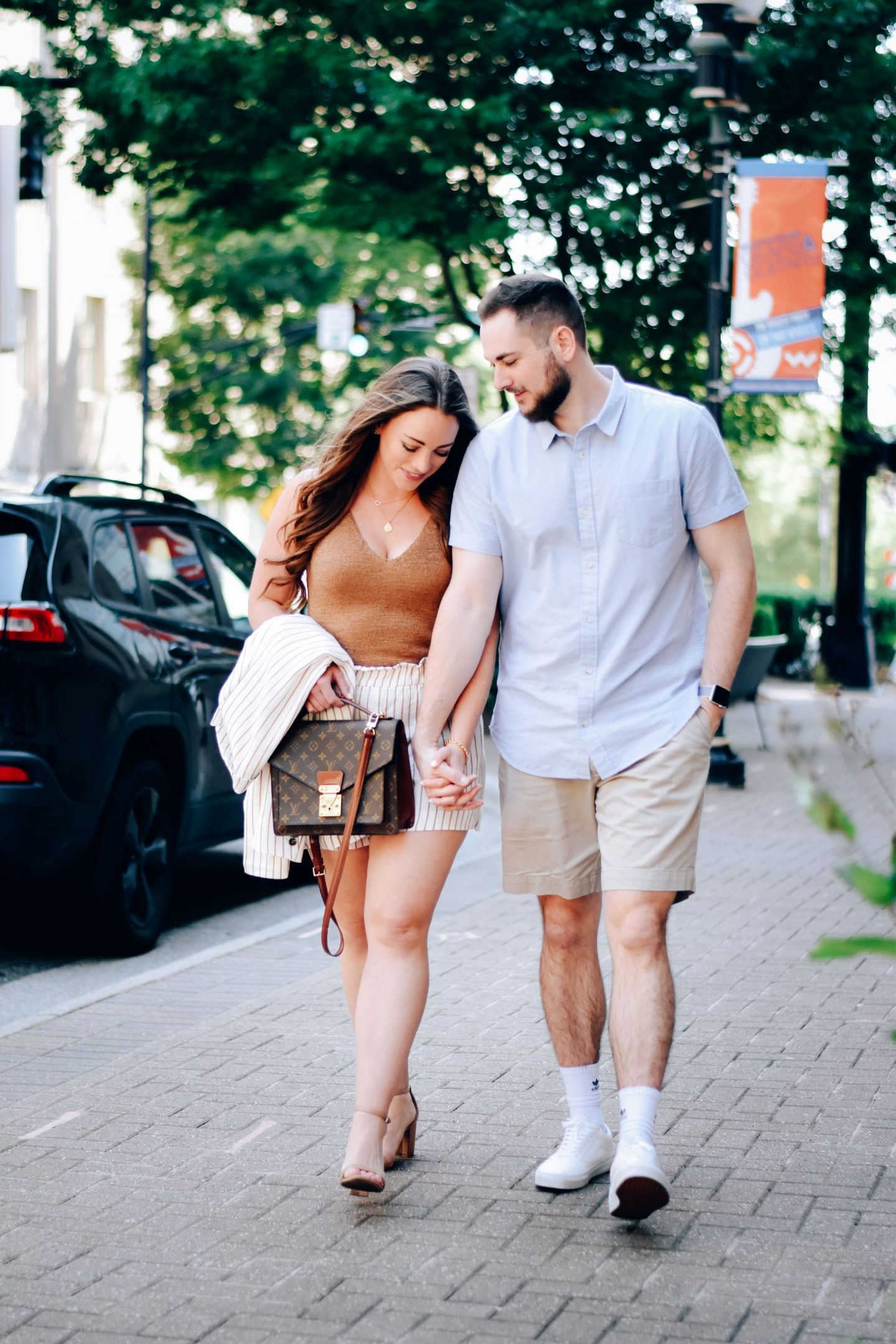 Striped Blazer (available in other colors) // Stripe Wide Cut Shorts // Similar Tan Sweater Tank // Nude Heels // Louis Vuitton "Monceau" Handbag
On Pat: Tall Skinny Oxford Shirt // Jcrew Kahki Shorts // Vans Old Skool Sneaker // Adidas Quarter Crew Socks
I am a little late on this post but I thought it's better late than never, am I right? Pat and I celebrated our first anniversary on April 17th. If you are new here, we got married in the Dominican Republic last April. We had a beautiful intimate wedding with 25 of our closest family members and friends. It was the best day of our lives! You can see our wedding ceremony here and our wedding reception here!
One thing Pat and I can't believe is how fast the year flew by. Following our wedding, we had a big outdoor party celebrating getting married with our family and friends all back in Pittsbugh. August came and we went to Cozumel for a late honeymoon. We moved into our new home in mid November and between that and the holidays that followed, we were propelled into the New Year! So many fun things and many blessings in between but it's really crazy how fast the year flew by! I can't even believe that the Fourth of July is has now passed! I thought I would round up 8 healthy habits of marriage for you guys, treat it as a thought starter for you and your significant other.
1.) Date night: After speaking with our parents and our friends, we have come to realize that a standard "date night" is more of a millennial thing. My parents bowl (haha so cute!) every other Saturday night in a league with their closest friends but that's not the same as just being with your significant other going out to a dinner, or going to the movies and so on! I look forward to our date night every week regardless of what we do! Sometimes it's as simple as us running out for our favorite take out and coming back to the house to watch a show or movie [with Ruby].
2.) Communication: They say communication is key. Pat and I grew up together, we became "best friends" in like 9th grade. It took him a while to ask me out, but we have been together for like almost 13 or 14 years? Anyways, there isn't anything we don't really know about each other or know how each other feels about something but communication is crucial in all aspects of daily life together. An example is that I have realized that if I want to go somewhere specific, say for dinner, then I should just say it upfront instead of thinking Pat will guess it or not saying anything and then later feeling like we should have gone where I had wanted to go! The more you communicate about everything to each other. the more you fall in line with your partner!
3.) Dream Together / Goal Set Together: I am a firm believer that in this life, everything is a choice. If you want something – go get it. If you want to travel somewhere-make the preparations and plans and GO! Pat and I sit down every six months to review our current goals and map out our next goals. We have financial goals, fitness goals, travel goals, etc. It's good to get everything down on paper so you are focused and motivated working towards things together!
4.) Radiant Positive Energy for Each Other. We all need pick me ups and people we can call and vent to. That is life and that's perfectly okay, but I think once that vent session is over, it needs to be over. Negatively cultivates negativity and once you are down that dark path, it's only harder to get out of it. Think about how you can always be a consistent source of positive energy for your partner. Positive thoughts, positive results!
5.) Daily Twenty Minutes: Pat and I both look forward to our nightly walk together. When it's not pouring rain, it's 100% we are going on our nightly walk. Due to our different work schedules and our diets, we don't typically eat dinner at the same time. I try to cook for us earlier around 5 and then I'll eat when I like to, but Pat's work and gym schedule has him home much later so he eats dinner around 9 or after. We look to our walk to really catch each other up with our days and to just talk. Think about how you can get 20 minutes of undistracted time to be there for your spouse to listen to and talk to!
6.) Auto-Pilot. Put the 'little' things on auto pilot. Life is busy and you want to enjoy the limited free time you have with your significant other doing fun or relaxing things. Pat and I have Apple Notes and we write needed grocery items there so whoever is out automatically has the list. I have a certain day of the week I clean the whole house and if we have guest or something going on, I'll express to Pat that I'll need him to do XYZ by X! Bills are all on autopay, and we have divided up responsibilities / chores around the house. It's all smooth sailing! Except the trash- Pat has literally forgotten to roll the trash out 23 times of the 24 weeks we have been in our house! Hahah- not keeping track or anything!
7.) Shared Series: This one is from Pat. He literally loves to find a new show to watch together. We normally try to watch one episode a night before or after our walk and it's nice to just relax and cuddle up together! This is the type of show you are not allowed to watch when one of you are absent! Hahah! I know of a few couples who listen to a podcast or audio book on their way into work and then at night they talk about it! It's a good habit, in my opinion, to continually be sharing in something!
8.) Have Me Time: We all have things we need on a personal, self level. Some of us refuel by being around our friends and some of us need to be by ourselves to recharge. It is totally okay to be either/or but just know what your partner needs and respect that!
Those are my 8 healthy habits of marriage that Pat and I have found to be successful for us! Pat and I have known each other for so long, we have gone through so many personal changes together as a team so we both feel really fortunate that our marriage has been the smoothest transition. If you are feeling in your relationship that things could be smoother or that you thought it would be somewhere that it currently isn't, just remember to communicate and be patient. We are all humans and sometimes it takes time for things to move in unison!
Do you have any other habits that are successful in your relationship? Leave me a comment below!
*Photography by Robert Rodriguez, be sure to check out his site here!*
xx, Brittany Ann
Shop the Post: