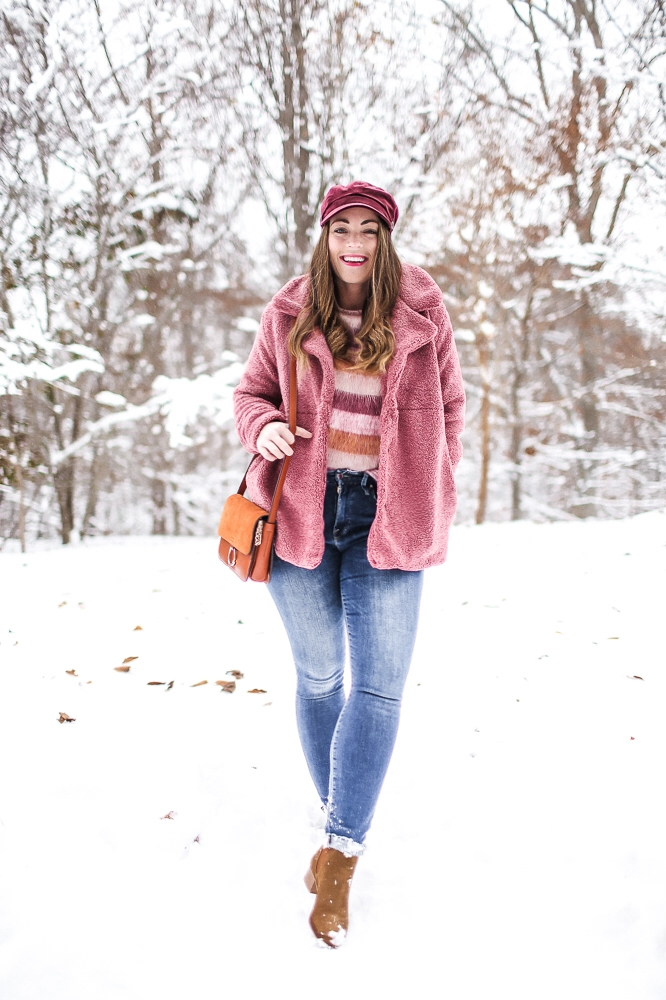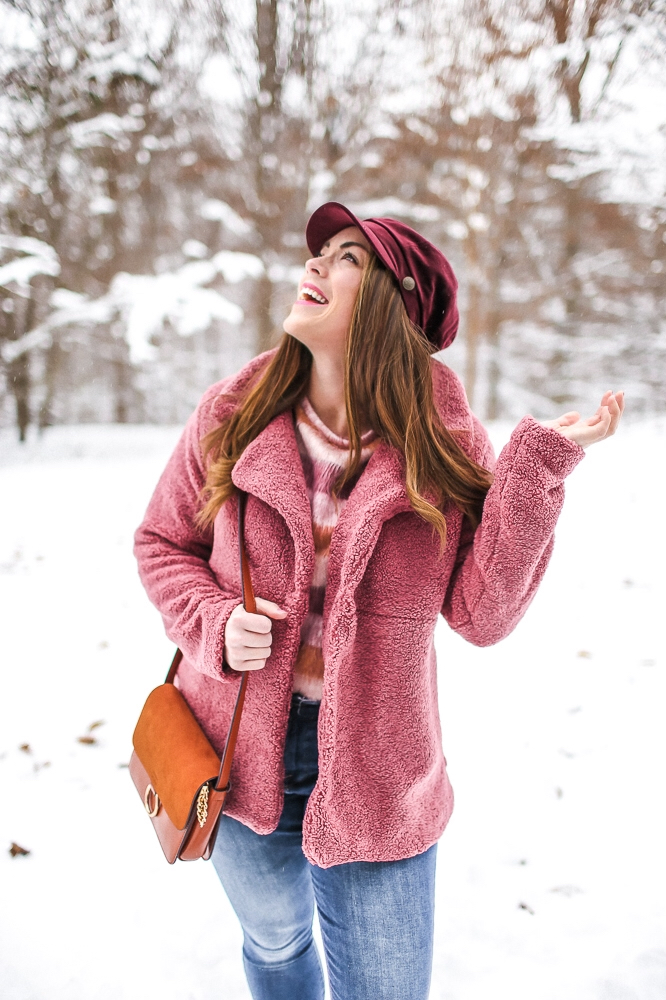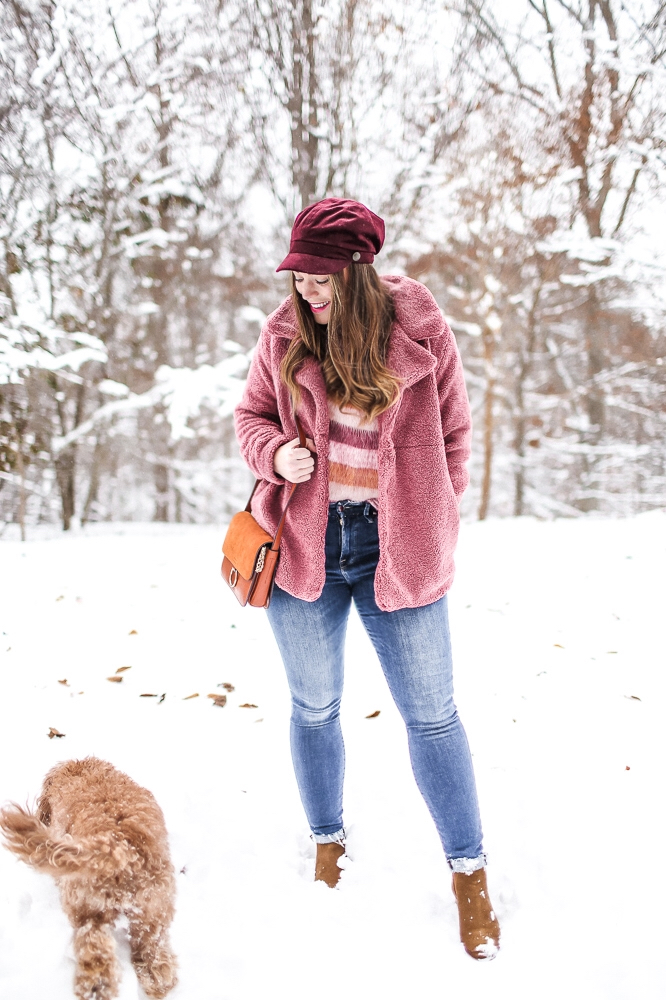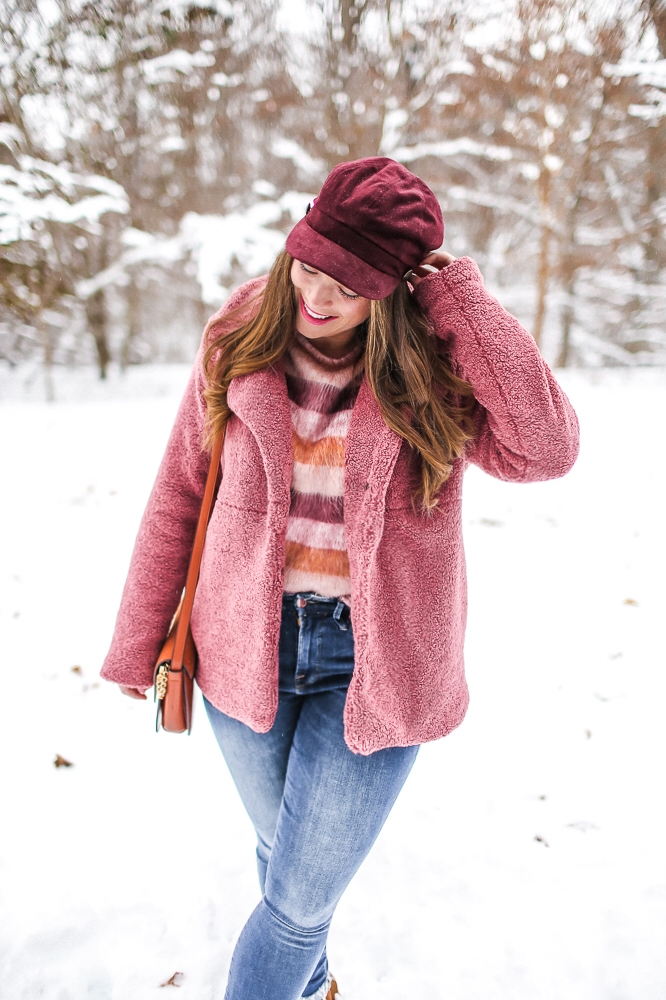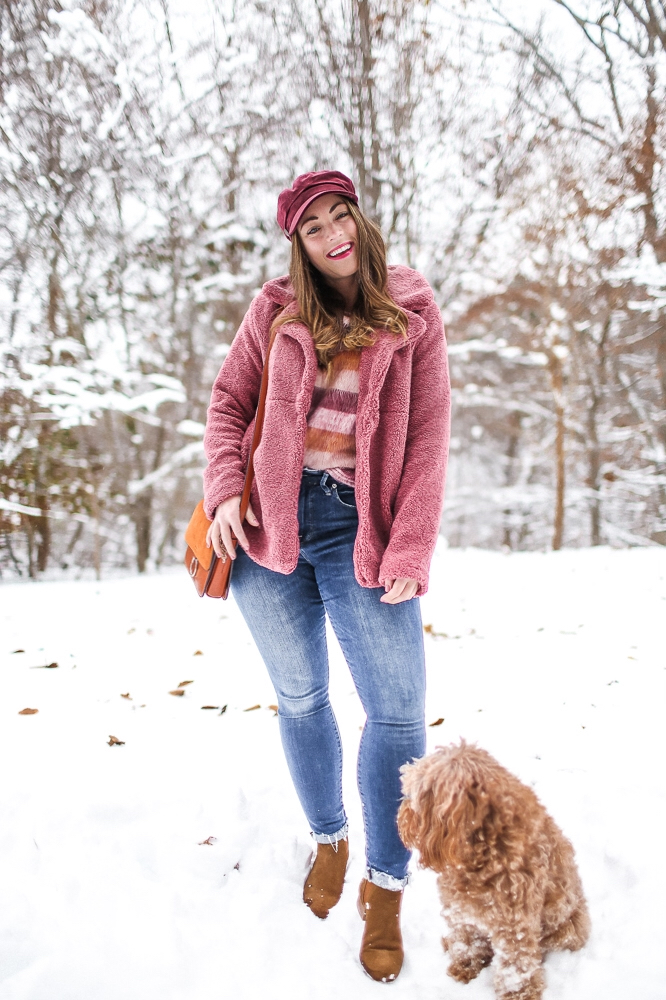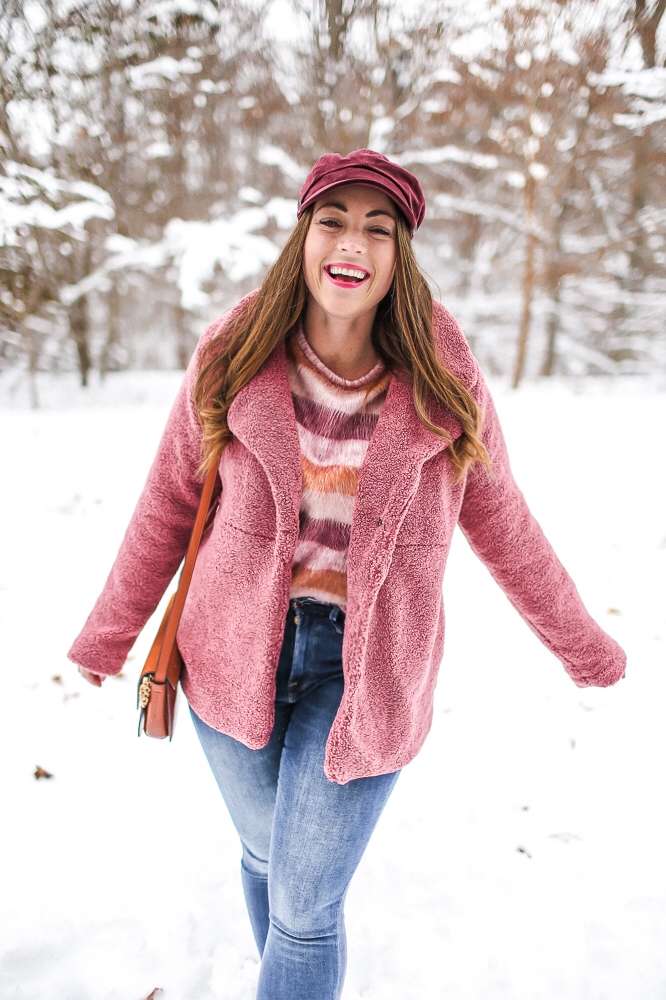 Sherpa Coat // Stripe Sweater // Good American Jeans // Similar Booties (these would be super cute too!) // Baker Hat  // Mini Crossbody Bag
Well would you just look at that white stuff in the above photos ;-)? On Sunday and all the way through Monday we got over 15 inches of snow in Winston Salem, NC. It is an outrageously absurd amount of snow, completely abnormal for us! It's funny, we did get a lot of snow the first weekend of December last year, however, it is not comparable to the amount we got this year and it was completely gone after 48 hours. Everything was closed Sunday evening and stayed pretty much closed through Tuesday morning. If you are a northerner, like me, you may not understand what exactly snow & closings mean. Everything, I mean everything is shut down. You are not to leave your house. The roads are not treated the way they are up North so you really shouldn't be adventurous and leave your home because you slide all over the place on the road. If they hint that snow could be a possibility, every aisle in the grocery store is cleared. People flood the stores grabbing cases and cases of water, piles of bread, five gallons of milk. It's almost comical to watch, but I know it is just what you are use to! It wasn't until Monday evening where the first and secondary roads were cleared. Our neighborhood still has not seen a plow truck, I think we won't see one lol. The temperatures are climbing slightly but this snow is so heavy and thick, it's not really melting. I grew up with a lot of snow for me, all this can evaporate now and I would like our fifty degree weather and full sunshine back please!
You guys, Christmas Day- my dream is one year to celebrate it on the beach in a bikini with a margarita in hand. Each year I say I am going to do that and I really need to make it happen some time! Hahah!
Thought we would capture this pretty coat with the snow in the backdrop. I am wearing a size medium in this coat and it also comes in navy blue. Stripe sweater is nice and furry, I love the pink tones of these stripes! I am also wearing a size medium in the sweater! Do you guys have any big plans this weekend? We are going to a flea market to look around for items for the house and then we are going through a Christmas light show with some friends!
I hope y'all have a good weekend!
xx, Brittany Ann
Shop the Post: