I thought I would round up my "Top Fitness Brands that I Wear" today since I get asked often! I love receiving emails and direct messages from you guys, so please continually always feel you are able to reach out to me! I love hearing from ya'll! I have grown to love the gym, it's one of my favorite parts of each day I am there! My current plan is working out 4-5x a week. Typically it's about 1 hour of weightlifting & 20-30 minutes of high intensity cardio. On some days I will cycle which is around 45 minutes. I have seen such improvement in areas I have been targeting to tone and lose fat, I have been really happy about that! If you aren't that into the gym or are feeling frustrate, seriously considering ordering a few new work out gear. It boost your mood if you love what you have on! Im dead serious!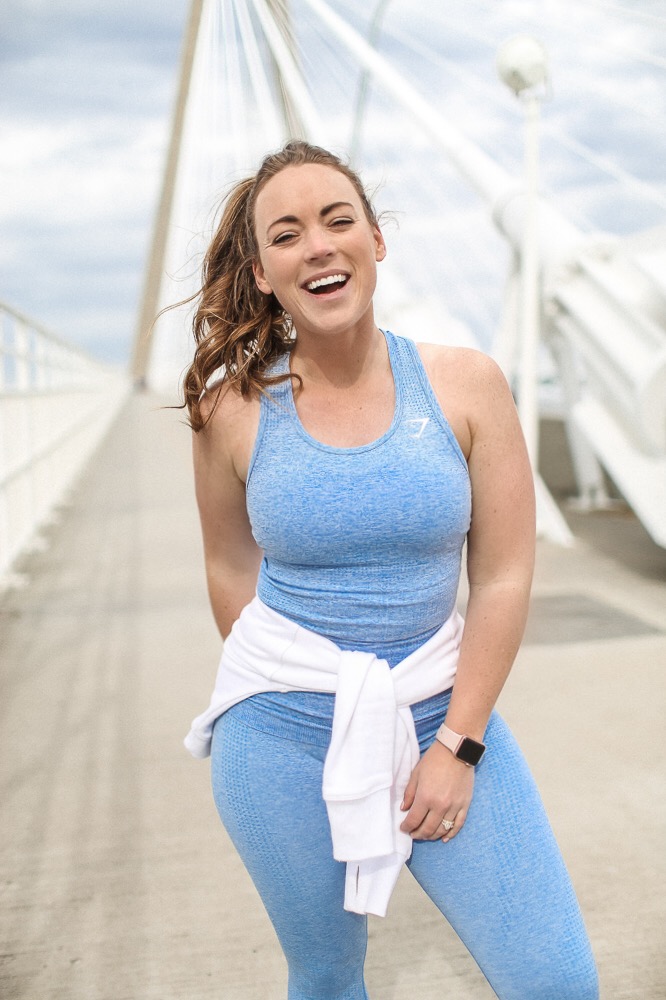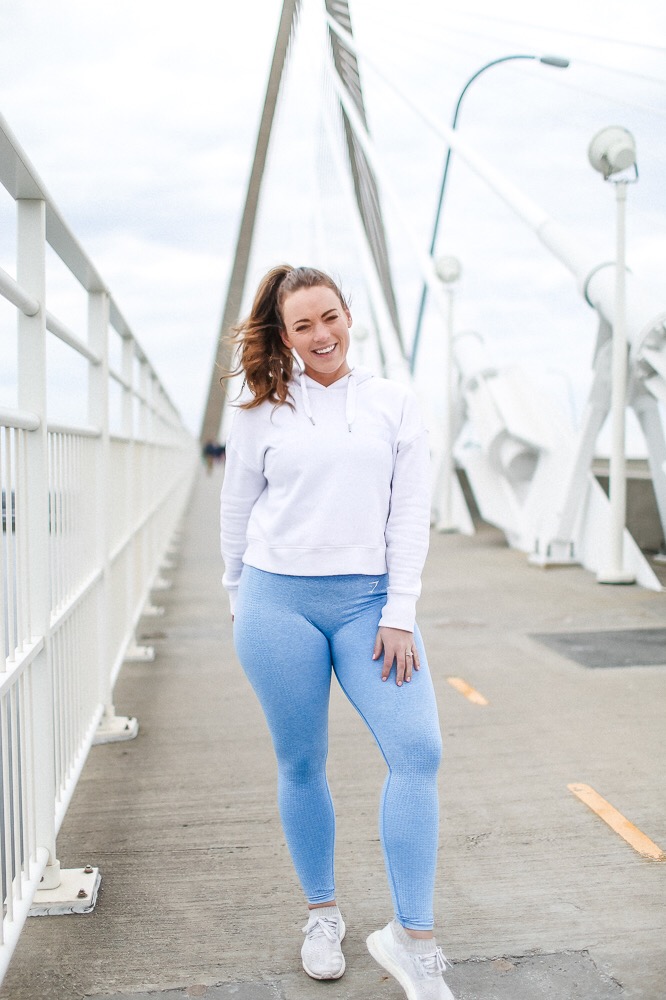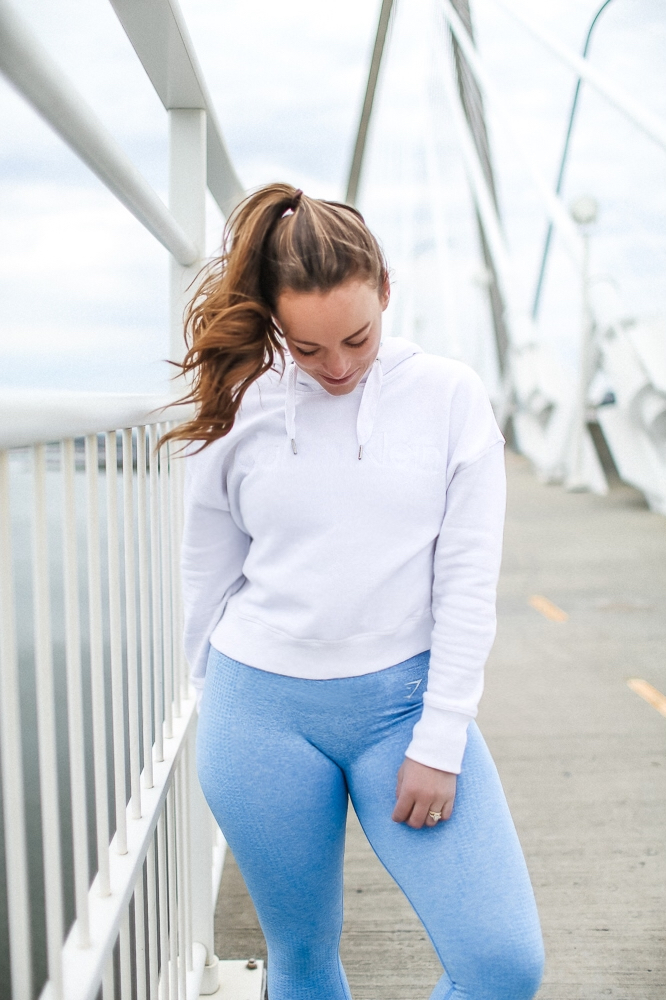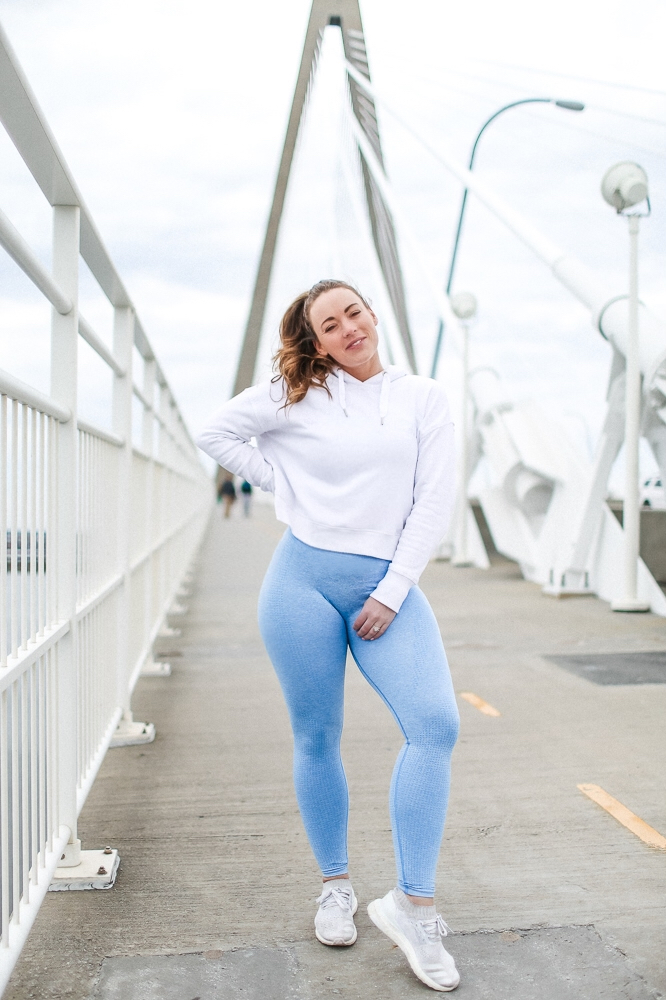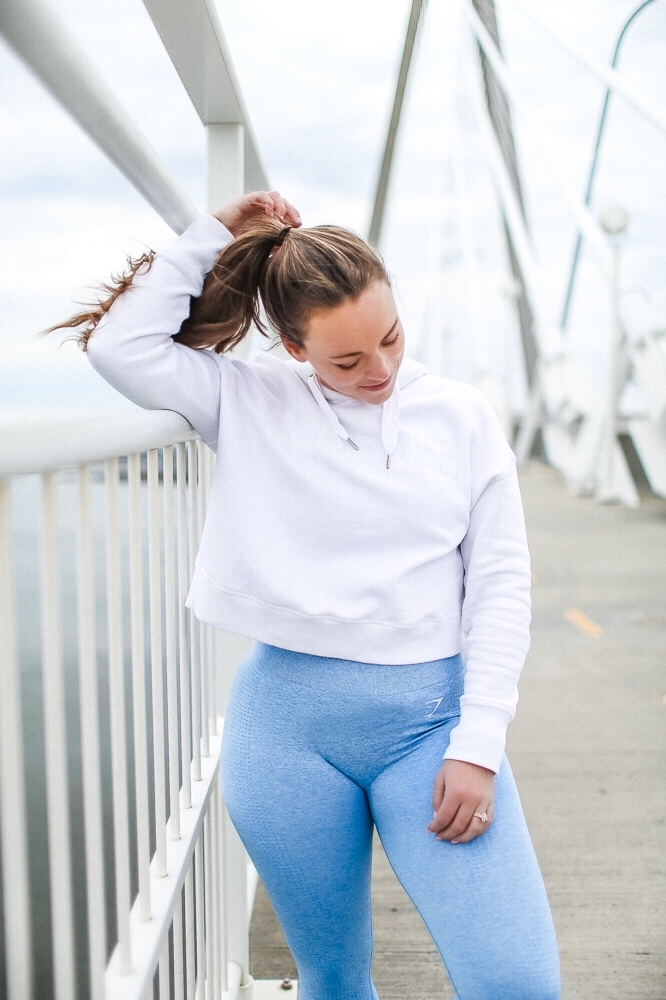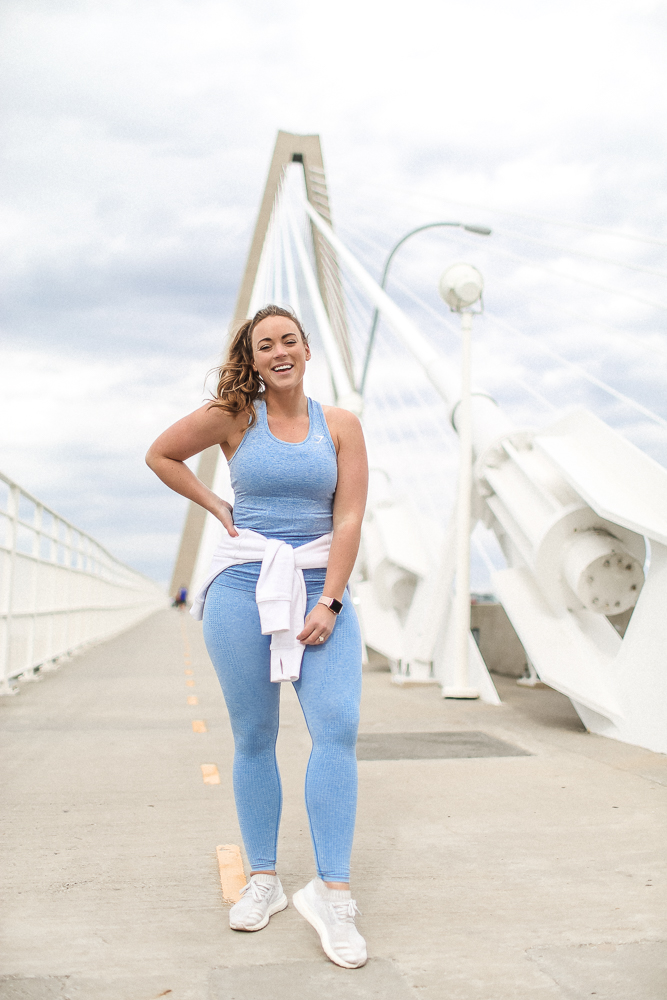 Gymshark Vital Tank // Gymshark Vital Leggings // Adidas Uncaged Ultra Boost Sneakers (Also love these) // Similar Cropped Hoodie
Okay! So let's begin! I want to say that typically I am a size medium legging and medium top. In sportsbras I wear my usual bra size or a M and if they are non-supportive bras I will drop to a small so it's super tight on my chest. I do this so when I am running or doing anything high intensity, my boobs don't move as much- I get pain from it! Okay- maybe TMI but if you have some boobs, consider sizing down in non-supportive bras and then you'll quickly understand what I mean!
Gymshark
I'll start with Gymshark since that is what I am wearing in the above photos! I have been wearing Gymshark for about three years now! I like to order from them because their colors are so pretty and they have made huge improvements in their fabric and fits! Gymshark is out of the UK, but if you spend over $75 you get free shipping. They ship really fast too!
I really love their Seamless Vital leggings (true to size) which is what I am wearing in the above. I have on the Vital Vest (Tank) and I wore the cropped version here in this photo. I think they are okay, I like that they match the leggings, but they are super, skin tight. This style top is not my everyday go to. I like a good tank that I tie tightly instead of the whole tank being super tight! I am wearing a medium in the leggings & top for reference.
I use to wear their Flex Leggings a lot too. You can see an entire post about them here, however, as of lately, I like my leggings incredibly high waisted. The Flex have a higher waist and stay up, I just really like super high waisted at this point. Remember to size down in their leggings for the Flex! I was wearing a small in their leggings & bra in this post!
Good American
I mean, at this point if you have been following me, you know I love Good American denim and so I absolutely had to try an athletic outfit of theirs (see full blog post here) and let me say They DID NOT DISAPPOINT! Hahah! I am wearing their leggings in a size 2 (their medium) and the sports bra in my regular size. Once again, I love Good American because there is room for my shape and curves but the waist always comes in tight. I never have to pull these leggings up during a work out, they stay snug on my waist! Highly recommend- they are a bit expensive but to me 100% worth it!
Zella
Okay, so another top fitness brand that I wear is Zella! So I actually tried Zella out from Nordstrom during one of the Anniversary sales. I wore a super cute crop top in this post & reviewed a pair of their leggings in this post. I am a huge fan! I have this exact black crop pair with meshing detail that I wear to the gym probably once a week! They are currently on sale for $33, which I think is a great price. These leggings are high waist and stay tight through movement and stretching. I wash them after every wear and they have held up really well! I wear a medium in their tops too! Nordstrom always has a few of their items on sale so I literally just go to the site, search Zella and then filter on price! I work out so often and sweat so much, that I like to at least get a good deal on my athletic wear purchases! Zella won't disappoint!
90degreebyReflex
I have been wearing this brand for a long while- maybe four years now. I originally discovered the brand through shopping at my local Marshall's & TjMAxx! I have now begun to partner with them to bring more looks to my instagram, but my love has remained the same. These are great, quality pieces at an affordable price! I make sure to order their "squat proof" bottoms which can be found here. I have lost a little bit of weight recently and I seem to be in between sizes. I have worn a medium in their bottoms + tops forever, however, I think I will try a size down in their leggings the next time I order. I am currently a medium, but will try a small and give y'all an update!
Also want to share that in this post "10 Wedding Workout Tips"& also in this "Finding Mental Balance with your Body Goals" post, my leggings are 90degreebyreflex ! Literally love this brand!
Lululemon
I am a fan of Lulu but not a fan of the prices! I absolutely love their Align pant (full length) to wear as regular pants on a daily basis! I actually buy a pair of these each year and wear them almost every day! I do not work out in them because they are my favorite pants to wear running errands, lounging around the house, wearing with long cardigans and boots, etc. They are this soft, buttery fabric and they are wonderful to wear. I feel like I am naked when I have them on- so comfortable!
I also have a pair of their In Movement 7/8 in black that I wear often too. Just a bit steep in price!
Victoria's Secret Sport
I love wearing VSX because the fits are phenomenal. My absolute favorite legging from them is their "Knockout Tight". It has to be the knockout because I like its fabric- if it's anything else I will return it. The knockout is the squat proof, actual work out legging. I can not wear cotton leggings (similar to Adidas) because cotton is hot, it doesn't stay up on the waist, it's awful! But the knockout tight is where it is at! I have probably 8 pairs that I cycle through all the time! Literally love this tight and they are currently on sale for $25! HUGE SALE. I wear mediums in their leggings + tops!
Fabletics
I wouldn't exactly have this brand as a "top fitness brands that I wear" but wanted to include it in this post since I am recently trying them out again! I tried Fabletics about two years a go and I was not impressed with the fabrics. They reached out to me about a month ago and I figured I would give them a try since I know they had updated their fits / fabrics / overall feel lol. I got in my first two sets and I actually really, really like them!
I got two sets and the one is still in stock: Solid Powerhold Capri & Kessler Medium Support Impact Bra. I love both of these items, the fabric is soft and comfortable and they both really hold their shape through work outs. The sports bra is super cute with its strappy details! The leggings stay up over my hips and have great stretch to them- huge improvement from when I had tried before. When I had tried them before, you honestly could not have paid me to wear them for ten minutes- zero stretch to them, the inseam was weird, all of that. Now, they are really great pair that I wear often! You simply can't beat their prices, they have outfits for $48 or two leggings for $24 as their introductory price! Be sure to check them out!
Outdoor Voices
I just tried this brand for the first time during mine and Pat's trip to Cozumel. I reviewed them here in this post. I really like them, just note they are a thicker fabrication. This can be a good thing if you want to wear colorful leggings but you don't want them to show as much. I have cellulite on the back of my upper legs that I have been trying and trying to tone and get rid of! Tough! Anyways, I have found that when I wear a bright color VSX Knockout tight, in certain lighting you can see that it's less smooth on my upper thigh. In the Outdoor Voices fabrication, since it's a thicker material without sheen, you can't see that area that I am sensitive too. You can try OV out from Nordstrom ( free shipping & free returns). These are the leggings I wore in this post, top is here too!
Forever21
I occasionally browse Forever21's website for cute athletic tops. They aren't "performance" fabric based, but I like the open back or cut out details! You can't beat the price they seem to all be under $15! They have a lot of sports bras too, they aren't maximum support but for low impact days , they are super cute!
Not my favorites
Okay so with my top fitness brands that I wear, I have to have a few that I dislike so you guys can keep my comments in mind when you are looking for fitness brands!! I will never order these Adidas leggings ($40). They are just a cotton pant and are terrible. I need to try their "Believe This" leggings because they have various color options and details! I think this is their main "work out" pant!
I absolutely can not stand Old Navy's leggings-the compression legging. They changed them, I use to love them! The fabric is unbreathable now, I literally can not stand having them on! I haven't tried their "Elevate" leggings that look really similar to Outdoor Voices. I'll report back if I try them!
I'll keep updating this as I try different brands out. You guys can come back to it as a reference. Remember you can always search "Top Fitness Brands" on the search box on my blog and this post will pull up!
Amazon
I recently shared this pair of leggings in my recent Amazon try-on haul. They are $28 and I would consider them to be very similar to the $50 Gymshark ones. I reordered a size small to see if they fit better in the waist. Will report back on that, but they have a million colors and the fabric is so so so SOFT! I plan on doing a massive amazon athletic wear haul soon so stay tuned for that!
I hope this " Top Fitness Brands that I Wear" post helps you guys as you look for gym wear! Stay focused on your goals and work really hard. You will absolutely see results!
xx, Brittany Ann
Shop the Post: